Failure Is Not Your Identity – Free Inspirational Wall Art
I hope you love the products and resources I recommend here at A Little R & R. Just so you know, it is possible that I get a commission and collect income from the links on this page. Click here for more info.

I am not a doctor, none of the information on any of these pages pertaining to the Ketogenic Diet or Adrenal Fatigue should be considered medical advice and should not replace the care of your personal physician. I am simply eager to share the information I have learned while on my own journey to health. Before you embark on this journey, please consult with your physician.
As I've been reading the book Charis – The Power of Grace, I have been inspired time and again to look at failure from a totally new perspective.
As a recovering perfectionist, it's often a great challenge for me to take a risk.
What if things don't go right?
What if I fall flat on my face?
I think we've all had these questions go through our minds, holding us back from walking into all that God has destined for our lives.
What's worse is when you've already failed.
When you've already fallen flat on your face.
You know what? I totally get that. I'll be honest right now and admit that failure is exactly why I'm tempted to walk away from music and totally embrace writing as my only creative outlet.
Music is too much in the moment.
Too much can go wrong.
Okay – in the spirit of full disclosure…..the last time I led worship, too much did go wrong. I felt like a fool. I felt like a failure. I felt like I couldn't honestly even call myself a musician because I'd made too many mistakes.
I have been hesitant to even play piano for myself….at home. Playing piano in public has literally become unthinkable for me because all of those negative emotions come flooding back at even the thought of it.
Writing is safer.
I can spend hours editing, correcting, and perfecting before the world is allowed to see my craft.
But this fear of greater failure, birthed by the disappointment of past failure, has held me back far too long. I've invested too many hours of my life in music lessons to just walk away.
So, I am printing out this quote and hanging it in a place were I'll see it every day.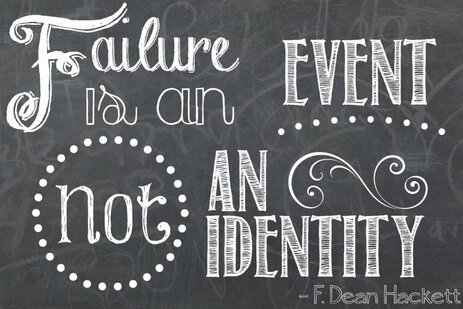 This is a quote from the book Charis – The Power of Grace.
It reminds me that failure doesn't define me. It isn't who I am. It shouldn't hold me back. It was an event…it happened, it passed, and today is a new day.
Even more, it reminds me that failure is really only another opportunity to try again!
This quote has helped me to completely redefine failure in my life, and I hope it will help you, too, to redefine failure. It doesn't have to be a bad thing!
You can download this 4 x 6 printable quote today. Just type in your email below and you'll get a link to a file where you'll find this quote, and a whole bunch of other fun and helpful printables for your home, homeschool, and quiet time.
Get this Failure Quote printable and access to the ULTIMATE Christian Living Resource Collection in your email today when you type your email in the form below:
The form you have selected does not exist.
Read more about our identity in Christ here:
[wp_show_posts id="14507″]