How to Make Your Own Prayer Journal
I hope you love the products and resources I recommend here at A Little R & R. Just so you know, it is possible that I get a commission and collect income from the links on this page. Click here for more info.

I am not a doctor, none of the information on any of these pages pertaining to the Ketogenic Diet or Adrenal Fatigue should be considered medical advice and should not replace the care of your personal physician. I am simply eager to share the information I have learned while on my own journey to health. Before you embark on this journey, please consult with your physician.
I have kept a prayer journal of sorts for over a decade now.
While over the years it has taken on many different forms, my format has stayed consistent. One thing I've learned is that if I am to consistently keep my prayer journal up to date I have to have the following elements in place:
1. It has to be easily accessible
2. It has to be simple
For a while I kept my prayer journal in my Homemaking Binder. It wasn't very easy to keep because my homemaking binder was bulky and awkward to write in, and I had to flip past charts, schedules and recipes to get to it…which distracted me.
No, it need to be in a simple place and easily accessible without distractions.
I have found a simple notebook to be the easiest way to keep a prayer journal.
Here is how you can make your own prayer journal
I like to use the Lord's Prayer as my format. So I divide my notebook up into the following sections:
1. Worship – I like to write out the names of God and reflect on them. This takes my worship time from, "Lord I worship you, I glorify you, I honor you" to "Lord You are _______". See what I've done there? I've switched it from "I" to "You". Worship is about Him, not about what we do for Him.
2. Ministry – Here is where I write out ministry needs. Perhaps its just the names of those I serve with in my area of ministry. I also list here 5 people who I pray will become saved.
3. Family Needs – I separate my family needs from others needs. I have learned that I need to make prayer for my family a priority, so these needs always come first. I like to try to date these prayer needs so I can track the answer to prayer better.
In this section I also have a 30-day calendar of prayer prompts for my husband and marriage.
4. Others Needs – I love having this section because, let's fact it, how many times have we said, "I'll keep you in prayer for that" and then never do? Now it's easy. I just grab my journal and jot it down!
5. Journaling Pages – This section is so important. Here I write out my personal struggles, my strategy to overcome those struggles, words God has spoken to me, verses that have stood out to me…this is where my journal gets real. And it is important to have this section because it reminds me that prayer isn't all about me sharing my heart with God. Prayer is a 2-way conversation and I must give God time for Him to share His heart with me.
6. Answered Prayer – I started this several years ago when I became aware of how often God was answering my prayers. I began to track those answered prayers. This section has been such an encouragement to me in those times when I feel discouraged. I can flip back and read all the answers to prayer and let faith fill my heart again.
I also added pockets to the front and back to hold memory verse cards and other papers.
This is a simple method, but it works for me and it has kept me consistent for many years now. I will often grab it in the morning and pace my living room as I pray, because having the lists right there in front of me helps keep me from becoming distracted.
What is your favorite prayer journal method?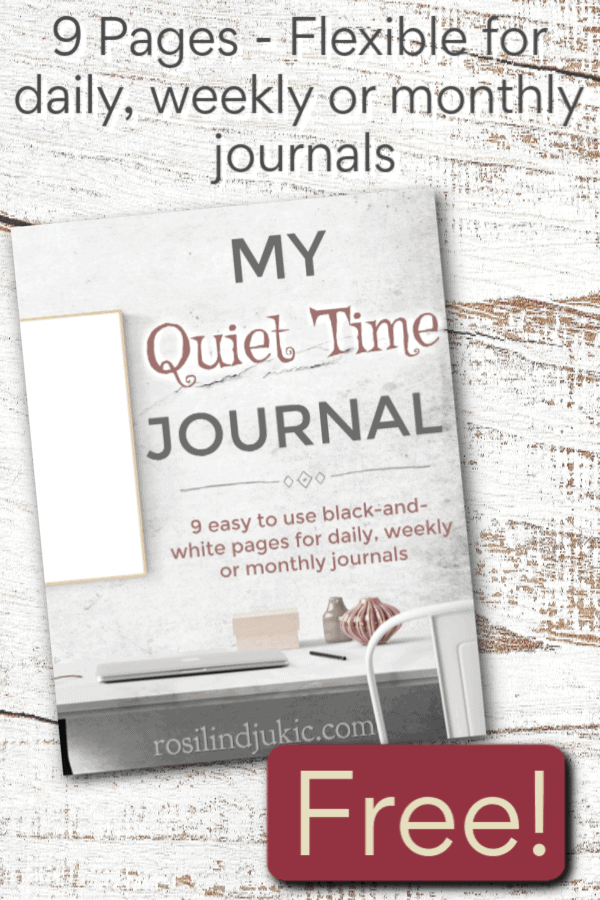 Get this Quiet Time Journal printable set and access to the ULTIMATE Christian Living Resource Collection in your email today when you type your email in the form below:
The form you have selected does not exist.
---
I created a Bible study on prayer called 7 Days to a Better Prayer Life. Learn how to pray and check out the details below: