Clothes Pin Snowflake Craft
I hope you love the products and resources I recommend here at A Little R & R. Just so you know, it is possible that I get a commission and collect income from the links on this page. Click here for more info.

I am not a doctor, none of the information on any of these pages pertaining to the Ketogenic Diet or Adrenal Fatigue should be considered medical advice and should not replace the care of your personal physician. I am simply eager to share the information I have learned while on my own journey to health. Before you embark on this journey, please consult with your physician.
This is a fun winter craft to do with kid's ages preschool and up. My kids (ages 3 and 4 years old) love to paint, so they enjoyed this craft. It's also a fun craft to do by yourself.
What you will need for one snowflake:
8 clothes pins
White paint with paint brushes
Glitter or glitter glue (your choice of color)
Glue gun
Paper (to protect your table)
Wax paper
Simple medium suction cup
Step one:
Take clothes pins apart (remove the metal spring)

Step two:
Glue the clothes pins "back to back"

Step three:
Place paper on table and paint all sides of the clothes pin then let dry on wax paper. If you use plain paper, the paper will stick to the wet paint. Wax paper will not stick.

Step four:
Once the paint is dry, place a drop of glue on the top corner of the head of a clothes pin then press another clothes pin head into the glue. Refer to photo for guidance.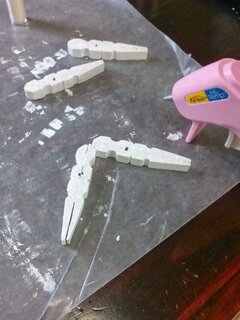 Step five:
Once 4 clothes pins are glued together, glue the remainder 4 in each corner. Refer to photo for guidance.

Step six:
When all 8 clothes pins are glued together, then go ahead and have fun with the glitter!

Step seven:
Take the suction cup (remove the metal hook) and glue it to the middle of the back of the snowflake.

Turn over the snowflake.
And ta-dah! All done and ready for your wintery window. I love this because where we live we have to drive an hour or more if we want to see snow. We only get good snow about once every other year or so. So this decoration helps us see past our wet, rainy winter "wonderland". I hope you enjoy this fun winter time craft.
A little about Tiffany:


Hello! I'm Tiffany. I have 4 beautiful kids, I don't have a lot of down time to write, but I've always enjoyed writing. I write mostly about life. I enjoy God, my family and the company of good friends.
---
More Christmas Content here:

25 Fun Advent Ideas for the Whole Family
Multi-Grade Level Christmas Unit Study
FREE Christmas Notebooking Pages
Christmas Recipe Cards – Free Download
10 Bible Verses for the Names of Jesus – Free Download
5 Meaningful Christmas Ideas for Busy Moms
5 Advent Studies and Journals For the Whole Family
The Solid Faith of Joseph

8 Exciting Christmas Studies for Your Kids
One Weapon You Need Against Holiday Depression

Clothes Pin Snowflake Craft

Why Jesus is More Than a Baby in a Manger
Was Jesus Really Born on Christmas?
The Jesus the World Needs to Know

How You Can Have Peace From the Inside Out
Gift Guides

60+ Gift Ideas for the Christian Woman
5 Christian Fiction Authors I've Read Over and Over
10+ Books Every Christian Should Read
50+ Gift Ideas and Resources That Teach Missions