Reader Question: How Do I Put Quiet Time Into My Schedule? Episode #12
I hope you love the products and resources I recommend here at A Little R & R. Just so you know, it is possible that I get a commission and collect income from the links on this page. Click here for more info.

I am not a doctor, none of the information on any of these pages pertaining to the Ketogenic Diet or Adrenal Fatigue should be considered medical advice and should not replace the care of your personal physician. I am simply eager to share the information I have learned while on my own journey to health. Before you embark on this journey, please consult with your physician.
Today we have another reader question: "How do I fit my quiet time into my schedule."
This question is one that is often asked, in one form or another, and is important to examine because it is a struggle that so many of us face.
Our schedules are so busy these days. This culture has a greater tendency to burn the candle at both ends more than ever before because we have so many more responsibilities and demands for our time.
Making the time for quiet time almost seems like a luxury; so, how do we make it fit?
If this is a question you're asking yourself right now, be sure to listen in, or watch the episode below.
(You can view the video version of this on Rumble and on Bit Chute)
Posts on this topic:
5 Practical Quiet Time Tips for Busy Women
7 Quiet Time Solutions for Busy Moms
This is a great Bible study tool to use
Follow this podcast on your favorite Podcast catcher or at the following links:
More about Rosilind
Visit my shop for Prayer Challenges and books by me.
Join one of my Bible studies today!
---
Find more content on Quiet Times below:

Quiet Time Resources:

My Quiet Time Journal
Free Bible Study Journal + Tracker

5 Tools You Need for a Quiet Time

Quiet Time Posts:

What is a Quiet Time

How Do I Build a Habit of Daily Devotions?

May I Have Permission to Open my Bible and Just Start Reading?

3 Reasons Why You Should Read the Bible Every Day
4 Simple Bible Reading Tips For Beginners

How Do I Put Quiet Time Into My Schedule?

How Can I Have My Quiet Time Without Sacrificing Sleep?

10 Steps to an Effective Quiet Time

How Do I Know Which Bible Teachers to Follow?

How Do I Find Time to Read Without Falling Asleep

3 Simple Ways to Plan Your Quiet Time

4 Fabulous Quiet Time Tips for the Easily Distracted
How to Start Studying the Bible for Newbies
How Do I Study My Bible and Apply It To My Life

5 5 Practical Quiet Time Tips for Busy Women

7 Quiet Time Ideas for Busy Moms
How Do I Have Quiet Time as a Mom or Grandma of Small Children? Episode #29

4 Ways to Help Your Teens Have a Quiet Time

7 Ways to Revive Your Quiet Time
6 Tools I Use for Quiet Time and How I Use Them

4 Ways To Get the Most Out of Daily Bible Reading
6 Books of the Bible to Begin Reading Today
---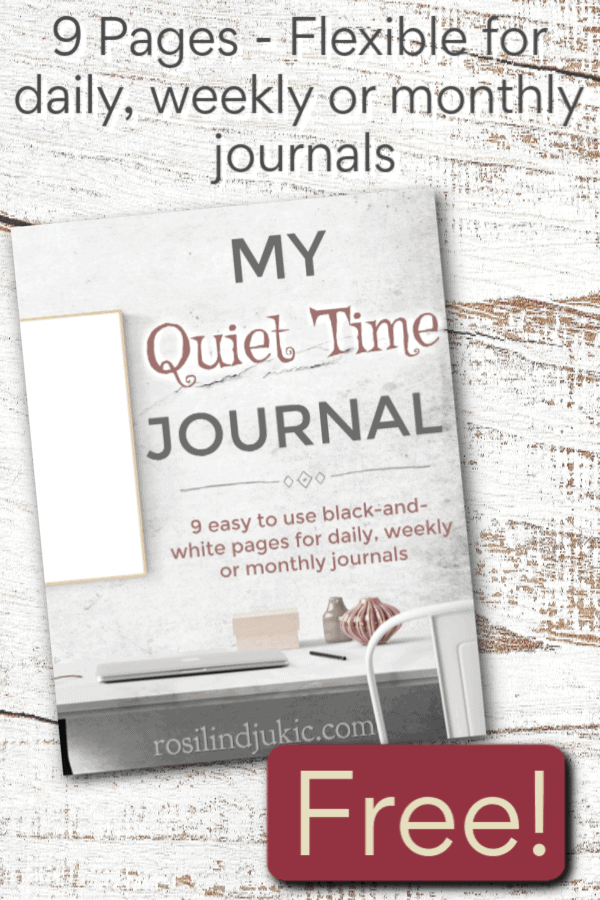 Get this Quiet Time Journal today when you type your email in the form below: