Simple Character Studies – Honesty
I hope you love the products and resources I recommend here at A Little R & R. Just so you know, it is possible that I get a commission and collect income from the links on this page. Click here for more info.

I am not a doctor, none of the information on any of these pages pertaining to the Ketogenic Diet or Adrenal Fatigue should be considered medical advice and should not replace the care of your personal physician. I am simply eager to share the information I have learned while on my own journey to health. Before you embark on this journey, please consult with your physician.
There are few character qualities so vital to our children today than honesty.
We live in a culture where deception and distortion are so prevalent that truth, integrity, and honesty are almost non-existance.
Even Christians have accepted the terminology of "my truth" and "your truth" – as if truth modifies and adapts depending on which person is telling it.
Should we even attempt to address the topic of integrity?
God's people should be those with the highest integrity. If we truly love God's Law and if it is authentically the foundation for our lives:
Truth is not an option
Telling "white lies" – or lies of any color – is zero-tolerance
Our yes should be yes, and our no should be no
Our handshake should be more solid than the most iron-clad contract
But sadly, this generation of young people have rarely seen these qualities in anyone, including God's people. Before they reach adulthood, they've learned that a person's word is as stable as their ever-shifting emotions.
They've learned that a covenant is only binding as long as a person is happy. Once they cease to be happy, the covenant can be broken and they can move on.
They've witnessed grown-ups telling fibs, coloring the truth, fixing and manipulating situations to fit their narrative or desires; so that they learn very early on to trust no one.
Not even God.
I know this may seem like a very strange way to present a children's Bible curriculum, but I am convinced now more than ever that as adults, we have a grave responsibility to not only teach our children character, but to live it out with incredible intentionality.
Our children will only pick up a fraction of what they hear, but they will grasp hold of everything they see in us.
And if they hear us yell, "Thou shalt not lie!", but see us color the truth, manipulate outcomes, and break our word; all of the yelling of the ninth commandment will be in vain.
They will grow up assuming that God's commandments are mere suggestions.
That He is a permissive God, overlooking our "indiscretions" with no boundaries or real expectations of obedience to His commands and His Word.
Is it any wonder that today's generation of Christian young people have such a distorted picture of God?
That is precisely why I want to take the 2021-2022 school year and dedicate it to teaching my children good character.
By learning these essential character qualities, we learn the ways of God.
We learn that God's promises are more solid than the most solid compound on earth. God never, ever, ever, ever ever breaks His promises. Ever.
And therefore, we should also take promise-making, covenant-making, as seriously as God does?
God never lies – because the devil is the author of all lies, and therefore lying is making alliances with the devil. Therefore, we should always tell the truth, no matter what it may cost us.
After all, if we trust in God's promises, we can trust in His protection of us.
These are the building blocks I want to use to help lay a foundation in my children's heart, not only for how to live the Christian life, but also for how to relate to God.
I grew up learning about character qualities, and I feel that this emphasis on character really helped to shape me into the person I am today.
That is why I got together with my sister (a veteran homeschool mom) to put together a new series of studies on character.
I have to give credit where credit is due – she put these studies together and I made them pretty.
Meet my sister:
Bonnie Dučić is a veteran homeschooling mom with 9+ years of experience. She has homeschooled all 4 of her bilingual children and loves helping others find joy in raising and schooling their own children. She also enjoys writing music and serving with her Croatian husband in his calling as senior pastor of Church of the Full Gospel in Zagreb, Croatia.
---
Simple Character Study – Honesty
My goal with these Simple Character Studies is to provide a curriculum of studies to do with your kids for the whole school year.
Each Character Study includes 4 weeks of daily lessons that include a Bible story, memory verse, character definition, art projects, games, nature studies, books, and other projects that all work together to help your children clearly understand each quality.
In these lessons, they will learn the benefits these character qualities bring to us and others, and the consequences that occur when we do not have these character traits in our lives.
In the Simple Character Study of Honesty we will learn from lives of Ananias and Saphira, David, Jacob and Esau and others..
We will learn about how honesty is reflected in nature and why it is vital to our inter-personal relationships.
Included are some fun art projects, family projects, as well as fun games you will want to play over and over again!
You can get the Simple Character Study – Honesty here.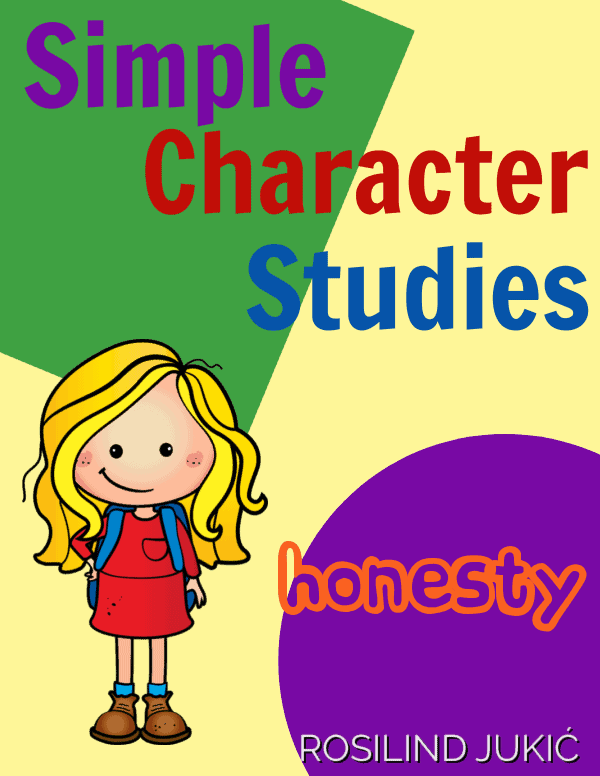 ---
Find More Character Studies Here:

Simple Character Studies – Responsibility

Simple Character Studies – Honesty

Simple Character Studies – Self- Control

Simple Character Studies – Kindness