Why I Use Notebooking In My Homeschool
I hope you love the products and resources I recommend here at A Little R & R. Just so you know, it is possible that I get a commission and collect income from the links on this page. Click here for more info.

I am not a doctor, none of the information on any of these pages pertaining to the Ketogenic Diet or Adrenal Fatigue should be considered medical advice and should not replace the care of your personal physician. I am simply eager to share the information I have learned while on my own journey to health. Before you embark on this journey, please consult with your physician.
When I began homeschooling both of my children, there were two things I knew I wanted to make up the central hub of our homeschool:
Reading
Notebooking
In many ways, reading and notebooking intersect for us; because we do a lot of reading together for various subjects and I use notebooking most times when we read.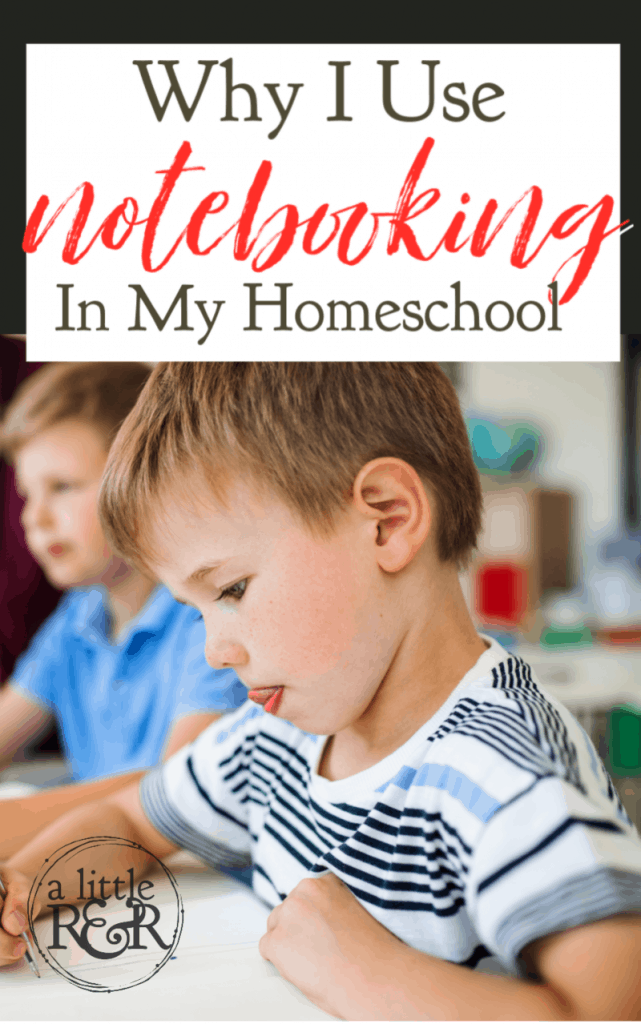 In 2018, both of my children were diagnosed with Mixed Expressive Receptive Langauge Disorder.
The longer I homeschool, the more I find it manifests differently in each of them.
My oldest son is incredibly literal. He doesn't often get jokes or sarcasm.
My youngest son is hyper and often distracted.
So notebooking has been a great way to slow us all down, focus on vocabulary, practice handwriting, and discuss together what we're learning.
1. It helps with visual learning
I use a lot of drawing in our notebooking.
I have found that drawing helps my kids to create a visual idea of new vocabulary words, which helps them connect faster.
It also helps me to know what they took away from our reading and what they comprehended (if anything).
I do not control their their art notebooking.
I let them choose what to draw. I also let them choose whether or not to color their drawings, and what colors to use.
While I encourage them, quite strongly, to draw something about what we read, I don't scold them if they vary from that.
I let this become a launching pad to discover if they chose not to draw something from our reading because they didn't understand our reading.
Notebooking should be a stress-free experience and positive.
2. It helps with their writing and handwriting
Our oldest son loves creative writing; in fact, he's working on a book right now – at the ripe age of 10.
I have found that notebooking has sometimes served as a launching pad for a creative idea for him.
Our youngest has very poor handwriting.
Because he is a slow developer, his fine motor skills developed late, which made pencil holding a challenge for him.
While he has overcome that challenge, his handwriting is still very poor.
Notebooking just gives us another opportunity in our school day to practice writing.
What I don't do is make neat handwriting an issue. Again, I feel notebooking should focus on building listening and comprehension. It should be fun and relaxing.
3. It helps build comprehension skills
This is one of the reasons why I love notebooking.
Many times I have found that dictation has helped our youngest son comprehend and remember what we've read.
Right now he struggles a lot with listening comprehension.
In fact, I have found that he retains very little – if anything – by just listening.
However, when I grab a notebooking page and dictate to him something from our story or lesson, he will remember it after having written it down.
Danika Cooley from Thinking Kids Blog encourages dictation in notebooking for younger grades.
4. It helps to track their progress
In just the 4 months I've been homeschooling my two boys, and the 7 months I've been homeschooling our youngest, I can see tremendous progress.
This progess is most visible in their notebooking and/or lapbooks.
Imagine what it will be like in 3-4 years, or when they're in highschool!
Having this visual, tangible method to track their learning and progress is so valuable…and it's encouraging.
There are times when I feel discouraged and like I'm failing my children in a huge way.
All it takes for me is to go back and revisit where we were when we started, and see how far they've come to show me that I'm not only not failing my kids, I'm giving them the very best education possible!
It's relaxed.
It's stress-free.
It's fun.
It's creative.
And they love it! What more could I ask for!!
If you'd like to take a look at my free notebooking pages, you can visit my Notebooking Pages general page, on that page you'll find a few "extended version" sets for sale.
Many of my notebooking pages correlate with my unit studies.