Why Is the Church So Afraid Right Now?
I hope you love the products and resources I recommend here at A Little R & R. Just so you know, it is possible that I get a commission and collect income from the links on this page. Click here for more info.

I am not a doctor, none of the information on any of these pages pertaining to the Ketogenic Diet or Adrenal Fatigue should be considered medical advice and should not replace the care of your personal physician. I am simply eager to share the information I have learned while on my own journey to health. Before you embark on this journey, please consult with your physician.
I have grown increasingly concerned over the past few months as I have seen Christians' response to this so-called pandemic we're in.
And I have asked myself repeatedly, "Why are we so afraid right now?"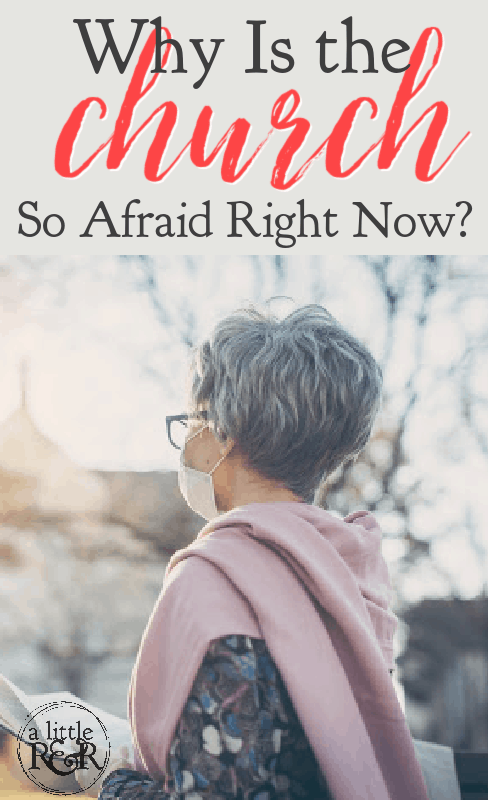 Some of these same Christians believe in the power of God to heal; they themselves have prayed for healing and seen answers to prayer.
Many of them have also been miraculously healed.
And now they post about the horrible symptoms of this virus, their concern about being an asymptomatic carrier of the virus, the importance of social distancing and wearing a mask.
And I am left to wonder: if God has truly given authority in Jesus' name, why His power isn't enough to overcome a virus?
Is this virus greater than God?
Why Is the Church So Afraid Right Now?
"…And on this rock I will build My church, and the gates of Hades shall not prevail against it. And I will give you the keys of the kingdom of heaven, and whatever you bind on earth will be bound in heaven, and whatever you loose on earth will be loosed in heaven." Matthew 16:18-19
This passage in Matthew is so powerful, because it clearly illustrates the power Christ gave the church.
Prevailing against the gates of hell is reference to an offensive attack, since clearly gates themselves do not have the ability to attack.
No one has ever been attacked by a gate.
However, there are times when we as humans encounter a stubborn gate that won't open; and that is what Jesus is referring to here in this passage.
The gates of hell want to stubbornly keep people bound to the enemy's agenda, but the Church has the power of God to burst through those gates, with all of the authority of Christ.
To do what?
To bind demonic forces
To loose those who are being held captive by those demonic forces
Does this sound like a Church sheltering in place; cowering in the face of so-called scientific data about a virus?
Since when does science supersede God's Word? Since when is God's Word subject to the discoveries of fallen man?
I thought God was omniscient and to err was human. But suddenly, in 2020, man has become omniscient about this virus and the Church has submitted to science that tells us that we have to close our services – or severely limit those allowed to attend – despite what the Word of God says about gathering together.
"And let us consider one another in order to stir up love and good works, not forsaking the assembling of ourselves together, as is the manner of some, but exhorting one another, and so much the more as you see the Day approaching." Hebrews 10:24-25
The New Testament clearly illustrates for us that God's institution of the church intended for physical gathering – without restriction – for the edifying and discipleship of the body.
And when the government of that time tried to restrict the church, the church fearlessly stood up against the government and gathered anyway.
The consequences of them opposing governmental restrictions in that day were far more severe than any threats against the church in 2020.
And yet, they didn't hesitate for a moment to obey God rather than man.
Will we obey God rather than scientific data about a virus – data about which scientists and doctors are not in agreement; data that has been questioned and found to be faulty; data that is still be researched and is revealing to us that this virus is not nearly as dangerous as originally thought?
And yet, much of the Church continues to cower.
Continues to shelter in place
Continues to school others on mask-wearing
Continues to talk about how deadly this virus can be
Continues to keep their door shut and opt for online service instead
Continues to do drive-in church
Continues to limit the attendance
I believe that what has led to this weak, powerless Church is that we have forgotten who we are.
We have lost our identity.
Over the past 20-30 years, we have made superstars out of pastors, Bible study authors, and Christian leaders.
We attributed to them a level of spiritual power that God intended for the whole church to have.
But because we believed that a platform equals power, and stardom equals blessing and favor, we relinquished the authority God gave average men and women and absolved ourselves of the responsibility of being the church in our culture.
We abdicated our role.
And sadly, here we are in 2020; so many of our leaders have fallen from grace at worst, or waffled on biblical principle at best.
The average Christian doesn't know who they are in Christ.
We no longer believe in the authority God gave the church, and honestly don't even believe that God actually created the institution of the church to begin with.
This has created the perfect opportunity for Satan to render the church utterly powerless against his plan to steal, kill, and destroy.
But I still believe there is a remnant
I believe there is still a remnant of believers who are fearless; who know who they are and what the church was meant to be in our culture.
I believe there are still Christians who daily walk in the power and might of the Holy Spirit and who are ready and willing to take a stand against a godless agenda to elevate science over God's Word.
I believe there are still Christians who are filled with the Holy Spirit and fire who are interceding in this time of great unrest and confusion; who are not deceived or led by mainstream media's attempt to terrify them into isolation.
I believe there are still believers who firmly believe in the power of healing and who know the authority they have in Jesus Christ to:
Heal the sick
Raise the dead
Cleanse the lepers (those with disease)
Cast out demons
And it is this remnant, faithful and true to God's Word – unafraid of mandates and threats by a government that has far overstepped its constitutional authority – that will be a relevant voice of hope in this culture.
Church – stop cowering in fear!
God has given us power and authority to heal every disease.
"And these signs will follow those who believe: In My name they will cast out demons; they will speak with new tongues; they will take up serpents; and if they drink anything deadly, it will by no means hurt them; they will lay hands on the sick, and they will recover." Mark 16:17-18
Either we believe God's Word to be true, or we are foolishly following a empty religion.
Either God's Word is relevant for today, or we should just put our Bibles down and walk away from Christianity entirely.
Either what we believe is true or we are in delusion.
But if God's Word is true, then it's true from cover to cover. Every word. Every punctuation mark, every iota of what God said.
And if it's true, then what are we doing in lock-down, Zoom church, tailgate Sundays, and sheltering in place?
If it is true, why are we worried about a virus that God has already given us authority over to heal and recover?
And what if it is deadly?
At the risk of sounding calloused, I have to ask this question, as well.
Why is the Church so afraid of death?
"O Death, where is your sting? O Hades, where is your victory?" 1 Corinthians 15:55
I thought eternal life in Jesus Christ meant we were no longer afraid of death.
I thought that Christians – more than anyone else on earth – could face death with boldness and confidence knowing that "to be absent from the body is to be present with the Lord."
Dear sisters, this virus isn't the first – or last – of its kind to present a threat to one's existance.
And yet, it is the first of its kind to send the Church cowering at home, sheltering in place, and schooling dissenters about it's danger and threat.
Why are we so afraid of death?
For the Christian, death is not the end. It is the beginning of eternal joy in God's presence!
Any way you look at this pandemic that has thrown the entire world into chaos and fear, either God will heal our physical body or He will choose to give us ultimate healing by taking us home.
Either way, the Christian wins!
And as God's children, we bear the responsibility to carry that boldness, faith, and hope to a world terrorized by constant media coverage.
To offer the hope of both physical and eternal healing!
If we don't carry that hope, who will? God has raised the church up for such a time as this.
May we walk into our destiny – the calling and identity He has purposed for us, and be that refuge of hope and faith that our world so badly needs right now.
---
Other posts in this series
Covid-19 and the Canceling of the Church
3 Things the World Needs From the Church Right Now
3 Powerful Reasons We Need the Baptism of the Holy Spirit Now More Than Ever
3 Things That Have Made the Church Powerless In This Culture
4 Reasons Why You Need the Holy Spirit
10 Bible Verses On the Holy Spirit and Speaking in Tongues
How to Receive the Baptism of the Holy Spirit