8 Bible Verses to Defeat Condemnation Bookmark – Free Download
I hope you love the products and resources I recommend here at A Little R & R. Just so you know, it is possible that I get a commission and collect income from the links on this page. Click here for more info.

I am not a doctor, none of the information on any of these pages pertaining to the Ketogenic Diet or Adrenal Fatigue should be considered medical advice and should not replace the care of your personal physician. I am simply eager to share the information I have learned while on my own journey to health. Before you embark on this journey, please consult with your physician.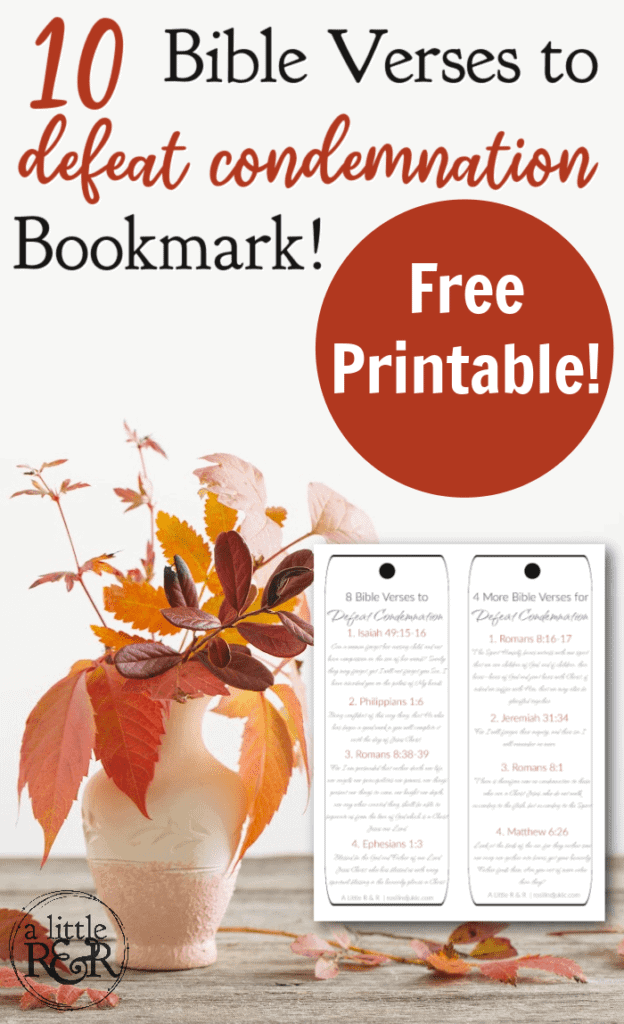 Do you ever find yourself avoiding the quiet, still moments, because you know that as soon as the noise around you goes off, the voices inside you will start accusing you.
Bringing up all of your less-than-stellar moments.
Drudging up your failures from the past.
Every wrong move.
Every word spoken out of season.
The times when you should have known better, but you chose differently instead.
I wonder if Paul sometimes battled with condemnation, having persecuted and imprisoned Christians – even sent some to their death.
I doubt any of us have ever done anything quite like that!
And yet, Paul – with his very dark past – could still pen the words, "There is therefore now no condemnation for those who are in Christ Jesus, who walk not after the flesh, but after the Spirit."
Dear sister, when those moments of silence remind you of your failures and faults, and not of the love of Jesus – that isn't from God, that is from the enemy!
And there is only one way to silence the voice of the enemy and invite the love of Jesus.
And Jesus is our example.
When the enemy came to tempt Jesus in the desert, Jesus didn't try to negotiate with him.
You never negotiate with your enemy!
He fought back with our most powerful weapon – the Sword of the Spirit, which is the Word of God.
Below are 8 Bible verses to defeat condemnation when it comes calling at our door. These verses are taken from my earlier post, in which you can download a set of Bible verses cards to defeat condemnation.
To download these Bible bookmarks, simply type in your email below and the printable will come up right on your screen.
You will find a place at the top right-hand corner to download a copy to your device.
I suggest you laminate these bookmarks so that they last a long time.
Get instant access to over 80 FREE Printables today without ever having to enter your email in again! Become a member of my Printable Library on Buy Me a Coffee or Patreon today!