This Is What Is Wrong With Worship Today
I hope you love the products and resources I recommend here at A Little R & R. Just so you know, it is possible that I get a commission and collect income from the links on this page. Click here for more info.

I am not a doctor, none of the information on any of these pages pertaining to the Ketogenic Diet or Adrenal Fatigue should be considered medical advice and should not replace the care of your personal physician. I am simply eager to share the information I have learned while on my own journey to health. Before you embark on this journey, please consult with your physician.
What is worship, really?
Yes, I know that it's the part of the service when we sing worship songs. But is that all there is to worship? Is worship just the singing part? Is worship just a style of song or singing?
These are questions I asked myself about 15 years ago when I began to sense a great change in Christian music.
Suddenly everyone was singing "worship" and every song was a "worship song", no matter the lyrics or difficulty of the music.
The answer to those questions radically changed my perspective of worship and what worship actually means.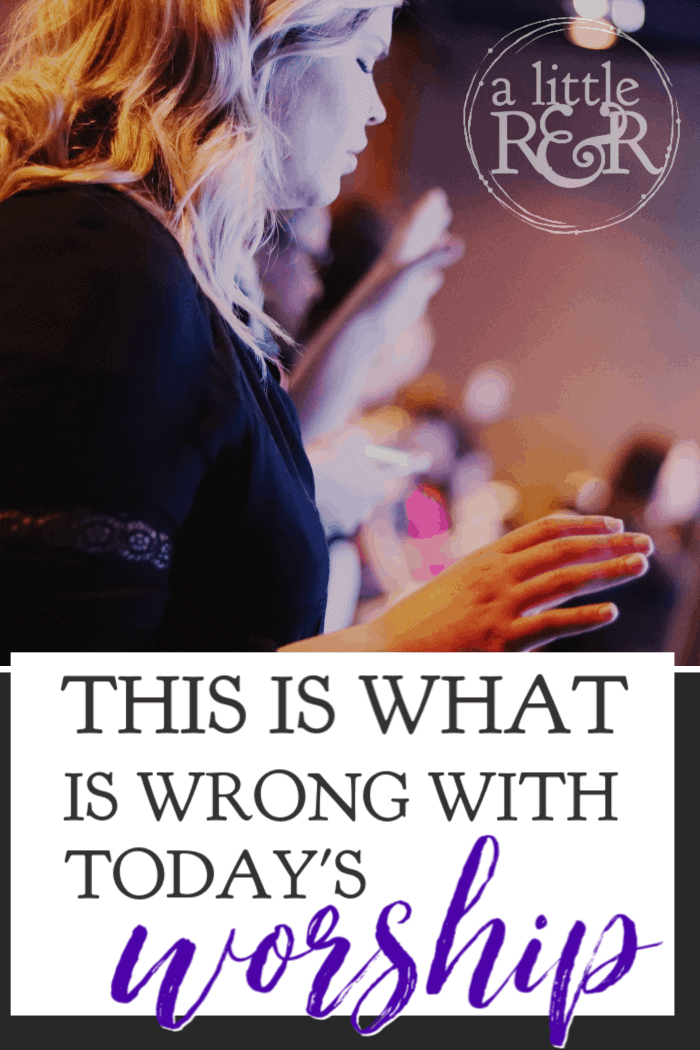 As Christians we often compartmentalize our lives.
When I read the Bible, it's godly.
When I go to the store, it's secular.
When I sing worship songs, that's worship.
When I wash dishes, it's secular
But God never meant for us to compartmentalize our lives this way.
This Is What Is Wrong With Worship Today
As a child of God, everything we do should be worship; because the Holy Spirit lives us us and wants to influence everything we do, everything we say, everywhere we go and everyone with whom we speak!
"Therefore, whether you eat or drink, or whatever you do, do all to the glory of God." 1 Corinthians 10:31
And we see this same principle in Deuteronomy chapters 11-15.
Every chapter speaks about worship; whether it's about obedience, requirements about how to worship and offer sacrifices, punishment for those who practice idolatry, giving the tithe, or respect for mankind.
God doesn't view worship as just singing or prayer, just as Christian activities aren't just reading the Bible and evangelism.
That's what's wrong with the modern idea of worship.
Worship is a lifestyle.
When I clean hours, prepare dinner, or drive the kids to soccer practice I am worshiping God because I am serving my family. When I serve my family I am serving God.
But there is a catch, and it's my attitude.
If I serve my family with a bad attitude I am not worshiping God because God cannot be glorified through my bad attitude.
My attitude determines who I am worshiping.
When I serve my family with a godly attitude I am serving God because He gave me my family as a ministry. When I am at work I serve God because God gave me my job.
This is why Paul said in Ephesians 6:8, "with goodwill doing service, as to the Lord, and not to men, knowing that whatever good anyone does, he will receive the same from the Lord, whether he is a slave or free."
When I give my family 100%, when at work I give 100%, I am not giving to men but to God. I am not serving my boss, but God….
and that is worship.
Maybe you're thinking, "but I don't want to give 100%" or "I simply don't have 100% to give".
Give what you have, just as the widow gave to God all that she had and God will reward you!
A miracle happens when, with a joyful heart of worship, we give to the Lord all we have…and the more we give the more our heart is filled up! And our heart because an endless fountain of joy because worship always brings joy!
What is right about worship?
It is the way I choose to live my life!
---
More articles on worship
Resources for Worship
Live Worship – eBook

5 Day Quiet Time Journal – Worship vols 1 & 2 – Free Download

Blog Posts

9 Hebrew Words for Worship

9 Ways We Make Worship All About God

How to Live a Life of Worship

7 Weapons for Spiritual Warfare

How to Use Worship As a Spiritual Weapon

This is What is Wrong With Worship Today

5 Reasons Why You Shouldn't Joke About Worship

3 Ways Our Worship Turns to Witchcraft

How Should Worship Look Differently After Quarantine?