Simple Character Studies – Kindness – Limited Time Freebie!
I hope you love the products and resources I recommend here at A Little R & R. Just so you know, it is possible that I get a commission and collect income from the links on this page. Click here for more info.

I am not a doctor, none of the information on any of these pages pertaining to the Ketogenic Diet or Adrenal Fatigue should be considered medical advice and should not replace the care of your personal physician. I am simply eager to share the information I have learned while on my own journey to health. Before you embark on this journey, please consult with your physician.
It is amazing how just one act of kindness can change a person's life.
I've shared before about how one woman's act of kindness toward me, as an awkward teenager, left an impression on me that I remember to this day.
She was in the college-aged group, and the fact that anyone in the college group even knew I existed was huge! But to want to willingly spend time with me? Mind blowing!
The fact is, it doesn't have to cost us anything but time to be kind to someone, and the time invested can have eternal impact.
And that is why we should take time to build this character quality in our children while they are young.
That is why this 4-week study for kids on Kindness is so important!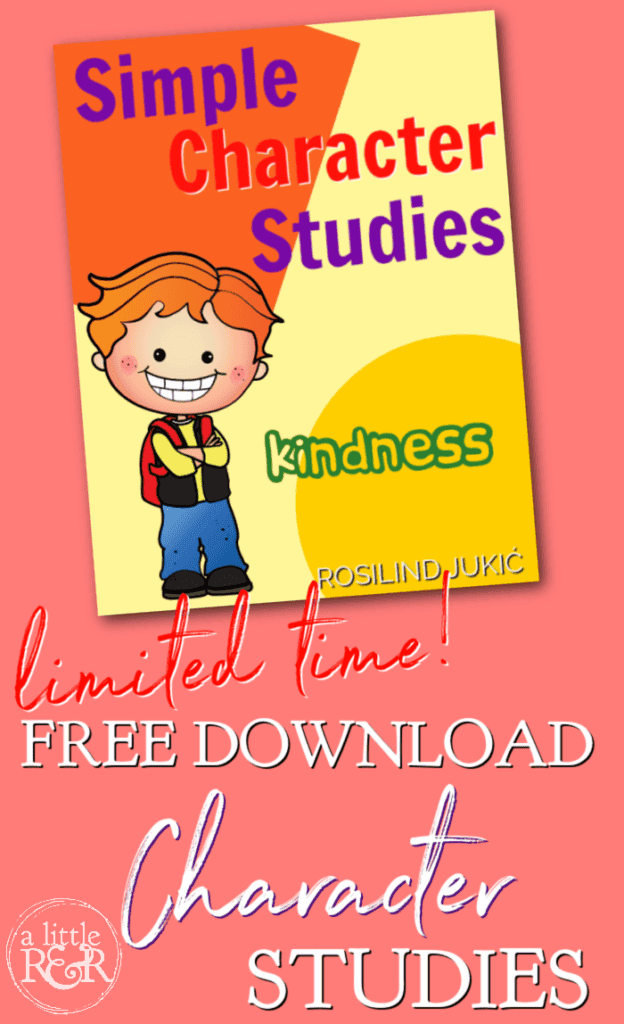 It teaches kindness through:
Bible stories
Nature
Cooking
Art
Rollplay
We learn the importance of kindness with with our words and actions, through doing kind deeds for others, and the joy of doing them even when no one knows.
I grew up learning about character qualities, and I feel that this emphasis on character really helped to shape me into the person I am today.
That is why I got together with my sister (a veteran homeschool mom) to put together a new series of studies on character.
I have to give credit where credit is due – she put these studies together and I made them pretty.
Meet my sister:
Bonnie Dučić is a veteran homeschooling mom with 9+ years of experience. She has homeschooled all 4 of her bilingual children and loves helping others find joy in raising and schooling their own children. She also enjoys writing music and serving with her Croatian husband in his calling as senior pastor of Church of the Full Gospel in Zagreb, Croatia.
---
Simple Character Study – Kindness
My goal with these Simple Character Studies is to provide a curriculum of studies to do with your kids for the whole school year.
Each Character Study includes 4 weeks of daily lessons that include a Bible story, memory verse, character definition, art projects, games, nature studies, books, and other projects that all work together to help your children clearly understand each quality.
In these lessons, they will learn the benefits these character qualities bring to us and others, and the consequences that occur when we do not have these character traits in our lives.
In the Simple Character Study of kindness we will learn from lives of David, the Good Samaritan, and others..
We will learn about how kindness is reflected in nature and why it is vital to our inter-personal relationships.
Included are some fun art projects, family projects, as well as fun games you will want to play over and over again!
You can get this 22-page Simple Character Study – Kindness free for a limited time below!
---
Find More Character Studies Here:

Simple Character Studies – Responsibility

Simple Character Studies – Honesty

Simple Character Studies – Self- Control

Simple Character Studies – Kindness