3 Practical Tips To Reach Your Goals This Year
I hope you love the products and resources I recommend here at A Little R & R. Just so you know, it is possible that I get a commission and collect income from the links on this page. Click here for more info.

I am not a doctor, none of the information on any of these pages pertaining to the Ketogenic Diet or Adrenal Fatigue should be considered medical advice and should not replace the care of your personal physician. I am simply eager to share the information I have learned while on my own journey to health. Before you embark on this journey, please consult with your physician.
A few years ago I abandoned the practice of creating New Year's Resolutions and began making goals instead.
This decision completely revolutionized my outlook on the New Year and my efforts to move forward toward becoming everything God wanted me to be.
It was no longer a quest for perfection, it was an journey to accomplishing the purposes I was created for.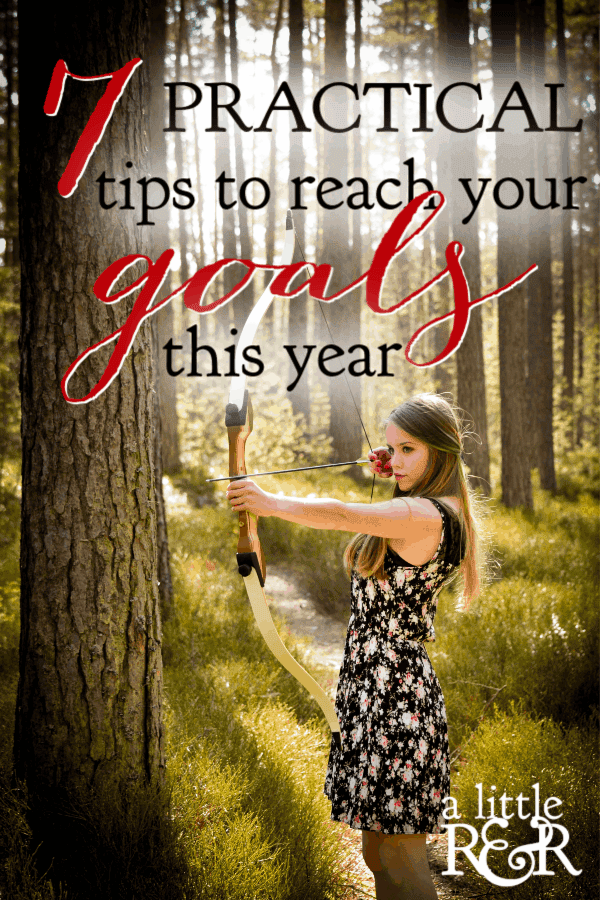 What I've learned is that if I want to meet those goals, or at the very least make progress toward meeting those goals, I must be intentional about doing those things that will move me forward.
I can't just grab my bow and arrow and randomly shoot into the air hoping that somehow that arrow will land on the target.
It doesn't work that way!
I have to grab my equipment and practice hard. Look at my sights. Get the bull's eye in my line of vision, and then fire…
I'll probably miss, but with hard work and practice I will get there!
And this is how life is.
3 Practical Tips To Reach Your Goals This Year
I think so often we live our lives by randomly shooting into the air, hoping we'll meet our goals.
But when we seize life with intention; when we sit down and map out a journey toward our destination; when we learn how to say no to those things that will hold us back from reaching our goals, we will find we are soaring higher and faster!
That's where I want to be this year!
1. I have chosen a book for each month of the year
Now, I'll be up front and honest with you right now. That bookshelf I had for 2018? Yea, I didn't even get through one book. I started my first book and got halfway through it — and it is now 2019.
Let's face it – I honestly have no time to read anything other than the Bible. But I see the incredible value of reading!
So, I decided that for 2019 I won't actually read books – I will listen to them on Audible!
Here is what's in my Audible library for 2019. (I also included the type of bluetooth headphones I use because I love them so much!)
Bluetooth Headphones Wireless Headset Retractable Stereo Neckband Earbuds with Mic for iPhone X/8/7/6 Android (12 Hours Play Time, Bluetooth 4.1, Noise Canceling, Rose)
Becoming MomStrong: How to Fight with All That's in You for Your Family and Your Faith
When I Don't Desire God Publisher: Crossway Books
The Anxiety Cure
The Obesity Code: Unlocking the Secrets of Weight Loss
The Complete Works of E. M. Bounds: Power Through Prayer, Prayer and Praying Men, The Essentials of Prayer, The Necessity of Prayer, The Possibilities … Purpose in Prayer, The Weapon of Prayer
The Resolution for Women
The Release of the Spirit
Keto Clarity: Your Definitive Guide to the Benefits of a Low-Carb, High-Fat Diet
Bringing Up Boys
Late-Talking Children: A Symptom or a Stage? (The MIT Press)
The Harbinger: The Ancient Mystery that Holds the Secret of America's Future
The Cost of Discipleship
2. I am listening to podcasts
There are so many great podcasts out there that not only help to build you up spiritually, they offer great marriage, parenting, and business advice.
Here are some of my favorite podcasts:
1. Foundational
3. The Busy Mom
4. Keto Talk
3. Online Conferences
I love the idea of an online conference, mostly because it gives me access to amazing tools without having to book a flight, book a hotel, and find a babysitter.
Pretty much if I have to do those three things, you wont find me anywhere but home – because we don't have that kind of money.
Attending an online conference is by far less expensive than attending a live one, plus you usually get lifetime access to all of the material, so you can go back and rewatch the workshops that you found particularly helpful to you.
You don't have to just rely on notes that you can't read because you were writing at a feverish pace, hoping you wouldn't miss something.
Yea – that would be me!
I am attending the A New Year Your Best Year 2019 Mom Conference ….and I am leading a workshop on resolving drama in your life.
I hope you'll join me in attending with me!
You will find over 90 speakers and over 170 workshops….plus a generous swag bag!
Topics include:
Parenting/Motherhood
Setting and Achieving Goals
Faith
Marriage
Household Organization
Health/Fitness
Simplification/Minimalism
Planning/Time Management
Finances/Budgeting
Meal Planning/Prep
Family Life
You can find more information and/or register here!
What are you doing this year to move toward your goals? What books are you reading and what podcasts are you listening to right now?
Read more content like this:
3 Reasons Why You Should Make Goals for the New Year
3 Goals Every Christian Should Make For the New Year
Why I Am Not Just Living In the Moment