4 Tips To Find a Church + Printable Checklist
I hope you love the products and resources I recommend here at A Little R & R. Just so you know, it is possible that I get a commission and collect income from the links on this page. Click here for more info.

I am not a doctor, none of the information on any of these pages pertaining to the Ketogenic Diet or Adrenal Fatigue should be considered medical advice and should not replace the care of your personal physician. I am simply eager to share the information I have learned while on my own journey to health. Before you embark on this journey, please consult with your physician.
There aren't many things as intimidating and daunting as trying to find a church.
There are many things to consider when looking for a church, because not all churches preach the Bible. I know that is hard to believe but, as with anything else in life, there are good churches and some churches that just aren't so good.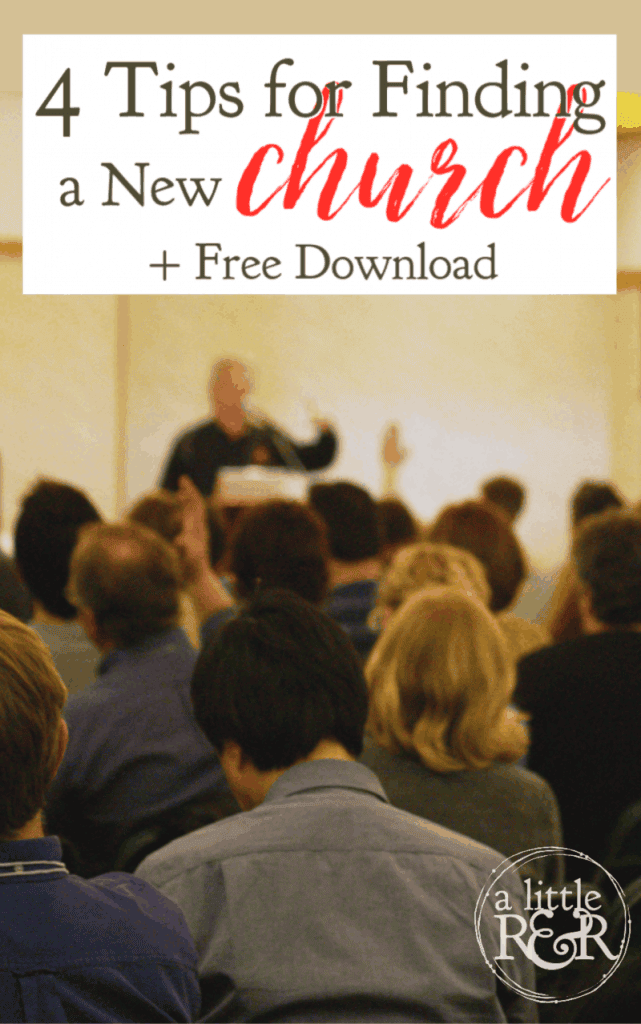 I'll never forget the first time I had to look for a church.
Having grown up in a pastor's home, I'd never had to go through this before! I didn't even know where to start. But here I was hundred's of miles away from home and looking for a new church.
I tagged along with some friends, visited the Yellow Pages (believe it or not, I didn't know how to use the Internet back then), and it took a few months before I settled on a church that I considered "mine".
That experience taught me a lot!
At one church, not one person even acknowledged that I existed. It was like I was the Invisible Man.
At another church, the pastor taught things that were clearly not biblical.
Then, at the invitation of a friend, I visited a church near me where the pastor preached the Bible accurately, the people were extremely friendly, invited me to spend the holidays with them….and 17 years later, I'm still in touch with the pastor's wife!
Here are 4 tips I've learned to successfully find a church
(and at the end of this post, you'll find a printable checklist you can use!)
1. Start with Google or Facebook
Google or Facebook church churches in your area and start writing down the ones near you that stand out.
Once you have a list of 5-6 churches that sound interesting to you, visit their websites. As you do, be sure to have the checklist below next to you, so you can start taking notes.
2. Ask friends or neighbors.
Do you have friends or neighbors that attend church? Ask them for a recommendation; especially if they have been attending the same church for a few years. This usually means that the church is stable and a place where you can put down roots.
3. Use this checklist.
There are a few things you'll want to be looking for in a church.
Location – Is the church near where you live? While this isn't always a deciding factor, for many it often determines how often they attend church and how involved with their church they will be.
Belief Statement – This should be a deciding factor. Be sure to check to see if the church believes the following:
In the verbal plenary inspiration of the Word of God
In the Trinity
All have sinned
Salvation by grace alone
Jesus is the Son of God
Jesus rose from the dead
There is a literal heaven
There is a literal hell
Jesus is coming again
There is a class for new believers – A church that takes seriously the need to train new believers in their walk with God, what we call "discipleship", is a church you will want to be involved in.
There is a good children's program – This will be particularly important if you have children. You want to make sure that your children are not just being babysat, but they are learning about Jesus, too!
The people are friendly – Part of the reason we attend church is to build friendships with other Christians so that we can find encouragement and help as we live the Christian life. What better place to build friendship with other Christians than at your church, so you want to attend a church where the people are friendly and open to building friendships.
There is opportunity to make connections – One of the things that helps create a stable church is the opportunity members have to connect on a more personal level. That can happen through fun events, and through small group meetings. Does the church have events for men and women? Are there home groups or small groups that help to promote deeper and more personal relationships?
The pastor is approachable – If the pastor is not approachable to the people, even new people, that is a red-flag. The Bible equates the role of a pastor to the role of a shepherd. A shepherd leads, feeds, and protects his sheep, and the pastor should do the same. In order to do so, he should be approachable and ready to counsel the people in the church.
There is room to get involved – A healthy church is a church that allows ordinary people roll up their sleeves and help out. While many church may require a waiting period, to be sure that new people are ready to commit to fulfilling certain roles or tasks, a church that allows you to get involved is a church you want to look for.
4. Visit more than once.
Maybe the first visit didn't go so well. Unless the pastor was preaching something that was completely against the Bible, give it a few more tries before you cross the church off of your list.
Perhaps it was an "off" Sunday. That happens to every church! Sometimes things just don't get off to a very good start, and they continue downhill from there. Yet, maybe your second visit will be amazing! You'll never know.
If after 3 or 4 visits, you still come away with the same impression, then it's time to cross that church off of your list. Maybe it's just not the right fit for you.
3 things to remember when finding a church
1. No church is perfect.
A church is made up of humans and humans have faults. When you put 50-100 or more faulty humans in one building, you're liable to have a very faulty church.
But here's something else to remember: You're also a faulty human! I know, no one wants to admit that, but it's true. So, even if a church seems amazing and perfect the first few times, after a while the "honeymoon" ends and you start finding things about it you don't like.
Someone will upset you, the pastor will accidentally brush you off when he didn't mean to, the band will sing the one song you dislike the most, and your child will end up in time-out in Sunday School for something you feel was trivial.
It happens to everyone, but the Scripture says this, "The discretion of a man makes him slow to anger, And his glory is to overlook a transgression." Proverbs 19:11
2. Don't get hung up on non-essentials.
While the checklist below is filled with important things to look for, there are some things that should just be overlooked.
Maybe the music isn't very professional or they sing more old hymns than you like. Perhaps they meet in an old building still decorated from the 70s or they coffee they serve tastes like swamp-water.
These are non-essentials. Don't let them become a reason for you to switch churches.
3. Give it time.
Just like it takes time to build a solid friendship, it also takes time to fit in to a new church. This is so with even the most friendly church.
Trust must be built on both sides: they must learn to trust you just as you must learn to trust them and this doesn't happen in a few weeks, or even a few months.
Finding a new church is something to be taken seriously, both for the one seeking a new church and for the church to which new people will attend.
With these 4 tips, along with the checklist, the process of finding a new church should be much easier!
To download the Find a New Church Checklist, simply type your email in below and you will receive it directly in your email!
Get this Find a New Church Checklist printable today when you type your email in the form below:
More Articles About the Church
3 Things the Church Does When the Glory Has Departed
6 Terrible Reasons Why People Leave Their Church
5 Reasons Why People May Need to Leave Their Church
How to Love the Church In This Culture of Hate
An Open Letter to the Church Post-Election
David Wilkerson's Prophetic Message to the Church
The Fruit of Maturity In the Church