6 Terrible Reasons People Leave Church
I hope you love the products and resources I recommend here at A Little R & R. Just so you know, it is possible that I get a commission and collect income from the links on this page. Click here for more info.

I am not a doctor, none of the information on any of these pages pertaining to the Ketogenic Diet or Adrenal Fatigue should be considered medical advice and should not replace the care of your personal physician. I am simply eager to share the information I have learned while on my own journey to health. Before you embark on this journey, please consult with your physician.
As a pastor's kid, I have watched people come and leave our church many, many times.
Sometimes they had valid reasons, such as moving to another city or state, other times they really didn't have a good reason, and sometimes that not-very-good reason hurt the rest of the congregation
Perhaps some don't really see this as a big deal, but it is.
Church is a big deal because the church is more than just a meeting of a bunch of people with similar interests.
The Bible refers to the church as a body, and in this body each member has his own unique function. Each member brings to the body his unique gifts and abilities – just as a physical body has parts that give that body health and proper function.
Just as every family has some level of dysfunction, so does every church.
Do you know why?
Because churches are made up of people and people are flawed.
8 Terrible Reasons People Leave Church
1. They don't like the worship
This is one of the worst reasons to leave a church. Whether the worship is too modern, too traditional, too loud, too polished, or too amateur, it is not a good reason to leave.
No matter the style of worship, if we have a desire to worship God, we will worship Him no matter what worship song is being played and how it is being played.
If we allow the style of worship to distract us, our heart isn't in the right place.
2. They don't get much out of the service
You will get out of a service what you put into it.
On the Sunday mornings when I don't prepare my heart to meet with God, I don't usually get very much out of it. My heart wasn't prepared to receive anything, so it stands to reason that I wouldn't get anything out of it.
But there's a deeper issue here, and that is our attitude that the church is here to serve us. We often think of church as the "filling station". I've heard that analogy many times, but I don't agree with it because it makes the church a place to serve me – the consumer.
Church isn't a filling station, it is a place where we gather together to worship God. We go there to serve Him. Yes, we serve Him individually throughout the week, but one day a week we all come together to serve Him corporately.
Church isn't about us at all. It's about Him.
We are't consumers. We're worshipers!
3. The church is too small or too big
Sometimes people can treat church much like Goldilocks and the Three Bears. One church is too hot, another is too cold. One church is too small and another is too big. We go around trying them on until we find one that fits….
…until it doesn't. And then we go out trying on more churches.
The fact is that there is no perfect church. And even if you find one the right size, that could change at any time.
4. They don't fit in.
If this were a prerequisite for me, I'd never go to church.
I find I rarely fit in with most groups. I fit in with individuals, but rarely in groups. It's just part of my personality. And I know I'm not alone here.
I think the majority people feel that way.
But again, church isn't here to serve us – but to be served. We are called to serve our church and I find that when I find a ministry to give my time and talents to, I fit in better.
5. They don't like the way things are done.
This is the reason that most often bothered me, because so many times this attitude came from those who didn't want to help, they just wanted to complain.
They didn't like the way the church was decorated, but didn't want to help decorate.
They didn't like the way the coffee was served, but didn't want to come early to help set up the coffee bar.
My feeling has always been that if you don't like the way something is done, get involved, help out, offer suggestions and try to be the change.
You never know, everyone might like your idea better!
Be the change!
6. They had a conflict
This is one of the most painful reasons I've seen people leave.
Mainly because most often they don't leave quietly. Instead, they feel compelled to call people and tell them that they're leaving and why.
Most often they have to leave with a group, so they spend time gathering people around them who sympathize with their reason for being offended.
By the time they leave, the congregation is split between those who sympathize with the pastor and those who sympathize with the one who is offended. And often this group has, by now, remembered reasons why they, too, should be offended.
This is one of the most destructive things to happen to a church.
I have, sadly, walked through this exact scenario more times than I wish to remember – because the aftershock of a church split can be felt for years.
One of the things I have come to realize in my many years of being a pastor's daughter, a ministry leader, and simply a church member is this:
No church is perfect.
Every church is flawed.
If we look hard enough we can find all kinds of things wrong with our church, pastor, pastor's wife, deacon board, and various ministries that are housed in our church.
But if we look even harder, we'll find all kind of good that we should be focused on!
And as a closing word of caution: if you do choose to change churches – for any of the terrible reasons I've listed above or for a truly valid reason – I promise that whatever new church you use will be wonderful. It will be amazing….in the honeymoon period.
But that period wears off.
And then you'll start to notice that it, too, has flaws. Many of them.
And then you'll have a choice, to either extend grace to those flawed people or to allow those flaws to get under your skin until you once again go try on more churches.
Extending grace is always the best option!!
And the good news is that the Word of God tells us that it is fresh and new every morning!
---
Make your search for a church easier with this simple checklist!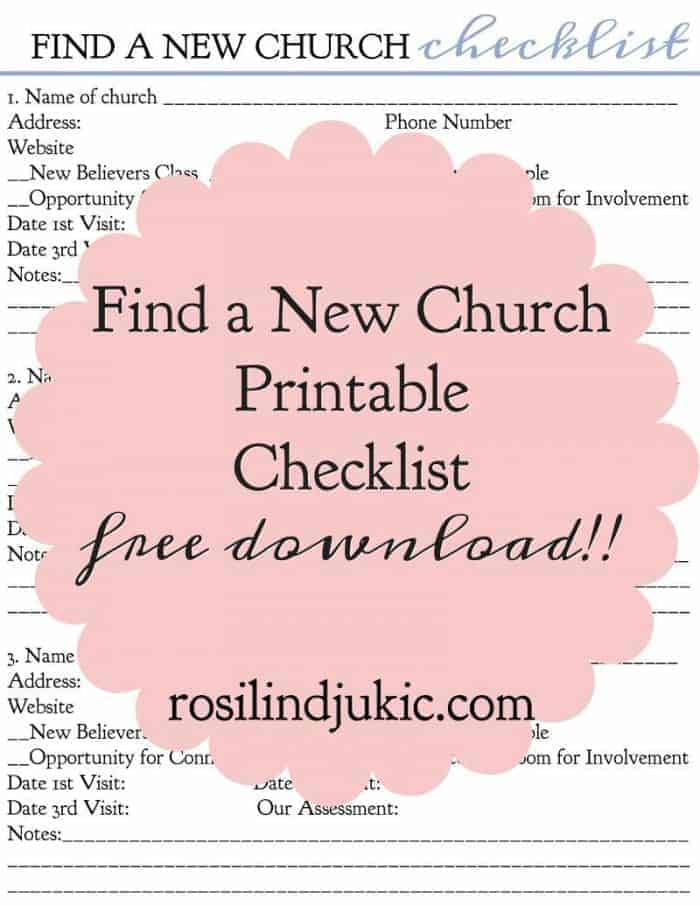 ---
More Articles About the Church
3 Things the Church Does When the Glory Has Departed
6 Terrible Reasons Why People Leave Their Church
5 Reasons Why People May Need to Leave Their Church
How to Love the Church In This Culture of Hate
An Open Letter to the Church Post-Election
David Wilkerson's Prophetic Message to the Church
The Fruit of Maturity In the Church