Christmas Recipe Cards – Free Download
I hope you love the products and resources I recommend here at A Little R & R. Just so you know, it is possible that I get a commission and collect income from the links on this page. Click here for more info.

I am not a doctor, none of the information on any of these pages pertaining to the Ketogenic Diet or Adrenal Fatigue should be considered medical advice and should not replace the care of your personal physician. I am simply eager to share the information I have learned while on my own journey to health. Before you embark on this journey, please consult with your physician.
I love Christmas baking!
The planning, the mixing, the smells….the colors. I love including my kids in all of the baking and seeing their faces light up as they make candy canes, Christmas trees, and snowmen.
I always make way too much.
I also always make a huge mess.
But somehow, it never really matters, because I love blessing my family with delicious goodies — that are good for them….and not-so-good for them.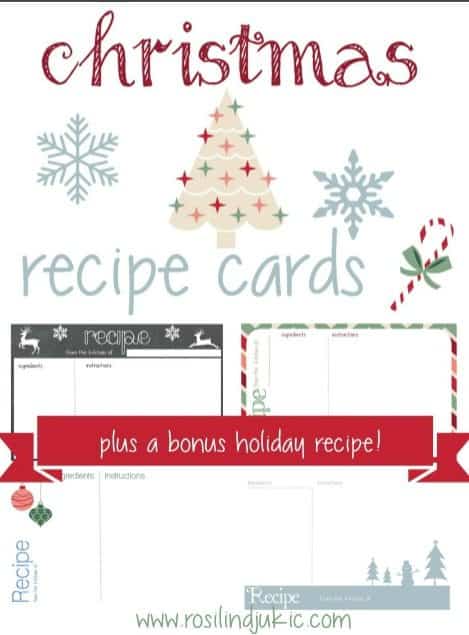 This year I'm having to get extra-creative and come up with some gluten-free, sugar-free recipes since I am now ketogenic.
You can read about the ketogenic way of eating at my blog A Little Keto Coaching.
And I plan to write them down on these fun, colorful, Christmasy recipe cards that I've made. Don't you just love special recipe cards?
I don't know…for me, it just makes cooking and baking so much more fun when I have a pretty, colorful, and fun recipe card laying on the counter.
Pies, cookies, candies…all sorts of deserts. Plus, turkey, ham, sweet potatoes, Waldorf salad, 5-cup salad, special Christmas and New Years' Day breakfast recipes.
There are goodie-exchanges, cookie exchanges, bake sales…and this is the perfect time to share your favorite recipe.
That's why I have created these special Christmas Recipe cards.
Because if you're going to share a recipe, you want to write it down on a pretty recipe card, right?
Plus, this is a nice addition to that homemade mix-in-a-jar recipe you found on Pinterest. Right? I mean, you need to write down the instructions….so why not write them down on something pretty, fun, and colorful.
Check out these cards!
Aren't they just pretty?
They make me want to start baking some holiday goodies right now.
Plus!!
I have a little extra freebie for you. I want to share with you my special holiday coffee recipe. It is so easy to make. You just add some special ingredients to your coffee grounds and brew your coffee as you normally would.
I love to make this coffee recipe whenever guests come over because the extra aroma takes my coffee from ordinary to deliciously extraordinary!
These recipe cards, plus my special holiday coffee recipe, are free!!
No joke!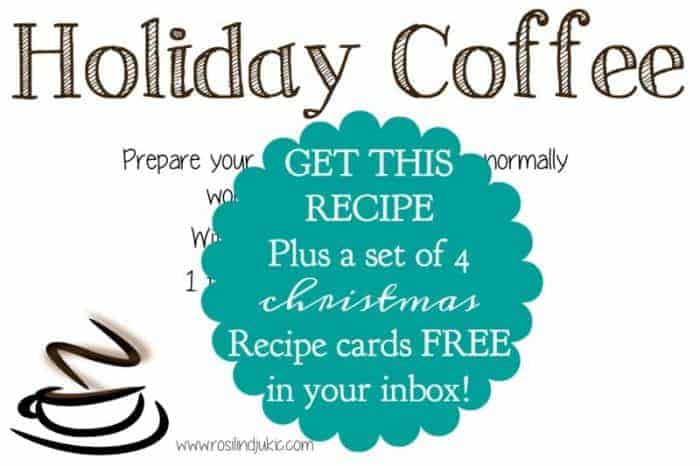 When you enter your email address in below, you'll get them right in your inbox, along with a whole bunch of other freebies for your home, homeschool and quiet time.
Let's make this season extra-special with the fun touch of lovely recipe cards for your home and friends
Get instant access to over 80 FREE Printables today without ever having to enter your email in again! Become a member of my Printable Library on Buy Me a Coffee or Patreon today!
---
More Christmas Content here:

25 Fun Advent Ideas for the Whole Family
Multi-Grade Level Christmas Unit Study
FREE Christmas Notebooking Pages
Christmas Recipe Cards – Free Download
10 Bible Verses for the Names of Jesus – Free Download
5 Meaningful Christmas Ideas for Busy Moms
5 Advent Studies and Journals For the Whole Family
The Solid Faith of Joseph

8 Exciting Christmas Studies for Your Kids
One Weapon You Need Against Holiday Depression

Clothes Pin Snowflake Craft

Why Jesus is More Than a Baby in a Manger
Was Jesus Really Born on Christmas?
The Jesus the World Needs to Know

How You Can Have Peace From the Inside Out
Gift Guides

60+ Gift Ideas for the Christian Woman
5 Christian Fiction Authors I've Read Over and Over
10+ Books Every Christian Should Read
50+ Gift Ideas and Resources That Teach Missions