A Free Bible Reading and Prayer Journal
I hope you love the products and resources I recommend here at A Little R & R. Just so you know, it is possible that I get a commission and collect income from the links on this page. Click here for more info.

I am not a doctor, none of the information on any of these pages pertaining to the Ketogenic Diet or Adrenal Fatigue should be considered medical advice and should not replace the care of your personal physician. I am simply eager to share the information I have learned while on my own journey to health. Before you embark on this journey, please consult with your physician.
This year I wrote a lot about war rooms and quiet times.
That is because I believe that time with God should be our first priority in life. The most important thing we do in life is glorify God, and we glorify Him best when our relationship with Him is strong.
That is why I can't wait to share with you this amazing free Bible reading and prayer journal!
If you haven't yet visited my dad's blog Foundational, you don't know what you're missing.
His blog is for the seasoned believer and he offers amazing discipleship and leadership resources. His blog posts challenge you to think about the Christian life from a deeper perspective than you may have ever possibly considered.
He talks a lot about political correctness, tolerance, and how the church should stand against the changing tide of culture.
But back to the free journal!
This amazing journal come with a Bible reading plan that will help you read through the entire Bible by December 31st.
Now, I know in some of my posts I encourage my readers to not rush through their Bible reading. And I still stand by that. But I do believe that more mature believers should make it a priority to read through the whole Bible, cover to cover, on a regular basis.
Why?
Because the more we read through God's Word, cover to cover, the more our lives, our world-view, our decisions, and our moral compass is shaped around it, it's principles and its commands.
That is why I love the Read Through the Bible in 365 Days Prayer Challenge Bible Reading and Prayer Journal.
First of all, it's 55-pages. And it's free!
So here is what you get in this amazing journal:
A 30-day reading plan
A Spiritual Battle checklist and worksheet
A 30-day Bible reading journal
Memory verse sheets
A prayer journal
and more!
By signing up at Foundational, each month you'll receive a new Bible Reading and prayer journal.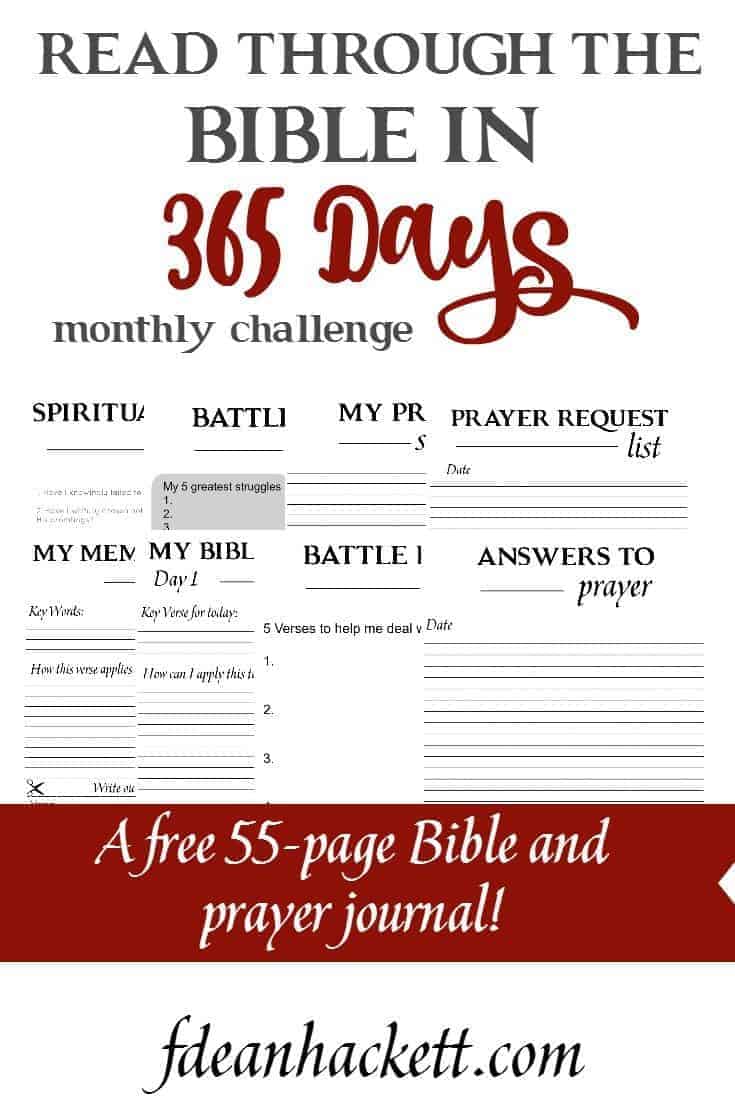 Now, this journal starts in January, so you'll receive February's reading plan and journal the end of January.
Are you ready to accept the challenge?
Just type your email in below and you'll receive it in your inbox right away!