4 Ways To Get the Most Out of Daily Bible Reading
I hope you love the products and resources I recommend here at A Little R & R. Just so you know, it is possible that I get a commission and collect income from the links on this page. Click here for more info.

I am not a doctor, none of the information on any of these pages pertaining to the Ketogenic Diet or Adrenal Fatigue should be considered medical advice and should not replace the care of your personal physician. I am simply eager to share the information I have learned while on my own journey to health. Before you embark on this journey, please consult with your physician.
Have you ever asked yourself, "How do I read the Bible?" Or wondered, "Where do I start reading?"
Have you ever just opened up and read a random verse from your Bible, hoping that it was for you?
And landed on "And then Judas went and hanged himself". And thought, "Nope, that's not it" and then tried again.
And landed on, "Go thou and do likewise".
Are you wondering how you can get the most out of your daily Bible reading?
Okay, maybe that exact scenario didn't happen to you, but I think I illustrated well how intimidating it can be to read the Bible sometimes.
Especially if you are a new Christian or are just beginning to establish a consistent quiet time.
The Bible is so huge and there are so many books. The message of the Bible is vast and deep, and it's almost like a middle schooler diving into a medical journal.
The enormity of what lies before us is overwhelming to the point that many give up before they start.
What if I told you that you didn't need to be intimidated or overwhelmed by reading your Bible?
What if you could read your Bible with confidence knowing that yes I can eat this elephant once bite at a time?
That is exactly how we read the Bible.
One bite at a time.
4 Ways To Get the Most Out of Daily Bible Reading
1. Read until three things stand out.
That's it. When three things stand out to you, stop. Why three? Because typically that is all we can handle in one sitting.
Reading the Bible isn't a sprint, it's a marathon. I know that in January a lot of bloggers do "Read through Bible in 6 months" challenges, but reading the Bible isn't a race from Genesis to Revelation.
It is a romance. It is building on your relationship with God one date at a time.
And you can't rush a romance. So why rush reading your Bible?
2. While you read, underline or color code.
I prefer underlining in my Bible…and drawing boxes and clouds around words. My Bible is really marked up. And I do that because it helps me digest what I'm reading better.
I love grammar, so I will often underline keywords or prepositions that direct me to a big point.
I love words like, "therefore" that lead me to ask, "What is that therefore there for? (A question my dad, author of Foundational, taught me to ask)
You can also color code your entire Bible. Courtney from Women Living Well has a great color coding system she uses with Good Morning Girls.
Using these techniques helps you engage with your Bible. You are no longer just a passive Bible reader, you are engaged and drawn in by the words.
3. Once you've read, journal what you've learned.
James warns of the Christian who looks at himself in the mirror, turns around, walks away and completely forgets what he saw. There is great danger in that for us.
How many times have we read a verse in the Bible that grabbed our heart, but when we went about our day we completely forgot about that verse and it was days or months before we remembered that moment?
Journaling helps that moment go deeper in our heart and stick.
You see, if you daily journal about what you've read in your Bible, each time you open your journal you're reminded about what you've written previously.
You may even be tempted to go back a few pages and read what you wrote. It is a great way to create building blocks with your quiet time!
4. Read whole books of the Bible and not random verses each day.
I cannot stress enough how convinced I am that cherry-picking verses out of the Bible as a daily Bible reading pattern is a dangerous practice.
I am not against occasionally doing a word study of the Bible (ie. studying what the Bible says about worship), or even as a supplement to your daily Bible reading choosing one verse a day on a specific topic, like with the 30 Day Prayer Challenge.
What I believe is dangerous is when we do what I described in the opening of this article, just opening our Bible and randomly reading.
The reason why I believe it is dangerous is because:
We don't read the verse within the context of the chapter and book. Heretical doctrines have grown out of this practice, as well-meaning people chose a verse to support a belief without ever understanding that the context of that verse had nothing to do with the doctrine they created.
We fail to thrive as Christians. Part of spiritual maturity is learning to use the building blocks of scripture. The only way we find them is by daily reading through an entire book of the Bible and allowing the whole message of that book – or even series of books, such as the Pauline epistles, to challenge our weak areas.
Reading through the Bible by reading whole books at a time helps to keep scripture in its proper context. Scripture must be read in proper context, and we will look further into the importance of this in the next post.
When you read your Bible until three things stand out, engage with your Bible by underlining or color coding it, journal what you learned, and read whole books at a time, you will soon find that the Bible isn't as overwhelming as you once thought.
---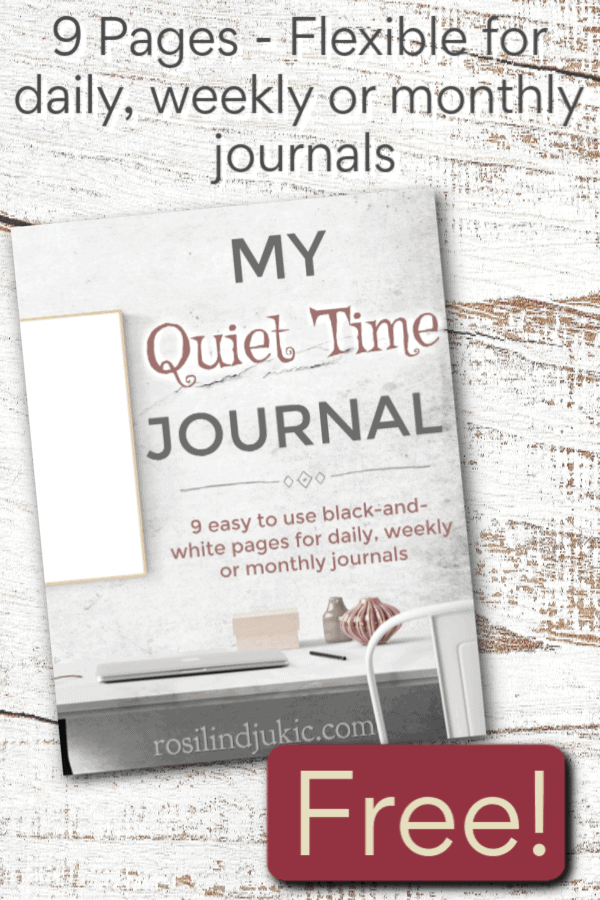 Get this Quiet Time Journal right away when you type in your email below:
---
NKJV, New Spirit-Filled Life Bible, Hardcover: Kingdom Equipping Through the Power of the Word
ESV Study Bible
Accu-Gel Bible Highlighter Study Kit (Pack of 6)
Sakura 30062 6-Piece Pigma Micron Ink Pen Set, Black
Five Star Spiral Notebooks, 1 Subject, 100 College Ruled Sheets, Assorted Basic Colors, 6-Pack (38052)
Post-it Notes, 1 3/8 in x 1 7/8 in, Cape Town Collection, 18 Pads/Pack, 100 Sheets/Pad (653-18AU)
Find more content on :

3 Reasons Why You Should Read the Bible Every Day

4 Simple Bible Reading Tips For Beginners

6 Books of the Bible to Begin Reading Today

4 Ways To Get the Most Out of Daily Bible Reading

5 Radical Ideas For When You Don't Want to Read the Bible

10 Bible Study Hacks for New Christians

---