Study the Book of Proverbs With Me in August
I hope you love the products and resources I recommend here at A Little R & R. Just so you know, it is possible that I get a commission and collect income from the links on this page. Click here for more info.

I am not a doctor, none of the information on any of these pages pertaining to the Ketogenic Diet or Adrenal Fatigue should be considered medical advice and should not replace the care of your personal physician. I am simply eager to share the information I have learned while on my own journey to health. Before you embark on this journey, please consult with your physician.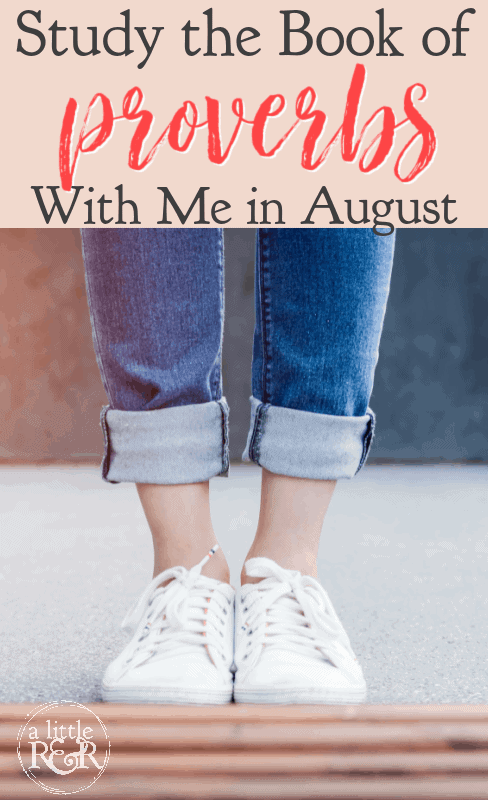 If there was ever a time that we needed wisdom and truth, now is the time.
There is so much disinformation, deception, and distortion flying all around us right now, it is hard to know what is true and what is a distortion of that truth — a lie?
Whom do we believe?
What do we believe
In times like these, the only thing we can do is turn away from the noise and go straight to the only source of truth that exists?
God's Word.
And there is a book in the Bible that gives us wisdom for how to live this life. The Book of Proverbs.
The interesting thing about The Book of Proverbs is that there are 31 chapters – one for every day of the month. So if you read just one chapter every day, you will read through the entire book of Proverbs every month.
I would like to invite you to join me in reading The Book of Proverbs during the month of August.
Study the Book of Proverbs With Me in August
During the month of August, we will read one chapter a day, every single day (including Saturday and Sunday) for the whole month.
Starting with chapter 1 on August 1st and ending with chapter 31 on August 31.
Want to join me? Here are the deets!
Proverbs Bible Study Details:

When: We will start on August 1, 2021
Where: You can find my private Facebook Group here: Good Morning Girls in the Word
I also have Good Morning Girls' groups on Mewe and Liberty Circle
What Do I Need? All you need is a Bible and the Proverbs workbook. You can get this one on Amazon, or you can the free version in this post.
Be sure to invite your friends as well to join us for a month in gaining wisdom for living life from The Book of Proverbs!