10 Bible Verses about Resurrection Bookmark – Free Printable
I hope you love the products and resources I recommend here at A Little R & R. Just so you know, it is possible that I get a commission and collect income from the links on this page. Click here for more info.

I am not a doctor, none of the information on any of these pages pertaining to the Ketogenic Diet or Adrenal Fatigue should be considered medical advice and should not replace the care of your personal physician. I am simply eager to share the information I have learned while on my own journey to health. Before you embark on this journey, please consult with your physician.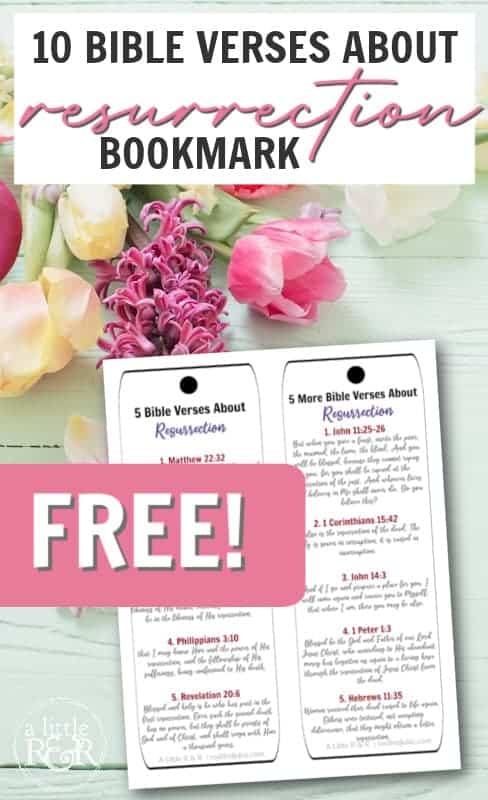 One of the most glorious aspects of Jesus' resurrection that stands out to me each year as I reflect on the Easter story is this:
Jesus was the only person in all of history that raised himself from the dead.
Isn't that powerful?!
He was able to do that because He is the resurrection and He is the life. Without Him there is no life!
Because of Him, life has won, death has been defeated, and we live forever.
That is why I created this bookmark of Bible verses where you can find the names of Jesus.
There are two other resources below that I also offer for memorizing and studying out the names of Jesus.
10 Bible Verses about Resurrection Bookmark
Last week, I published a free set of Bible verses about the resurrection, and today I'm making a set of bookmarks available with those same verses.
There are a lot more Easter resources you can use this year to make Easter extra meaningful for you this year.
These bookmarks are free. Simply print them, laminate them, and then stick them in your Bible for easy reference.
Also, feel free to tell a friend, so they can get them, too.
Just type your email in the box below, and you will immediately be directed to the file to download and print.
Get instant access to over 80 FREE Printables today without ever having to enter your email in again! Become a member of my Printable Library on Buy Me a Coffee or Patreon today!
Here are more articles and resources for Easter
3 Reasons Why I Don't Observe Lent
40 Day Easter Bible Reading Plan – Free Download!

3 Christ-Centered Family Studies For Easter

40 Day Easter Prayer Challenge Journal

10 Bible Verses about Resurrection – Free Printable

The Lord's Supper {Religion, Tradition, or Worship}

Easter Tree Bible Study For Kids

The Seven "I Ams" of Jesus Scripture Writing Challenge

11 Keto Dishes For Your Easter Meal Plan

10 Bible Verses About Resurrection – Bookmark
5 Ways to Use Easter to Evangelize
Multi Grade Level Unit Study for Easter
Easter Notebooking Pages – Free Printable

Salvation Prayer Card

40 Day Easter Scripture Writing Challenge
Easter-Themed Brick Master Challenge Cards – FREE PRINTABLE

30 Names of Jesus Scripture Writing Challenge

Last Minute Easter Week Family Activities {With a Bible Reading Plan}