40 Day Easter Scripture Writing Challenge
I hope you love the products and resources I recommend here at A Little R & R. Just so you know, it is possible that I get a commission and collect income from the links on this page. Click here for more info.

I am not a doctor, none of the information on any of these pages pertaining to the Ketogenic Diet or Adrenal Fatigue should be considered medical advice and should not replace the care of your personal physician. I am simply eager to share the information I have learned while on my own journey to health. Before you embark on this journey, please consult with your physician.
Over the past few years the question has plagued me time and again: Why don't we celebrate Easter the way we celebrate Christmas?
We spend a whole month celebrating Christ's birth, but only a few days celebrating His resurrection: without which we'd still be lost!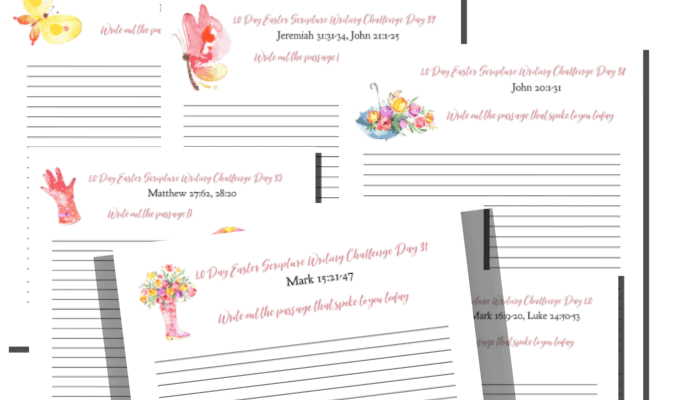 A few years ago I spent an entire month celebrating Easter with my kids. I also decided to do something special for my own personal quiet time.
While I don't celebrate Lent, I wanted to take the 40 days leading up to Easter to meditate and reflect on Christ's sacrifice and victory.
Did you see what I wrote there?
And victory!
The hallmark of this holiday isn't that Christ died, it's that He rose again!
God raised Himself from the dead! And I want to celebrate that!!
That is why I put together the special Easter workbooks you'll find linked below
Intimately walk through Jesus' final days on earth as you carefully write key scriptures narrating Jesus' final days on earth.
This Scripture writing challenge takes you through the final days of Jesus' life while parallel reading each event in the 4 gospels; plus adding in prophetic readings from the Old Testament.
It can be used with the free printable 40 Day Easter Bible Reading Plan and the 40 Day Easter Prayer Challenge journal.
Or it can be used as a stand-alone journal.
This 40-page printable pack is colorfully and whimsically decorated with gorgeous, spring clip art and can be used alone or with any other the other challenges below.
In this 40 Day Easter Scripture Writing Challenge you will be guided through Jesus' final days on earth, His death, His resurrection, and His ascension into heaven.
To use this workbook, you will read the given passage from the day and write out the verse or verses that stand out to you most; as some of these passages are long.
You can grab your copy of the 40 Day Easter Scripture Writing Challenge workbook when you click here or on the image below.
---
Here are more articles and resources for Easter
3 Reasons Why I Don't Observe Lent
40 Day Easter Bible Reading Plan – Free Download!

3 Christ-Centered Family Studies For Easter

40 Day Easter Prayer Challenge Journal

10 Bible Verses about Resurrection – Free Printable

The Lord's Supper {Religion, Tradition, or Worship}

Easter Tree Bible Study For Kids

The Seven "I Ams" of Jesus Scripture Writing Challenge

11 Keto Dishes For Your Easter Meal Plan

10 Bible Verses About Resurrection – Bookmark
5 Ways to Use Easter to Evangelize
Multi Grade Level Unit Study for Easter
Easter Notebooking Pages – Free Printable

Salvation Prayer Card

40 Day Easter Scripture Writing Challenge
Easter-Themed Brick Master Challenge Cards – FREE PRINTABLE

30 Names of Jesus Scripture Writing Challenge

Last Minute Easter Week Family Activities {With a Bible Reading Plan}