The Book of Philippians Bible Study – Free Download!
I hope you love the products and resources I recommend here at A Little R & R. Just so you know, it is possible that I get a commission and collect income from the links on this page. Click here for more info.

I am not a doctor, none of the information on any of these pages pertaining to the Ketogenic Diet or Adrenal Fatigue should be considered medical advice and should not replace the care of your personal physician. I am simply eager to share the information I have learned while on my own journey to health. Before you embark on this journey, please consult with your physician.
What if we could live with such an awareness of God's hand in every situation in our life, that we could walk through hardship with a conviction that God was using it for His glory and joy knowing that the outcome was going to further His kingdom on earth?
What if this conviction made us resilient to negativity and self-pity? If instead of complaining about the difficulties we're facing, we could authentically praise God for them?
This is exactly where we find Paul in the book of Philippians.
He is in a Roman prison, writing a letter to the church in Philippi.
A church that must have been very special, because instead of bringing a word of correction, as he had to in both letters to the Corinthian church, as well as to the church in Galatia and Ephesus, his letter is filled with encouragement, thanking them for their generosity to him.
He's not discouraged by his suffering, but neither is he using it to gain attention.
He is simply allowing his suffering to be a launchpad to bring the gospel to a whole new group of people who may not otherwise have had the opportunity to hear about Christ.
He understood his mission – to extend the kingdom of God here on earth, and he took it seriously; refusing to complain about his suffering and refusing to allow it to become an area of pride and boasting.
As we open this joy-filled letter, may we be reminded to glorify God in all things, even the hardships in life that God has chosen to allow so that we may have the honor in fellowshipping with Him, even in this.
---
This is the opening I wrote to a brand new Bible study I'm writing through the Book of Philippians!
I want to invite you to join me!
There are no sign ups and it is 100% free.
Here is what you need to know:
Each Monday, I'll be posting the new chapter for the Bible study here on my blog. I will offer that chapter as a beautiful free download for you to print out and save.
The download is 100% optional and comes with blank lined pages for your own personal notes.
On Tuesdays and Fridays I'll be posting a "Bible Journal With Me" video for even deeper study into individual verses and passages from those chapters.
---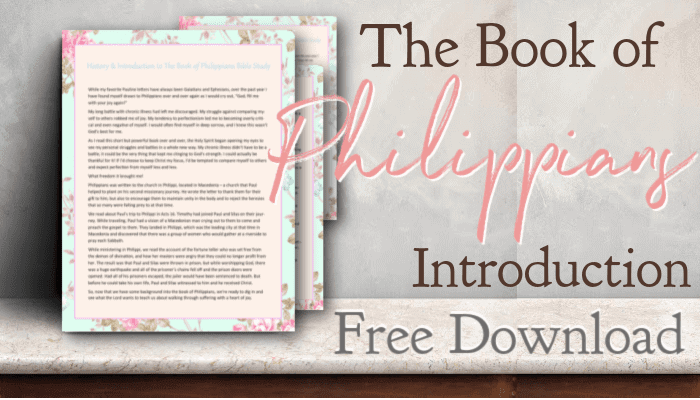 Today, I'm offering the Prologue and History & Introduction pages as a 6-page free download for you to grab, plus 2 blank lined pages.
You can grab that right now, just by putting your email in the form below.
I am so glad to have you join me each week!
---
Visit all the posts in my Philippians Bible study below:

Resources:
Blog Posts:
Study the Book of Philippians With Me
3 Reasons Why We Can Rejoice in Suffering

6 Ways We Grow Joy in Our Lives

We Must Let Go of This to Find True Joy

5 Choices That Teach Us Contentment