10 Bible Study Hacks for New Christians
I hope you love the products and resources I recommend here at A Little R & R. Just so you know, it is possible that I get a commission and collect income from the links on this page. Click here for more info.

I am not a doctor, none of the information on any of these pages pertaining to the Ketogenic Diet or Adrenal Fatigue should be considered medical advice and should not replace the care of your personal physician. I am simply eager to share the information I have learned while on my own journey to health. Before you embark on this journey, please consult with your physician.
Only 9% of millennial Christians read the Bible everyday. source here
This is a very frightening statistic, because we have an entire generation of young people who are completely illiterate when it comes to the Scriptures.
Not only are young people rapidly falling away from the Lord, some of them are staying and educating other young people in their very skewed theology.
If we are going to really know Christ the way we should know Christ, we must know the Word of God intimately.
I believe that a lot of young Christians either feel incapable of truly knowing the Scriptures or are lazy when it comes to personal Bible study.
If you fall into the first category, you're believing a lie.
You don't need a degree in theology to understand the Scriptures! All you need to an open Bible, a willing heart, a passion for God, and hunger for truth.
Usually the first question is "Where do I start?" and the second question is "How do I start?"
1. The best place to start reading the Bible is in the book of John.
Don't start from Genesis and try to work your way through from start to finish. You'll get bogged down by the 3rd or 4th book, and if you make it through the first 5 successfully, you'll get lost about two-thirds of the way through when you hit the prophets.
Start with John and then move to Acts.
2. Read below to find out 10 great tools for getting started on Bible study
Some of these tools are resources and items to gather to help you get the most out of your Bible study and some of them are easy Bible study methods to help you slow down and really dig deep into God's Word.
10 Bible Study Hacks for New Christians
Are you ready to get started on Bible study?
Don't let the enemy intimidate you or tell you that you can't do this.
Be determined to will the battle against laziness and apathy when it comes to God's Word.
Pray and ask God to give you a passion and hunger for His Word.
Then open the Bible and drink deep the from the well of truth!
Let's get started!
1. Make a Bible Study Caddy
In this list of hacks you'll find ideas for what you should include in your Bible study caddy, but the idea is to make your Bible study accessible and simple.
Grab your caddy, sit in your favorite chair or spot at the table, and have your quiet time.
Here's an idea for a Bible Study Caddy that I really love!
2. Have pens and highlighters handy
Don't be afraid to mark in your Bible!
Make notes in the margins, highlight verses that are meaningful to you, or even color code your Bible! This is Bible study, so approach your Bible like you would a final exam.
Dig in it, memorize it, mark it up, and then apply it to the test….the test that is every day life.
Here are some highlighters that are great for your Bible that wont bleed through.
Here is a Bible color coding system that I love!
3. Have a Bible study system that works
One great system is the acronym S.O.A.K.
Write out a Scripture verse or passage
Write out your Observation of that verse or passage (what stood out to you, what is going on here, what is the story about, who are the main characters, who is this passage talking to, what is it saying, etc).
Write out an Application – how you can take this verse or passage and apply it to your everyday life.
Kneel in prayer. Writing our our prayers is a wonderful practice in slowly thinking about what we want to say to God. Plus it helps to keep us focused on prayer.
Women Living Well has some great S.O.A.K. journals here.
You can get these 30 Day Prayer Challenges here in my store.
4. Make Bible study fun by getting creative
Bible study is more than just reading the Bible and taking notes. Its about experiencing God and His Word with our whole being. One great way to study God's Word is by art journaling.
There are great journaling Bibles you can get with wide margins that give you ample room to draw or letter verses that stand out to you.
Here is a collection of Bible journaling posts by His Unmeasured Grace
Here are more art journaling posts by Time Warp Wife.
I also love these Doodle Bible Studies by Stone Soup for Five
5. Blue Letter Bible
Blue Letter Bible is a website I use all. of. the. time.
Not only can you easily search for verses by keywords and topics in dozens of versions and translations, you can also look up the original Greek or Hebrew word used to gain better context.
Also, they have wonderful commentaries by trusted pastors and teachers. These are the ones I turn to often in my own Bible study:
They have other great resources, such as: daily devotionals, Bible dictionaries, sermons online, a monthly free downloadable worship song by Getty Music, and more.
6. YouVersion
YouVersion is another Bible app that is fabulous to use.
Like Blue Letter Bible, it has a great search feature for you to search verses by keywords and topics in dozens of versions and translations.
What I love about YouVersion is that you can also listen to the Bible in a variety of simple-to-understand versions.
Sometimes busy moms have trouble finding time to read the Bible, so this feature is awesome!
Plug in your headphones, go to YouVersion and listen to the Bible as you clean or cook! YouVersion also features great Bible Study resources, Bible reading plans, videos, and ways to create Bible verse graphics to share on social media.
7. Create a Bible study journal or notebook
Bible study is all about keeping things simple. The more you complicate it, the more you'll avoid doing it.
A Bible study journal is simply a notebook where you write out verses that stand out to you and what God spoke to you from the Word.
One of the best pieces of advice my dad ever gave on reading the Bible is this:
"Read a chapter until 3 things stand out to you. Then stop, write them down, meditate on them all day long, and then tomorrow pick up where you left off."
Bible study isn't a race from Genesis to Revelation. It is about learning God's Word, being a student of God's Word, and getting to know God through His Word.
If we miss these elements because we feel we have to rush through the Word by reading through the whole Bible in a year or a few months then we've missed the point.
Keeping a journal is a great way to track our spiritual growth as well as a great resource to refer back to as we review what God has spoken to us in the past.
8. Keep index cards and post-it notes handy
As much as I love technology, there is simply nothing that can replace paper and pen. I have to have paper and pens handy at all times.
I love index cards to write down verses that I am memorizing. They are perfect to keep in my pocket or purse, and they are easy to pull out and review throughout the day.
Post-it notes are great for my Bible. I love to jot down things I hear in a sermon or thought I've had while reading each day, I also use post-its as reference points to other verses in the Bible that correlate with what I'm reading.
This way when I go back and read that section again, I can remind myself of what I was studying before.
Post-its are particularly helpful for when you've run out of room in your margins, because they stick to your pages and wont fall out of your Bible or tear the pages when you move them about.
9. Online Bible Studies
Let's be really honest, shall we?
Our lifestyles have become so crowded and busy that we simply don't have another day in the week to jump in our car and attend a Bible study.
As much as we pine for the simpler days when life was less busy, busy-ness is a fact that we can't avoid.
This is why online Bible studies have become so popular. They are not only useful, they are needful! They offer wonderful online fellowship, an opportunity to meet other women we'd likely never cross paths with in our lifetime, and accountability in this very important area of our life.
But more than that, they conveniently fit our busy lifestyle by allowing us to "attend" at a time that suits our schedule.
Morning people and night owls can both attend the same study at a time of day that fits their personality!
One of the best online Bible studies is Good Morning Girls. We simply read through the Bible one chapter a day. It is solid and based solely in God's Word
Another wonderful place to find wonderful Bible studies is Time Warp Wife.
You can also choose from a list of my online Bible studies.
10. Listen to Podcasts
I don't know if you're like me, but I have come to the place in motherhood that if I listen to one more cartoon I'll scratch out my ear drums. Seriously folks.
It's come to that!
In all seriousness, I love to listen to stuff while I work and podcasts are a great way to fill my mind with God's Word while I do mundane tasks.
They are wonderful for taking what you've learned from reading and building on it with deeper truths by men and women of God who have been long-time students of the Bible.
Of course, we must be what Paul referred to as "Bereans".
These were men from the region of Berea who eagerly received God's Word – not skeptically, but then went home and studied out what they'd heard to make sure that what what shared was really in the Bible.
Some great podcasts I love are
Living Faith Church – This is my dad's church. He has been a pastor for over 40 years and is as solid as they come. I listen to his podcast regularly! You can find his podcast in the top tab of his blog F. Dean Hackett – Foundational.
Precepts for Life with Kay Arthur
Thru the Bible with J. Vernon McGee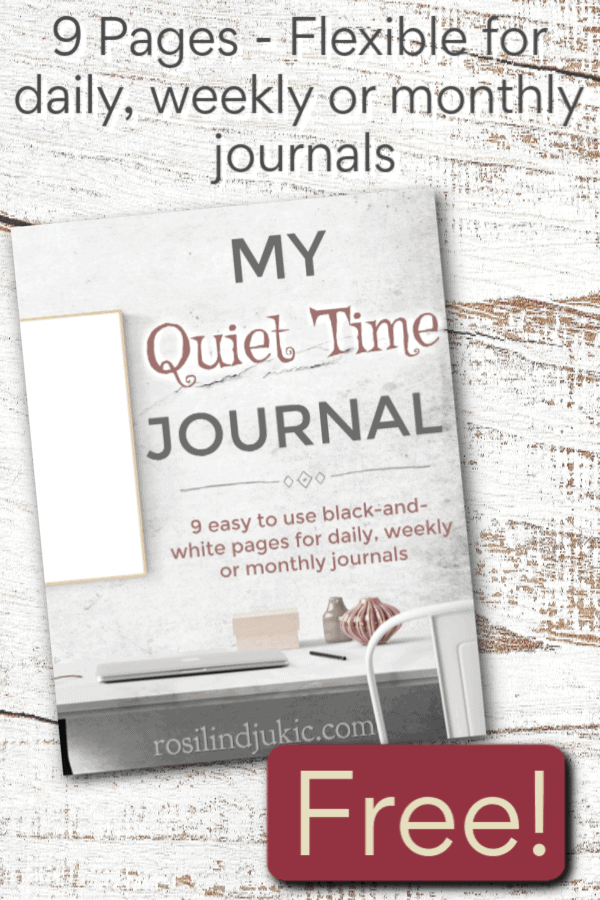 Get this Quiet Time Journal printable immediately when you type in your email below
Find more content on :

3 Reasons Why You Should Read the Bible Every Day

4 Simple Bible Reading Tips For Beginners

6 Books of the Bible to Begin Reading Today

4 Ways To Get the Most Out of Daily Bible Reading

5 Radical Ideas For When You Don't Want to Read the Bible

10 Bible Study Hacks for New Christians

---
Inspire Bible NLT: The Bible for Creative Journaling
NIV, Beautiful Word Coloring Bible, Hardcover: Hundreds of Verses to Color
The Promises: old testament prophecies and their fulfillment in Christ
Journal and Doodle Bible Studies: John: so that you may believe
Five Star Spiral Notebooks, 1 Subject, 100 College Ruled Sheets, Assorted Basic Colors, 6-Pack (38052)
Sakura 30062 6-Piece Pigma Micron Ink Pen Set, Black
2 Pack – Set of 6 Accu-Gel Study Kit Bible Hi-Glider Highlighters- No Bleed Through!
Post-it Notes, Jaipur Collection, 3 inch x 3 inch, 5 Pads/Pack (654-5UC)
Oxford Extreme Index Cards, 3 x 5 Inches, Assorted Colors, 100 per pack (04736)