Quiet Time Worksheets for Kids
I hope you love the products and resources I recommend here at A Little R & R. Just so you know, it is possible that I get a commission and collect income from the links on this page. Click here for more info.

I am not a doctor, none of the information on any of these pages pertaining to the Ketogenic Diet or Adrenal Fatigue should be considered medical advice and should not replace the care of your personal physician. I am simply eager to share the information I have learned while on my own journey to health. Before you embark on this journey, please consult with your physician.
Are you wanting to help your children build a habit of a daily quiet time with Jesus?
One of the best ways I've found to help myself stay consistent in my time with the Lord is having worksheets to fill out or a journal to write in.
It's a great way to track things God has told me, verses that have stood out to me, and requests I've prayed for that God has answered.
That is why I have been making these fun quiet time worksheets for kids!
So far, I have 3 sets for download (all three will be available right here).
Today I'm making available my brand new set for summer! They are so fun with bright colors and pictures of summer things like popsicles and flip-flops, sunglasses, and beach themes.
To download this set of quiet time worksheets, just put your email in the box below and they will pop up on your screen so you can download and print them.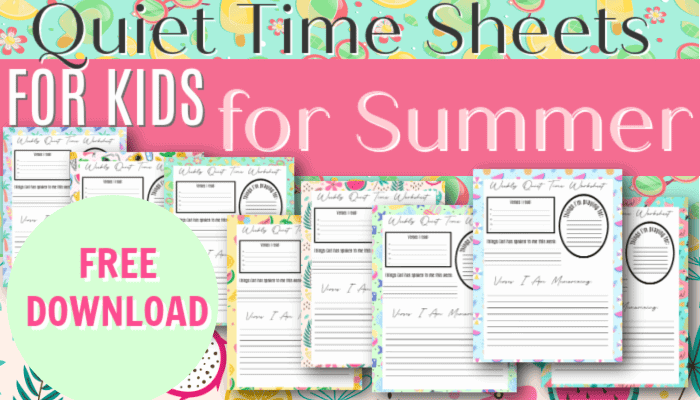 Here are the past sets I've made available:
Stripes and Shapes
Airplanes