10 Critical Steps to Take When You Have Sinned
I hope you love the products and resources I recommend here at A Little R & R. Just so you know, it is possible that I get a commission and collect income from the links on this page. Click here for more info.

I am not a doctor, none of the information on any of these pages pertaining to the Ketogenic Diet or Adrenal Fatigue should be considered medical advice and should not replace the care of your personal physician. I am simply eager to share the information I have learned while on my own journey to health. Before you embark on this journey, please consult with your physician.
What do you do when you've sinned?
We've all been there.
I know, the enemy lies to us and tells us that we're the only one who has done this sin; that no other Christian has blown it this badly; and that we may as well walk away now because our Christian walk will never be the same again.
Well, the last point may be right – but not for the reasons he means.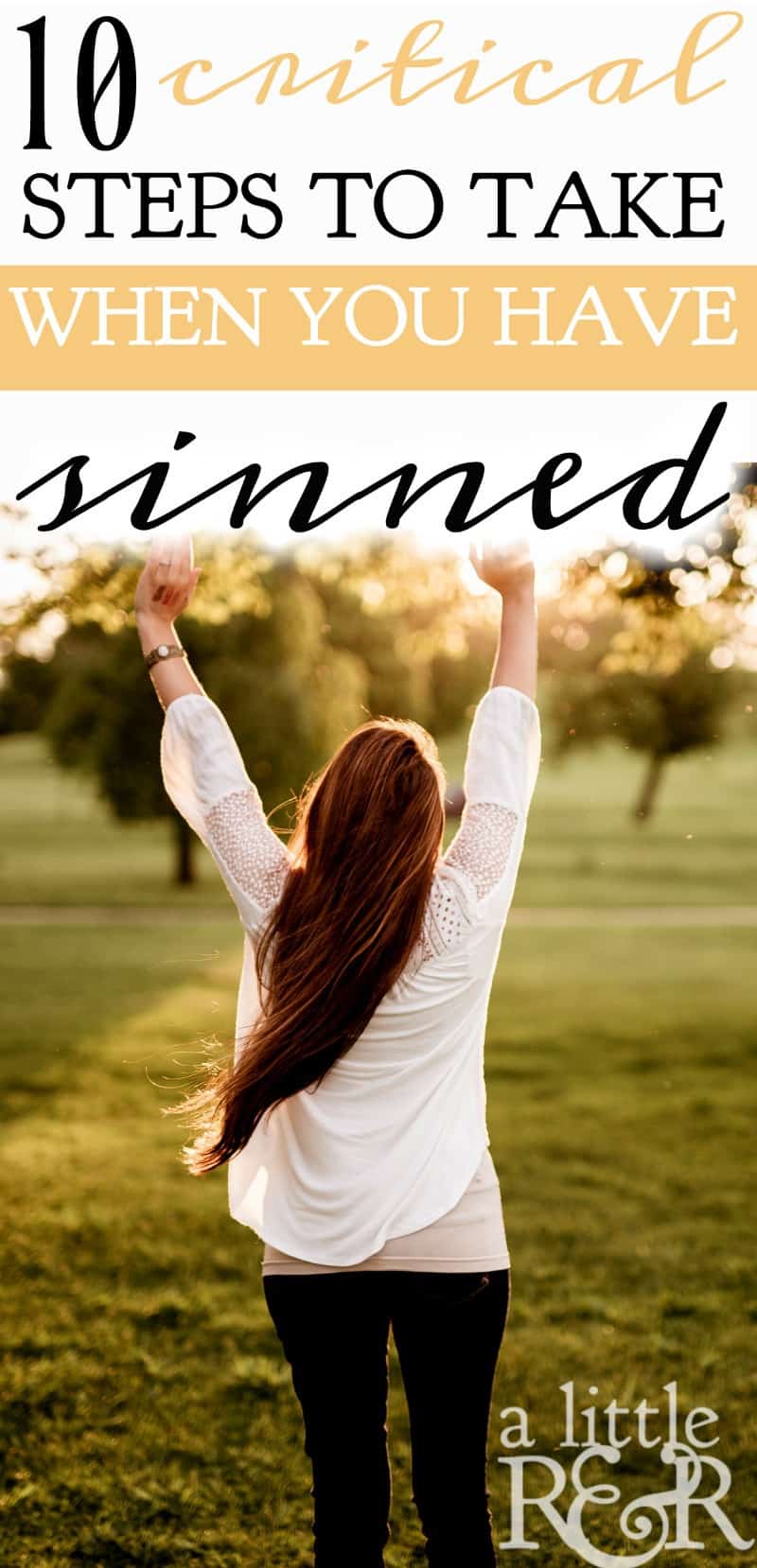 As Christians, most often we sin without meaning to do wrong.
But what should our response be when you have sinned and you did it intentionally? This is a far more serious matter, because intentional sin is rebellion.
Scripture says that God equates rebellion and witchcraft. Scary thought!
And yet we find comfort in Paul's words: "For I know that in me (that is, in my flesh) nothing good dwells; for to will is present with me, but how to perform what is good I do not find. For the good that I will to do, I do not do; but the evil I will not to do, that I practice." Romans 7:18-19
I was there in 2000.
I was backslidden in Bible school. I know, right? Craziest place on earth to be backslidden, but there I was sitting in main auditorium of Christ for the Nations Institute trying to worship, but unable to get there.
Because I knew that if anyone else knew my secrets, I'd be kicked out and sent home.
One hot, muggy day I sat out on the back steps of the building where I worked and wept. I felt horrible about the shambles that was my Christian walk.
But I couldn't seem to get free from the trap I was in.
I felt stuck in this downward spiral – and I had no idea how far down it would take me. It scared me to think about what was at the bottom of this horrible ride I was on!
Thankfully, God rescued me just a couple of months later!
It wasn't until years later that I came to fully understand the love and grace of God in those moments – even that day when I sat outside of work weeping.
Even then, God's grace was at work, chipping away at the hard exterior that I had allowed to grow over my heart.
10 Critical Steps to Take When You Have Sinned
As we begin wrapping up our Good Morning Girls' study in Psalms 1-50, we read a long account of David's sorrow over his sin. The Bible doesn't tell us what sin it was (this is not his adulterous affair with Bathsheba – that is handled in another Psalm). 
But in his words, we find a beautiful lesson that speaks to us today.
1. Acknowledge your condition
Psalm 38 opens with a long account of David's condition.
He feels the weight of his sin
He is exhausted and weak
He is sorrowful
He has open sores
His illness – whatever it is – is foul-smelling
David's condition was more than just emotional and spiritual, he also had a physical illness that left him with open sores and a foul smell; a physical condition that was the result of his sin.
David spares nothing from God. He openly acknowledges his condition.
The first step to repentance from our sin is looking openly and honestly at where we are and where our sin has led us.
If we skip this crucial step, we'll never fully repent.
We must reject the temptation to make light of our condition, rationalize away the seriousness of our actions, or cherry-pick words that make our sin seem somehow less sinful.
David didn't mince words when describing his condition, and in doing so brought his heart into proper alignment by fully admitting the fact that he was beyond helping himself.
2. Repent with sorrow
"For I will declare my iniquity; I will be in anguish over my sin." Psalm 38:18
When we have fully acknowledged our condition and refused to allow ourselves to soften the blow of our sin, our heart is able to repent with sorrow.
Allowing ourselves to feel the anguish of our sin is critical, because that emotion will eventually lead us to a righteous hatred of that sin.
But even more than that, it enables us to feel what God feels for us in our present condition.
It allows us to feel what God felt when His only Son hung dying on the cross while bearing the burden of our sin. When we feel that anguish, we gain an understanding for just how serious sin truly is.
Sin isn't just "making a mistake".
A mistake is something that goes wrong while we are in the process of doing something right.
Sin is the bad result of our wrongful actions in the first place.
3. Recognize the discipline of the Lord
"I was mute, I did not open my mouth, because it was You who did it." Psalm 39:9
The physical illness David experienced was the Lord's discipline.
Discipline differs from punishment in this regard: discipline is a consequence brought on by the Lord in a loving gesture to remind us of the importance of keeping His law.
It is the painful result of us bucking against the boundaries He has set to teach and train us to be faithful disciples of Jesus Christ.
Punishment is a public flogging or mocking of one who has done wrong.
God punishes His enemies, but disciplines those He loves.
"My son, do not despise the chastening of the LORD, nor detest His correction; For whom the LORD loves He corrects, just as a father the son in whom he delights." Proverbs 3:11-12
4. Refuse the temptation to atone for your own sin
"Sacrifice and offering You did not desire; my ears You have opened. Burnt offering and sin offering You did not require." Psalm 40:6
When we realize the seriousness of our sin, our tendency is to swing from the one extreme of rationalizing away its seriousness to the other extreme of trying to make atonement with our own actions.
Rather than repenting and then trusting in the blood of Jesus to atone for our sin, we begin to inflict punishment on ourselves by flogging ourselves verbally.
Rather than sitting in God's presence and allowing Him to wash us clean of our filth, we avoid His presence; we keep our distance with our head down in shame.
Sometimes we even tend to try to prove to God how sorry we are by sulking for days or months.
We will never prove to God the depth of our sorrow by trying to make atonement for or sin, avoiding Him, and sulking.
God already knows our heart.
His blood was shed so that we don't have to do these things.
Our actions of verbal flogging, avoiding His presence, and sulking say to Him that His blood wasn't enough; that some action on our part is needed to make us worthy of His forgiveness.
5. Admit God is your only salvation
"Make haste to help me, O Lord, my salvation!" Psalm 38:22
Maybe you're like me: once I've admitted my dire circumstances, I go into planning mode. I will sit down and make a list and plan how to get myself out of the mess I'm in.
Planning and list-making are incredibly therapeutic for me.
But when it's my sin we're talking about, this kind of therapy is a trap. Soothing my wounded heart with my own plans for salvation is a very dangerous because it circumvents the salvation of God.
Not only that, it's deceptive!
The enemy would love nothing more than for me to fall right into the same trap he fell into, assuming he was greater than God.
A sinner who has fully repented is a sinner that is keenly aware of the fact that he is utterly incapable of extricating himself from his current position.
Salvation is only in God, and any attempt of our own to save ourselves will only dig ourselves a deeper pit!
Get these prayer journals for Revival today!
Get 20% off of each when you use the coupon code: psalms
6. Resolve to live righteously
"I said, 'I will guard my ways, lest I sin with my tongue; I will restrain my mouth with a muzzle, while the wicked are before me.'" Psalm 39:1
You may think that this step contradicts the previous one, but here is why it doesn't:
Once we have fully repented and openly received the cleansing salvation of God, we must resolve in our heart to live righteously.
But with this very important caveat!
We must acknowledge that we can't do this on our own; we need the grace of God to enable us to live righteously.
The danger in not doing step 5 is that we are prone to live independently of God, to rely on our own wisdom and abilities to get us out and keep us out of danger.
Only God can do that.
And only the grace of God enables us to live righteously. None of us has the ability to keep God's law, that's why Jesus had to come to earth and die!
We have God's law in the Old Testament, but we're so flawed that we can't even go one day without breaking His law – inadvertently or purposefully.
And that's where God's grace comes in.
It gives us the power to rise above our flaws, reject temptation, and live the righteous life He's called us to.
7. Wait on God
"I waited patiently for the Lord; and He inclined to me, and heard my cry." Psalm 40:1
I love the imagery of the Hebrew word for "wait", which is qavah.
It means to bind together by twisting, as you would twist a rope. It reminds me of the verse, "And a threefold cord is not quickly broken." Ecclesiastes 4:12
But what does it mean to wait upon God?
It can mean that we sit in prayer silently waiting to hear His voice – linger.
It can mean that instead of acting hastily on a decision, that we wait for His wisdom – expect.
It can mean remaining in His presence until we feel the peace we need – hope.
In each context of waiting on God, something supernatural happens, our life becomes more tightly intertwined with Him as we grow stronger in our Christian walk.
8. Testify of God's mercy
"I have proclaimed the good news of righteousness in the great assembly; indeed, I do not restrain my lips, O LORD, You Yourself know.I have not hidden Your righteousness within my heart; I have declared Your faithfulness and Your salvation; I have not concealed Your lovingkindness and Your truth from the great assembly." Psalm 40:9-10
There is incredible power in our testimony!
Even Revelation 12:11 says, "And they overcame him by the blood of the Lamb and by the word of their testimony"
Our testimony is a powerful weapon to defeat the enemy; and defeating the enemy here is vital because it establishes our victory!
Do not think for a moment that after repenting and embracing the salvation of God, resolving to live righteously by grace, and then waiting on God that the enemy will just lie there and say, "Man, it's really too bad that I lost that one."
No!
He's going to come back harder and stronger to try to defeat you. You need to have a strategy. You need to have your weapons ready, and one powerful weapon is your testimony!
Daily rehearse your testimony to your own heart and take every opportunity to share it with others.
You deliver a fatal blow to the enemy each and every time you do!
9. Find delight in God's law as your protection
"I delight to do Your will, O my God, and Your law is within my heart." Psalm 40:8
David loved God's law. All throughout the Psalms we read about David's love for God's law.
Some may say that we are no longer obligated to keep God's law, because under the New Testament we are not under law, but under grace.
But this is a misinterpretation of Paul's words in Romans 6.
It is true, we are not saved by the law. Our justification isn't by the law; quite the opposite. The law condemns us, because it shows us how flawed we are!
The law leads us to recognize the depth of our hopelessness.
Once we're there, grace comes flooding in!!
We need the law, without it we'd have no buffer in life to remind us of God's holiness and righteousness, and His expectation that we live holy and righteous, too…by His grace.
10. Embrace the love of God
"Do not withhold Your tender mercies from me, O LORD; let Your lovingkindness and Your truth continually preserve me." Psalm 40:11
Whenever we've been disciplined by God, it is important that we open our heart to fully embrace the love He has for us.
Don't hold yourself back.
He disciplines those He loves. His discipline is only a sign that you're a true daughter of God!
And just as any parent who lovingly disciplines their child, afterward embraces them and assures them of their love, God wants to embrace you assure you of His love.
In Zephaniah, we read an urgent call to repentance. God is going to come and judge the world – including Jerusalem – because of their idolatry and corruption.
Through Zephaniah, God speaks strongly – He doesn't hold back in describing the depth of His wrath against His people.
But then He speaks a promise to those who fully repent: "The Lord your God in your midst, The Mighty One, will save; He will rejoice over you with gladness, He will quiet you with His love, He will rejoice over you with singing." Zephaniah 3:17
Here are other posts from Psalms: