One often overlooked weapon of spiritual warfare is prayer.
The New Testament is filled with commands to prayer, reminding us of the power of prayer, and even Jesus taught us how to prayer.
I walk through Jesus' teaching on how to pray in my Bible study: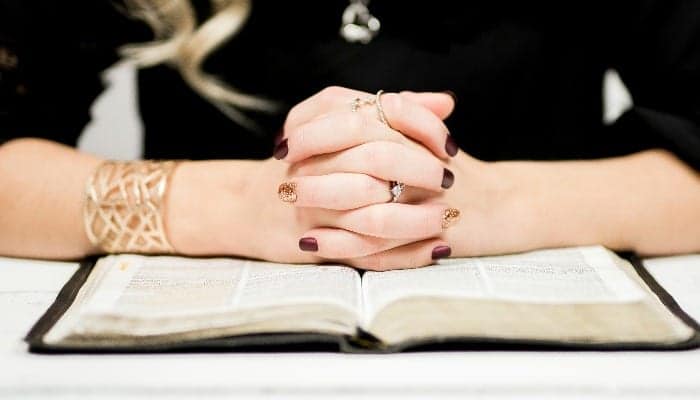 Prayer does more than just relay our needs to God, it builds an awareness of His presence and enables us to partner with Him in bringing His will to bear here on earth.
Literally, it fulfills the prayer "Let your kingdom come, let your will be done on earth as it is in heaven".
The Word of God has great power; but somehow I think that if we would choose to pair prayer up with scripture and actually pray scripture in situations and circumstances of our lives that it would be like a shot of nitro to our prayers!
Praying the Word of God is an exciting and effective way to pray!
Hi, my name is Rosilind and I am a Bible study leader and author.
I am a student of the Bible and hold an Associates degree in theology. I love God's Word and I enjoy teaching others how to have an effective quiet time, even as busy moms and homemakers.
As I have prepared for these prayer challenges I have found exciting scriptures to target specific areas of our Christian walk.
In this 30 Day Prayer Challenge for Prayer you will find a Bible verse or passage for each day that will teach  you about prayer and inspire you to begin discovering a new ability to pray effective prayers.
To use this workbook, you will read the given verse or passage from the day and write out an observation about that verse or passage.
Then you will write out a prayer to the Lord, using the verse or passage for that day as a guide.
Using God's Word as a guide for our prayers is such a powerful tool.
It is also a powerful weapon, combining the sword of the Spirit and the weapon of prayer into one atomic weapon against the enemy who seeks to destroy us.
Get the 30 Day Prayer Challenge for Prayer today by clicking here!