Easter Tree Bible Study For Kids + FREE Easter Quiet Time Worksheets
I hope you love the products and resources I recommend here at A Little R & R. Just so you know, it is possible that I get a commission and collect income from the links on this page. Click here for more info.

I am not a doctor, none of the information on any of these pages pertaining to the Ketogenic Diet or Adrenal Fatigue should be considered medical advice and should not replace the care of your personal physician. I am simply eager to share the information I have learned while on my own journey to health. Before you embark on this journey, please consult with your physician.
Teaching our kids about Christmas has always been very memorable.
We start decorating December 1, there are tons of cartoons about Jesus' birth, the tree and lights and all the decorations…then there are the presents, which make Christmas super-memorable….
and then we get to Easter.
Just like I don't teach my children that Santa brings them gifts, I don't teach my children that bunnies and eggs have anything to do with Easter. (watch this video on the history behind Easter eggs)
I've wondered for quite a long time why we do so much to celebrate Christ's birth and so little to celebrate his resurrection, which was the whole purpose of His birth in the first place!
It's like we never complete the picture.
My kids can tell you without any trouble at all what Christmas means, but until this year were very uncertain as to what Easter meant – and that bothered me.
Greatly!
I thought and pondered for a long time about how to make Easter come alive for them. Because even though I have attempted over the past couple of years to help them understand Easter, it just never hit home.
And then it came to me last year:
I ran upstairs and grabbed our Christmas tree. stay with me here!
We have a small mini-tree that we used for a few years before our home renovations expanded the bottom floor of our home.
I took it and shaped into a cross, using green chenille wire to keep the branches in shape.
Then, each weekend I created an activity that had to do with Jesus' final days on earth.
Easy DIY Easter Tree Study For Kids
Week one: Matthew 26:6-13, Mark 14:3-9, Luke 7:36-50
Make alabaster jars, representing the importance of our worship of Him.
Read the story of the woman who washed Jesus' feet with her tears, then cut alabaster jars out of cardboard or card stock. Mix tempra paint with some essential oils (I used these oils) or perfume and have your children paint the jars with the scented paint.
Talk about how our worship to Jesus is like perfume, it is pleasing to Him.
Also, talk about how important it is that our sins are forgiven so we can be Jesus' friends.
Once the alabaster jars are dry, hang them on the Easter Tree.
Week two: Matthew 26:17-30, Mark 14:12-26, Luke 22:7-20, 1 Corinthians 11:23-29
Make unleavened bread.
Read the story about the Last Supper and the meaning of communion for us as believers. Then make unleavened bread. I use this unleavened bread recipe from Alyona's Cooking.
This week talk about how it is not only important that we are forgiven, but that we forgive others who have hurt us. That Jesus' blood washes away our sin and His grace gives us the power to always forgive every time.
Make a couple of smaller rounds of bread with holes in the middle to hang on the Easter Tree
Also this week, make drops of blood out of red paper and write on them, "Thank you Jesus for your blood." and hang them on the Easter Tree.
Week three: Matthew 27:27-31, Mark 15:16-20, Luke 22:63-65, John 19:1-5
Make a crown of thorns and a clay figure to represent Jesus to be used in week four.
Read the three accounts of how Jesus was mocked and beaten, and how they put a crown of thorns upon his head.
This week you can talk about the importance of courage, even when people make fun of us. You can share about how when we're being made of, we can remember Jesus and how they made fun of Him, too. He knows how we feel.
To make the crown of thorns, first make salt dough. I like to use this salt dough recipe from Julie Blanner. Make rings out of the salt dough. Take tooth picks and break them in half, then stick the broken ends of the tooth picks in the ring, so the pointy end is facing out, to make a crown of thorns.
To make the figure representing Jesus, you can either use a gingerbread man cookie cutter, or have your children make their own salt dough figure.
Gently lay the crown of thorns on the cross where it will dry, and place the figure somewhere to air dry or you can bake it according to the directions in the recipe.
Week four: Isaiah 53:1-10, Matthew 27:32-61, Mark 15:21-47, Luke 23:26-56, John 19:17-42
Make a tomb.
Read the passage about Jesus' crucifixion and burial, talk about the fact that when Jesus was on the cross, He bore all of the sins of mankind that had ever been committed, He felt the pain of all of the hurt that anyone had ever felt, and He bore all of the sickness that anyone had ever experienced.
To make the tomb, cover a cardboard box with white or grey paper. Have the kids decorate it to look like a rock (you can do this by first wrinkling the paper and the doing a crayon rub with grey crayons), and add grass and flowers around the edges.
Make sure to cut a hole for the entrance and make a large stone to cover the hole.
On Good Friday, place Jesus in the tomb, place the stone over the opening of the tomb, and seal it with tape.
On Saturday, make Empty Tomb rolls. I like using this Empty Tomb Roll recipe from Women Living Well.
Also during this week you can act out the story with your children, as a way to reinforce the story of Jesus' crucifixion and burial.
Easter Sunday: Matthew 27:62-29:8, Mark 16, Luke 24:1-43, John 20:1-21
Saturday night after the kids go to bed, be sure to bake the Empty Tomb Rolls and remove Jesus from the tomb. Make sure the stone is set off to the side.
When they wake up, review the story of Jesus' resurrection with them, and then show them the empty tomb. For breakfast serve them the Empty Tomb Rolls and talk about the fact that the tomb is still empty and Jesus is alive.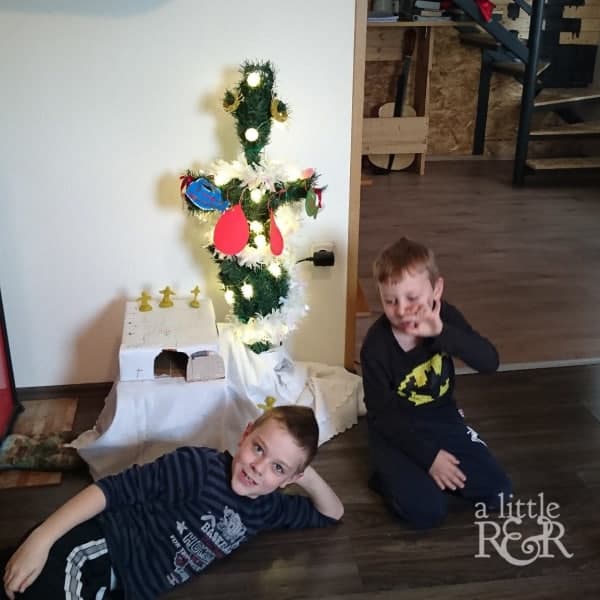 Taking our tree and making a cross out of it, helped my kids to connect Christmas and Easter together as a complete event.
Also, we have recited the story over and over and over. Which has been so important for my children anyway, as they struggle with receptive and expressive language delay.
Last year, Easter was incredibly special, as we celebrated it the whole month of March! We will do the same this year.
I pray that as you celebrate Jesus that your heart will be filled with fresh life and joy as you meditate on the power of His Resurrection life within you!
"If the Spirit of him who raised Jesus from the dead dwells in you, he who raised Christ Jesus from the dead will also give life to your mortal bodies through his Spirit who dwells in you." Romans 8:11
GET THIS FREE EASTER SET OF QUIET TIME SHEETS FOR KIDS BELOW!
---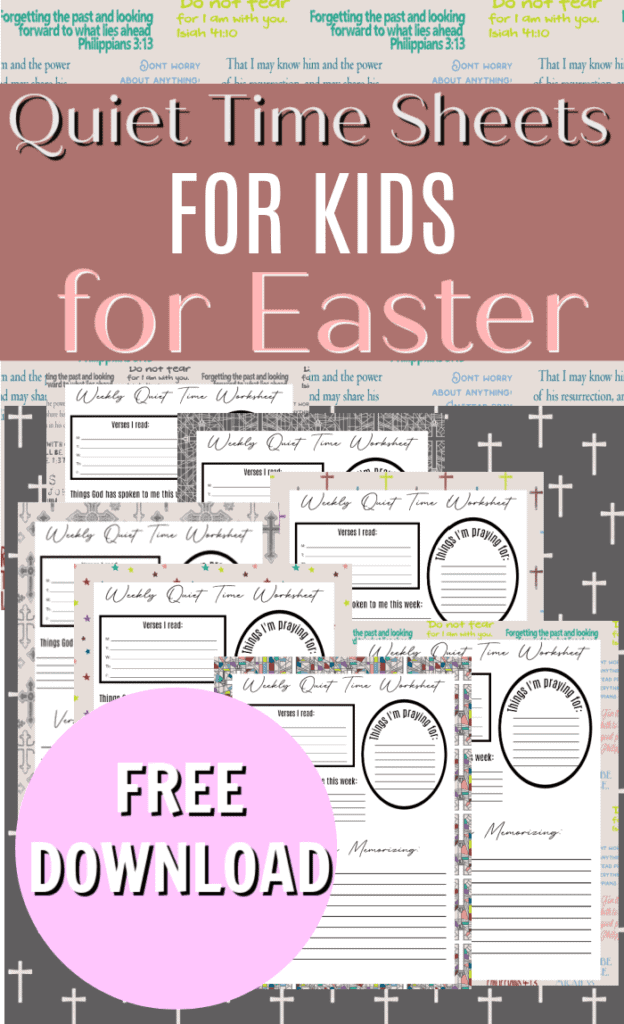 Here are more articles and resources for Easter
3 Reasons Why I Don't Observe Lent
40 Day Easter Bible Reading Plan – Free Download!

3 Christ-Centered Family Studies For Easter

40 Day Easter Prayer Challenge Journal

10 Bible Verses about Resurrection – Free Printable

The Lord's Supper {Religion, Tradition, or Worship}

Easter Tree Bible Study For Kids

The Seven "I Ams" of Jesus Scripture Writing Challenge

11 Keto Dishes For Your Easter Meal Plan

10 Bible Verses About Resurrection – Bookmark
5 Ways to Use Easter to Evangelize
Multi Grade Level Unit Study for Easter
Easter Notebooking Pages – Free Printable

Salvation Prayer Card

40 Day Easter Scripture Writing Challenge
Easter-Themed Brick Master Challenge Cards – FREE PRINTABLE

30 Names of Jesus Scripture Writing Challenge

Last Minute Easter Week Family Activities {With a Bible Reading Plan}
---
Springhill Colored Paper, Cardstock Paper, Ivory Paper, 110lb, 199 gsm, 8.5 x 11, 1 Ream / 250 Sheets – Index Card Stock, Thick Paper (056300R)
Clean Cups Painting No Spill Craft Supplies Paint Art Stencil Tempera Plastic Containers with Multi Color Lids Washable Reusable Supplies Kids Adults Set of 6
Plant Therapy Vanilla Oleoresin Essential Oil | 100% Pure, Undiluted, Natural Aromatherapy, Therapeutic Grade | 10 milliliter (1/3 ounce)