The Snowy Day Book Unit Study
I hope you love the products and resources I recommend here at A Little R & R. Just so you know, it is possible that I get a commission and collect income from the links on this page. Click here for more info.

I am not a doctor, none of the information on any of these pages pertaining to the Ketogenic Diet or Adrenal Fatigue should be considered medical advice and should not replace the care of your personal physician. I am simply eager to share the information I have learned while on my own journey to health. Before you embark on this journey, please consult with your physician.
I love Ezra Jack Keats' books!
Introduced The Snowy Day to my 1st grader to learn more about winter and snowflakes. Sadly, we have no snow yet…and probably wont get much, if any, this year.
But my kids love snow.
The Snowy Day Unit Study for MERLD Kids
By the end of the two weeks we did the The Snowy Day unit study, my son was a huge fan of Peter and was grabbing the Kindle book and Audible version by himself and reading it.
When doing unit studies surrounding a book, I try to find as many media versions of the book because I've found that it helps MERLD kids process language easier.
At the end of the unit study, he was able to recount the story to me with very little prompting and even got the events in the story in order.
Literature:
I keep all literature to just one book, but with as many forms of media as possible.
We don't have the physical book and shipping here takes a long time and costs a lot of money. That's why I love Kindle!
I got the Kindle version of The Snowy Day.
They also have it on Audible and an animated version on YouTube.
"WH" questions you can use with this book for more language building are:
What did Peter see when he looked out his window?
When did Peter look out his window?
When did the snow fall?
When did Peter put on his snowsuit?
Where did he go after he put on his snowsuit?
How did Peter's feet sound when he walked?
What did Peter find to make tracks in the snow?
Why didn't Peter join in the snowball fight?
What did Peter make out of snow?
How Did Peter pretend to be a mountain-climber?
Why did the snowball disappear from his pocket?
Why was Peter sad?
What did Peter dream about?
Whom did Peter call to go out and play in the deep, deep snow?
Math and Language Arts:
I found this really great printable pack for The Snowy Day by Homeschool Creations. It is meant for for Preschool, so a couple activities were a little too elementary for him, but here is what I found super-helpful:
The section: "What happened in this story" and "My favorite part of the book was". Not only are these open-ended questions, which is what MERLD kids really need, they are simple questions.
Vocabulary flash cards. I use these a lot to help practice the "WH" questions: What, Where, When, Why, How.
The cutting practice pages. A lot of MERLD kids struggle with fine motor skills. So, it's always good to grab these and let them practice more intricate cutting patterns.
The vocabulary writing pages for handwriting practice.
The winter/summer clothes sorting page.
The "circle the first/last letter in the word" page. My son still struggles with this sometimes.
The count the snowflakes page.
WH questions you can use with this unit study are:
Where is our window?
What do you see when you look out the window?
What are windows made of?
Why do we wear snowsuits in winter?
How do you make a snowman?
What do you use for a snowman's nose? Eyes and mouth? Hands?
How do you make a snowball?
What else can you do with snowballs?
What else can you do with snow?
What color are your socks
Where do we wear socks?
Why do we wear socks
How do you put your socks on?
Where is the sun?
What color is the sun
Why can't we look at the sun for very long?
Science:
We attempted to make a pipe cleaner snowflake with sugar crystals. Our sugar here is much coarser than in the States and it didn't seem to work very well.
So, we learned about condensation and how snowflakes are made.
We watched this video, much of it went over his head, so I took the information from the video and simplified it for him so he could understand the science behind snowflakes.
I have found drawing things out on paper while I talk helps to make it more visual for him and he gets it.
We were both fascinated by this. And afterward we looked at the first real photographs of snowflakes here.
Art:
Art was so fun for this unit study!
We watched this video to learn to make pretty paper snowflakes
They turned out so great and he had a blast making them.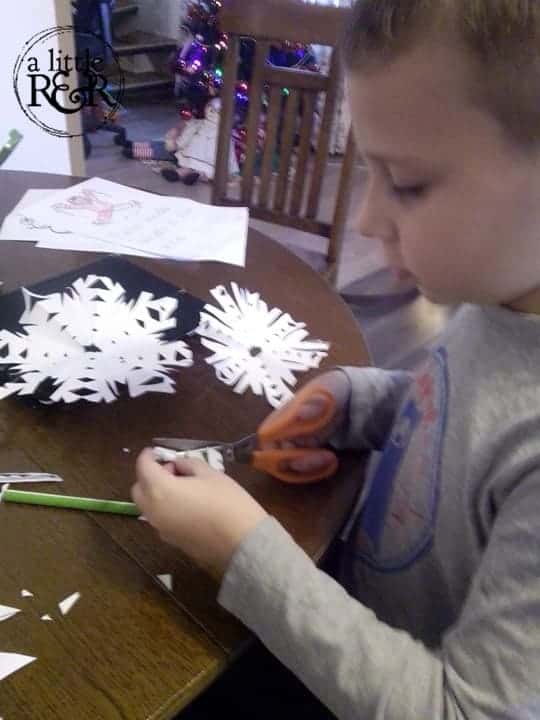 We also made a The Snowy Day picture. Now, I'll be honest, my creativity doesn't even so much as trickle in the direction of art projects.
Just need to throw that disclaimer out there.
So – you can see that my Peter is like Clifford the Big Red Dog – a giant of a kid. And my son's Peter is like a itty, bitty Peter.
But that's not as important as the fact that he was So. Very. Proud. of his picture, and he had So. Much. Fun. making this.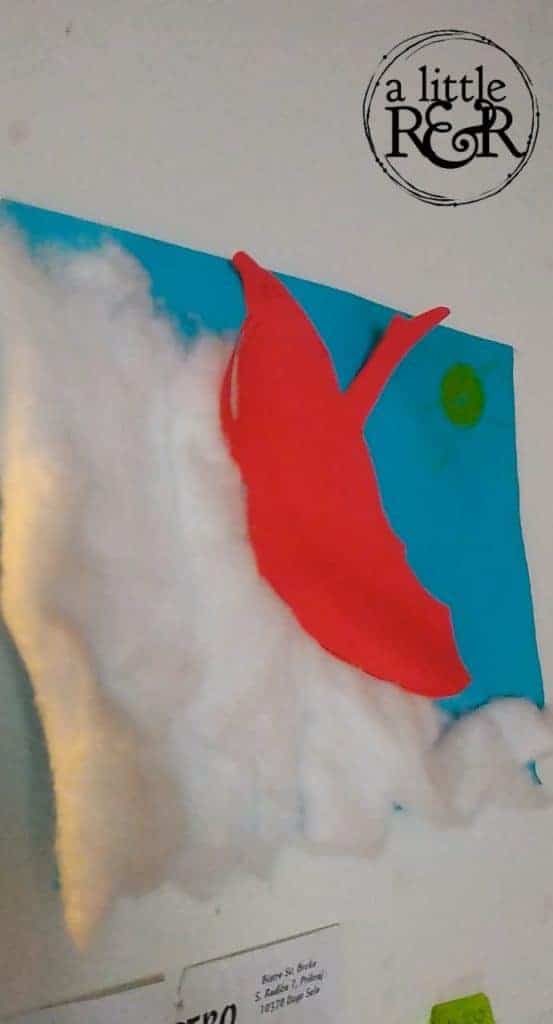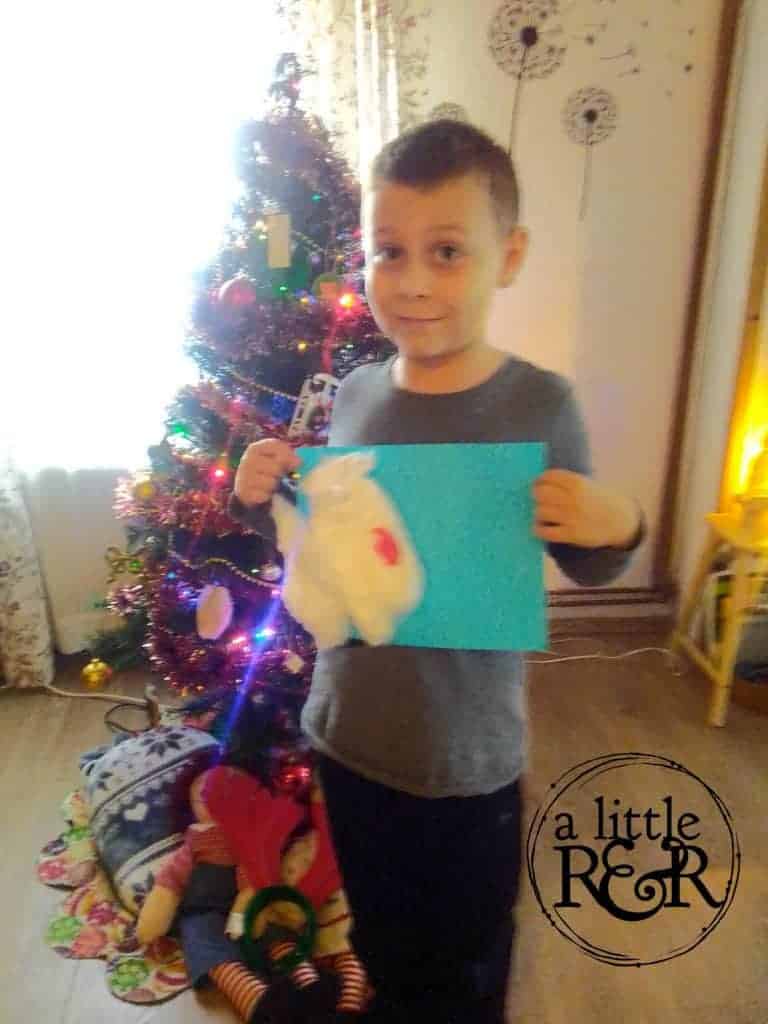 This project was super simple.
All you need is blue and red paper, scissors, cotton and glue.
First we made a hill of snow out of the cotton and pasted it on blue paper. Then we cut a "Peter" out of red paper and pasted him on the hill of snow.
That's it.
Such a simple project, but he had so much fun making this.
Below are more resources I found that you can use as well. We didn't use them simply because I tried to keep things very simple.
I find that in working with MERLD kids, more isn't ever better. In fact, more is often counterproductive.
I find that simple activities during which we can build discussion are the best. Very often the inspire my son to spontaneously do more on his own; which is when I can really see how much he's retained from what we're learning.
---
Grab the free printable version of the WH-questions for this unit study when you type your email in the form below: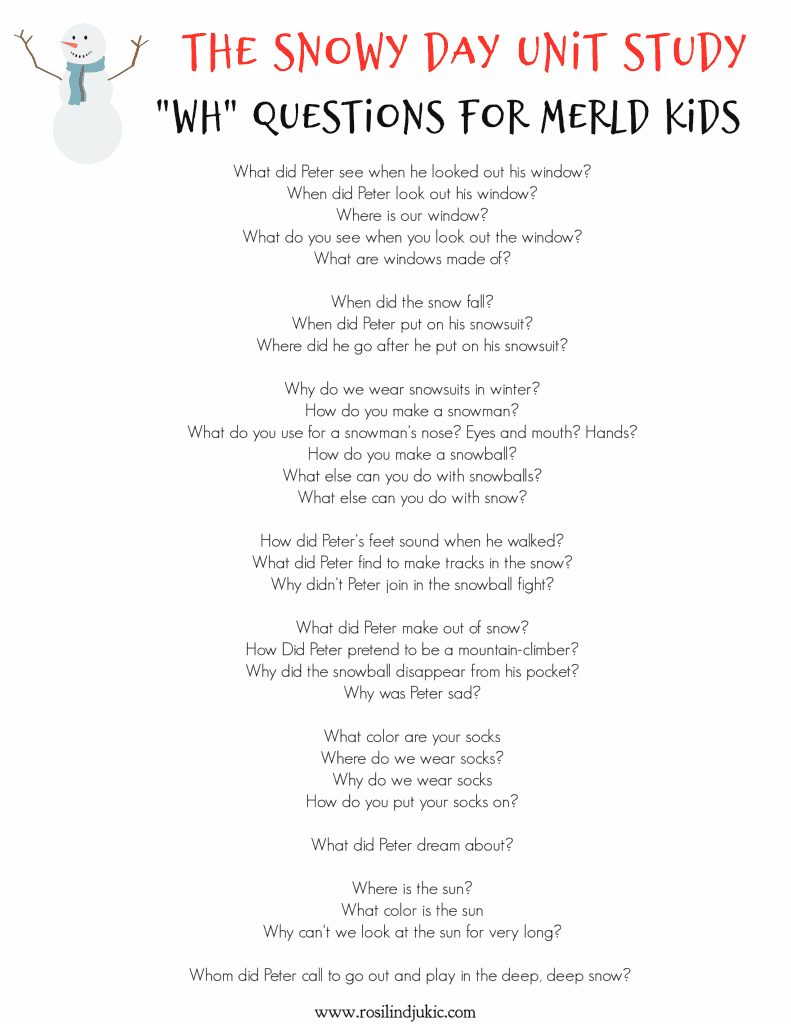 ---
Don't miss these FREE notebooking pages!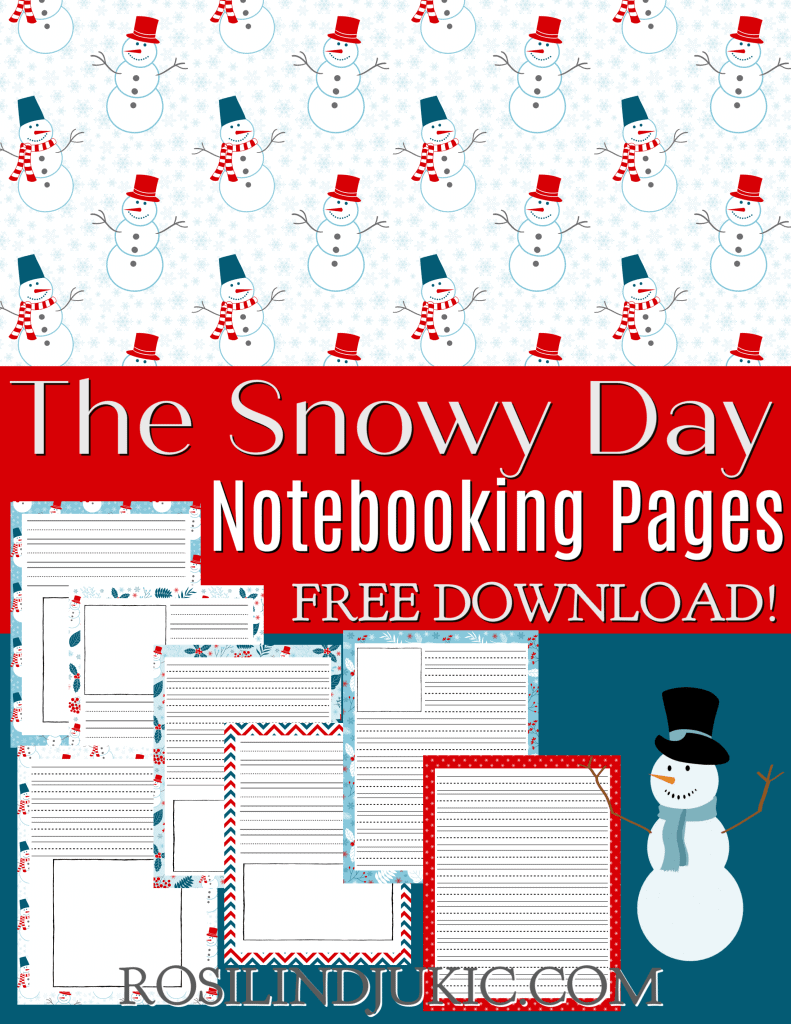 You can find the blog post all about these notebooking pages here or you can download them directly to your device for free when you type in your email below
More The Snowy Day Unit Study Activities:
Teachers Pay Teachers
Ezra Jack Keats Lesson Plans
A Snowy Day Crafts
---
Here are the other posts I wrote on MERLD:
6 Things You Need to Know About Homeschooling a Kid With MERLD
6 Things I Learned About Homeschooling a Kid With MERLD
Why We Chose to Homeschool Our MERLD Son
Our Curriculum Choices for the 2019-2020 School Year
5 Ways We Make Summer Learning Fun
My Favorite Homeschool Planner
School Starts Today and Here's the Thing…
10 Things I've Learned After One Month of Homeschooling
Dear Mommy Stop Trying to Defend Your Decision to Homeschool