Multi-Level Father's Day Unit Study
I hope you love the products and resources I recommend here at A Little R & R. Just so you know, it is possible that I get a commission and collect income from the links on this page. Click here for more info.

I am not a doctor, none of the information on any of these pages pertaining to the Ketogenic Diet or Adrenal Fatigue should be considered medical advice and should not replace the care of your personal physician. I am simply eager to share the information I have learned while on my own journey to health. Before you embark on this journey, please consult with your physician.
"Men! You can't live with them; you can't live without them!"
How many times have we heard women quote this popular saying in exasperation?
The last part is definitely true; we can't live without them because our children need them.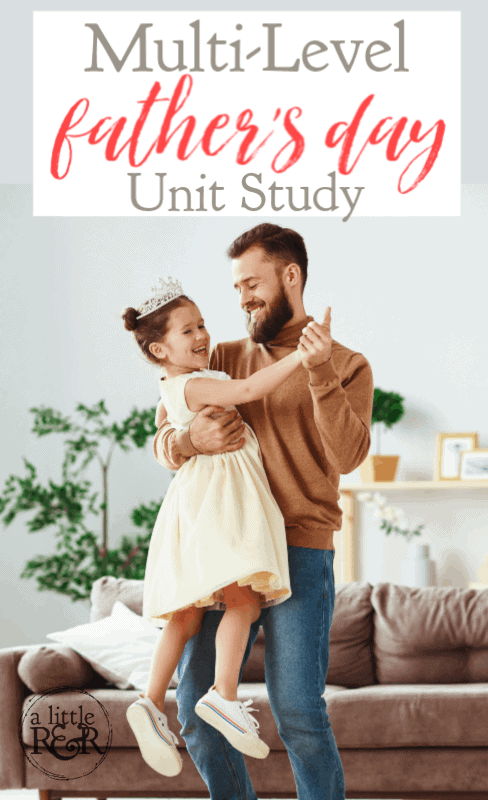 We live in a horribly fatherless society, the statistics are staggering, and the result is heartbreaking: drugs, crime and teen pregnancy are all largely due to fatherlessness.
It is important to teach our children to honor and be thankful for their fathers, so bringing the theme of Father's Day into each subject can be a wonderful way to celebrate their dad during this month.
Bible: A Word Study
For Bible it would be interesting to do a word study as a family on Fathers.
Learning how to look up the Hebrew and Greek words and what they mean can be intimidating, but it is not that hard, especially now-days when you can get all the helps and commentaries you need online for free.
This is a very important skill to teach children.
Once they know how study the Bible for themselves, they will not be able to be deceived easily, because they will know how to study things out for themselves.
You will need:
Your Bible
A Strong's Concordance: https://biblehub.com/strongs.htm
Paper and colorful pens or pencils.
Look up a scripture on either being fatherless or being a good father.
You may want to look at Psalms 68:5-6a
"A father to the fatherless, a defender of widows, is God in his holy dwelling. God sets the lonely in families"
Or simply use another verse you like about being a father and decide ahead of time what words you want to look up in the Hebrew or Greek.
After you have decided on the verse you want to use, give each child a piece of paper and have them write the verse down. Letting them choose their favorite color to write it in and a fun notebooking sheet can be a wonderful motivator.
Begin looking up words. Have your child write the word down underneath the verse and explain to them how the Bible was written in two languages. The Old Testament was written in Hebrew because that is the language of the Jews, but during the time in which the New Testament was written, the language of the world was Greek, and the Romans (who spoke Greek) ruled over the Jews, so the New Testament was written in Greek.
Using Psalms 68:5, I will walk you through how to look up definitions using the Strong's Concordance.
The physical version of Strong's is alphabetized, so look up under "F" the word "Father" or enter in "A father" in the search bar of the Bible Hub website.
Find the scripture reference that is your choice (in this case Psalms 68:5)
If you are using a physical version of the Strong's Concordance, then you will have a reference number for the word you are looking up write that number down and go to the Hebrew part of the appendix.
If you are using the website you will have the verse in all the various versions of the Bible on the left side of the page.
On the right side you will see where it says, "Study Bible".
Click on the word you want to look up, and it will take you to the (in this case) Hebrew part of the website.
You will see on the left side of the new page the first subtitle is Strong's Concordance and it gives you the Hebrew word for Father, "Ab" and it is written in Hebrew: אָב
Have you child write the Hebrew word down using Latin letters and Hebrew letters. It's fun trying to write those strange symbols.
If you are using the website you will need to click on the Strong's button in the navigation bar above to get the definition of the word. Have them write that down as well.
Have them draw and color a picture of the word you are looking up next to the definition.
You can use as many days as there are words in your verse to look them all up or you can just choose a few words that you feel are key, and do them all in one sitting. Once you are done looking up words. Rewrite your verse using the definitions you've collected to create your own "Amplified version" of the verse. It is amazing how the verse comes alive when you do this.
Then sit and talk about what that verse means to you individually and to you as a collective (a family).
History: The Impacts of Fatherlessness in Generations
An Interesting thing to study would be the impact that fathers have on generations.
This short movie tells of how fatherless our generation is and what an impact that has on society.
Here is an article on how fatherlessness impacted Whales after World War I .
Here is an article on how fatherlessness impacted the US after World War 2.
It might be interesting to compare and contrast the feelings that children have when they are fatherless because of divorce or illegitimacy as opposed to their father dying from a sickness or as a casualty of war.
Science: What Do Daddy Animals Do?
An interesting study in science would be discovering what the duties of certain male animals are.
This link gives you some information and a worksheet to fill out for younger grades.
This link is an excellent article on nine animals that have important roles as fathers.
Older students could do some more extensive research:
Finding out the scientific names and classes of the animals
What parts of the world they live in
What they like to eat
What their social habits are
What their role as a father is.
They could also write a one-page report on the animal that they found to be the most interesting.
Math: Worksheets
In the Mother's Day unit study, we suggested using the special math worksheets put out by TeachersPayTeachers.
Once again, they have wonderful math worksheets for Father's Day that you could use as a fun addition to your holiday study.
Reading:
For reading we have some fun books to suggest.
Young readers could reinforce what they've learned in science by reading the book Animal Dads. Amazon has it available for Kindle which is an added plus for those needing it right away or homeschooling overseas!
Everyone loves the Hungry Caterpillar. They've put out a wonderful Father's version of the story I Love Dad which also has a read-a-long version available on YouTube which is an ideal tool for those with learning disabilities.
The book My Dad Loves Me is also a lovely Father's Day favorite for young readers.
A wonderful book report book option for older grades could be the biography of A.A Milne, author and creator of Winnie the Pooh:
It is a well-known fact that A. A Milne wrote the stories of Winnie the Pooh as a bed time tale for his son which makes his biography a wonderful way to celebrate Father's Day
Spelling/Penmanship:
For spelling and penmanship, we have some fun Father's Day notebooking pages available for you below.
Language/Art: What Is A Dad?
Language can be a challenge to pull into a unit study, however doing an oral presentation can be a wonderful way for children to practice their language skills.
Not only will they need to gather information, but they will need to organize it and practice presentation.
You may want to have your children gather their favorite findings from each subject and share what they discovered a father to be from the perspective of the Bible, History, and Nature.
If you want to bring art into the mix, you could have your children make a poster to go with their presentation, have them give the presentation as a part of your Father's Day celebration and then give the poster to their dad as a Father's Day gift.
Father's Day should be a time when our children learn to honor their father and truly understand how important the role of fatherhood is; because if our families are healthy, that is what creates and promotes a healthy society.
Click Below to Grab These FREE Father's Day Notebooking Pages!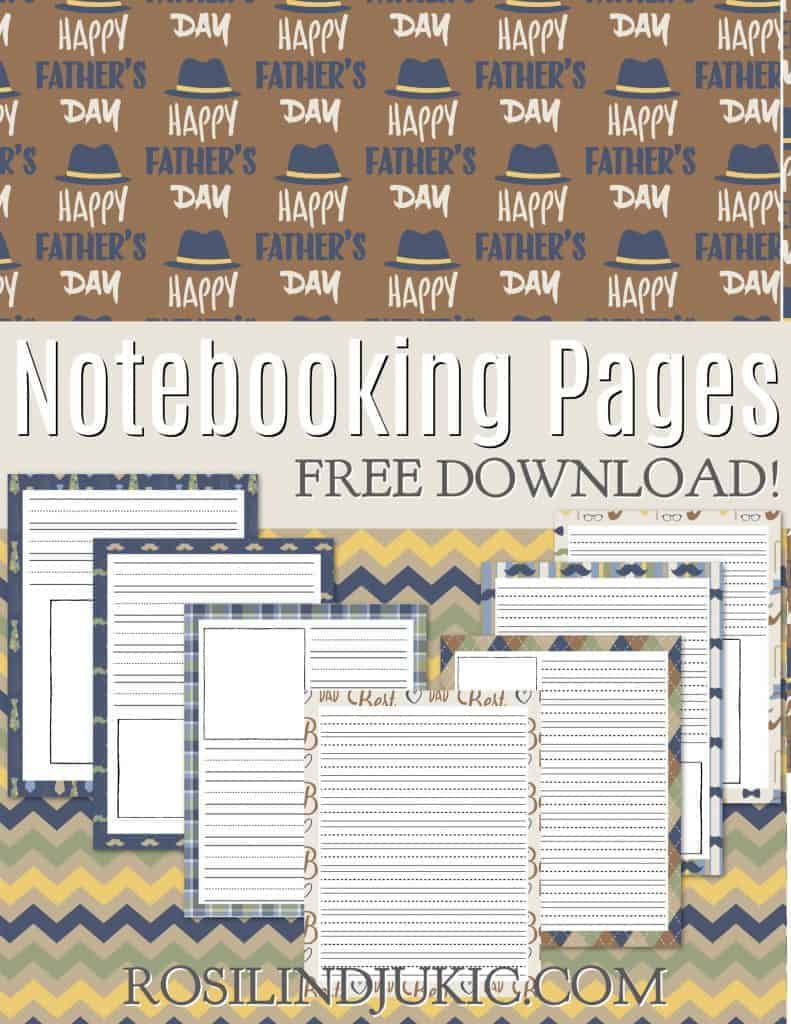 ---
More Unit Studies Here
Solar System Unit Study for MERLD Kids
Valentine's Day Unit Study for MERLD Boys
The Snowy Day Unit Study for MERLD Kids
Multi-Grade St. Patrick's Day Unit Study
Multi-Grade Mother's Day Unit Study