3 Family-Friendly Streaming Services + More
I hope you love the products and resources I recommend here at A Little R & R. Just so you know, it is possible that I get a commission and collect income from the links on this page. Click here for more info.

I am not a doctor, none of the information on any of these pages pertaining to the Ketogenic Diet or Adrenal Fatigue should be considered medical advice and should not replace the care of your personal physician. I am simply eager to share the information I have learned while on my own journey to health. Before you embark on this journey, please consult with your physician.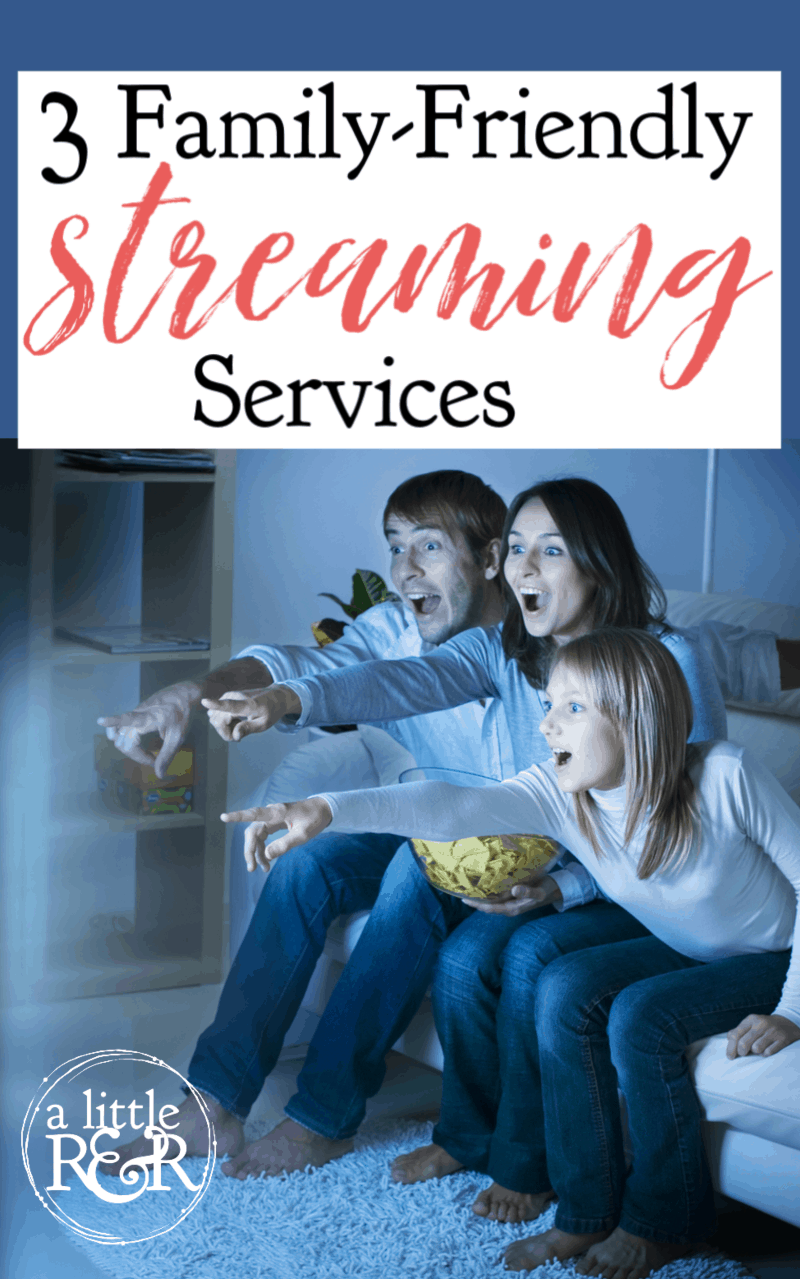 Are you frustrated, like me, at the amount of filth in entertainment today?
Put aside the debate for a moment about whether or not Christians should watch PG-13 and R-rated movies. Online streaming apps are putting out far worse content.
Netflix is offering a new Christmas special in which Jesus is gay and Mary smokes weed. And this is just one Netflix special in a long line of movies and specials that are not only family unfriendly, but are very decidedly blasphemous, predatory in content, and outright pornographic.
No more Netflix
Two years ago, Disney featured a lesbian character on Doc McStuffins and is creating LGBTQ story lines in it's films, and PBS portrayed a gay wedding in it's popular cartoon Arthur.
Say not to Disney + and PBS Kids.
Yesterday, Hallmark published an article in which they state their "agonizing" over their decision to pull an ad in which a lesbian couple were depicted.
In the end, they concluded it was the wrong decision. In the article they affirm their "inclusive" stand with the LGBTQ community and their commintment to work with GLAAD to better represent the LGBTQ community.
This is very sad, because a significant portion of their consumer base is conservative Christians who are now abandoning Hallmark in droves.
I am one of them.
Today I cancelled my account with Hallmark Movies Now streaming app.
Thankfully, there are a few great streaming apps committed to providing good family-friendly and Christian content. And I am sharing those with you today!
3 Family-Friendly Streaming Services
For me, it isn't enough to use services that cancel out bad words or portray adult scenes, because I feel like speak with my dollars.
Choosing to pay money for Netflix, Disney +, and Hallmark Movies Now isn't an option for me – even though each of these provide content that is agreeable to my movie-watching standards.
For me it is about principle: am I willing to financially support a company that is committed to putting out content that mocks Christ and glorifies the very sin that nailed Him to the cross.
Here are three streaming services you can safely watch with your family.
1. Pureflix
Pureflix is basically a Christian alternative to Netflix with 14 genres, including titles in Spanish, there is something for everyone!
Even kids!
They offer a good variety of great cartoons like Torchlighters, Superbook, and Franklin. They also offer classic films, musicals, and even a selection of fun Christmas movies that will be fun to watch this season.
You can find Pureflix here.
2. Up Faith and Family
When I began researching family-friendly streaming apps, the one I kept finding was Up Faith and Family. I took a brief look at it and immediately signed up!
I love it because it has a very "Hallmark" feel to the content, but with the commitment to provide content that even kids can watch.
I love that!
At a very reasonable $5.99 a month – with a free two-week introductory offer, I was all in on that!
Up Faith and Family offers movies and TV series for the whole family, as well as documentaries, music – such as Gaither Homecoming series, and more.
For the $5.99 you pay, it is an amazing deal!
You can find Up Faith and Family here.
You can also read this article that shares more about Up Faith and Family.
3. Minno
Formerly known as JellyTelly, Minno is a streaming app just for kids.
And I love it!
Minno has hours and hours of content dedicated to discipling young children, offering them great theological content on their level through Buck Denver and Friends.
There is also tons of other fun content like 3-2-1 Penguines, McGee and Me, Davey and Goliath (a flash back to childhood for some of us), and other fabulous Bible-based content for kids.
You can find Minno here
4. Parables TV
Shortly after publishing this post, a reader asked if I'd heard of Parables TV. I hadn't so I decided to check it out.
The best part about Parables TV is that it has a free option! If you don't mind commercials, you can go with the free option and they say they're adding titles everyday.
The selection of movies and shows are Christian based and are very family friendly.
Their selections include documentaries and comedy.
You can find Parables TV here.
Have you found a family-friendly streaming service not on this list? Comment or email me about it, because I'd love to check it out and possibly add it here!