5 Steps For When You're Weary from Spiritual Warfare
I hope you love the products and resources I recommend here at A Little R & R. Just so you know, it is possible that I get a commission and collect income from the links on this page. Click here for more info.

I am not a doctor, none of the information on any of these pages pertaining to the Ketogenic Diet or Adrenal Fatigue should be considered medical advice and should not replace the care of your personal physician. I am simply eager to share the information I have learned while on my own journey to health. Before you embark on this journey, please consult with your physician.
Sometimes spiritual warfare is exhausting, and for several reasons.
Lack of discipline in going to bed early
Circumstances outside of our control that prevent us from getting adequate sleep
Viruses or other sickness
Fighting in our own strength, instead of the strength of the Lord

These are some things that can causes us to grow weary in spiritual warfare.
And the enemy would love nothing more than to keep us in this state of weariness, especially if he thinks that our weariness will prevent us from getting up and doing the very thing God has called us to do.
Weariness is one of his most well-known strategies!
Weariness is common in battle. Ask any solider who has been in battle. The days are long and the nights are short. The stress of combat quickly takes its toll on their body.
It's no different for the solider of Christ.
But inner strength and character are built when we refuse to allow weariness to hold us back from our divine calling to go to war against an enemy we can't see.
5 Steps for When You're Weary from Spiritual Warfare
When you are weary from battle and tempted to lie down on the battlefield…
When you're ready to just give up or believe the whispered lies of the enemy that this battle was all in your mind and that everything will turn out okay if you just take a step back for a while…
Here are 5 ways you can warrior on in the strength of the Lord.
1. Get up anyway
I wont lie. Everything in me was protesting as I shuffled downstairs this morning and with bleary eyes made my first cup of coffee.
I sat down in my favorite chair with my cuppa right next to me on the end table, sunk my head down in my hands and just started to pray weary prayers.
I was tired, but it was sweet.
And God met me there. Suddenly, the reason why I was there grew clear to me and something began to rise up within me – because the truth overcame the lies the enemy had tried to whisper in my ear while lying in my warm comfortable bed.
That I could let it go for one day
That I needed a few more minutes of sleep
That I'd already fought enough in this battle
When you're weary and tired from battle, you can listen to the lies of the enemy and let them capture you in their hidden net of passivity, or you can get up anyway and go to war!
2. Remember the reason for your battle
As I sat here this morning with my head in my hands, trying to silence the lies of the enemy that my battle was over, I had this nagging feeling that there was a deeper reason for the battle than the one being whispered to me.
"Oh yea! That's it! No, that battle isn't over….and the first one really isn't either!"
But the deeper reason is what immediately caused something of holy unction to rise up inside of me and go to war.
No – that battle is far from over.
But I needed to be reminded that while the victory in the 2nd battle may be seen in flesh-and-blood circumstances, the 1st victory is 100% spiritual and needed to be fought entirely in the spirit.
The consequences of defeat are far to dire to risk not going to battle.
Despite my weariness.
If I have to crawl to victory on bloodied knees, I will!
3. Don't battle in your own strength
Here's the confusing part.
It took physical strength to get out of bed and come downstairs to meet with God, but as I began to pray, I felt a supernatural strength surging up inside of me leading me to earnest prayer.
God will not call us to a task that He won't enable us to do.
We have neither the strength nor the ability to go into a spiritual battle without His strength and His arm leading us there.
Going into a spiritual battle on our own is dangerous and deadly!
Let God teach you how to both rest in Him and fight in His strength at the same time. It is a beautiful balance of rest and war.
Jesus said, "Come to Me, all you who labor and are heavy laden, and I will give you rest. Take My yoke upon you and learn from Me, for I am gentle and lowly in heart, and you will find rest for your souls. For My yoke is easy and My burden is light." Matthew 11:28-30
4. Ask your friends to fight with you
In Exodus 17 we read about how the Amalekites went to war against the Israelites while they were still wandering in the desert.
As it turns out, when Moses raised his hand, the Israeites would gain the upper hand, but when he let his hand down, the Amalekites would gain the upper hand.
All day long, until sundown, the Israelites battled the Amalekites.
Get this Prayer Strategy Worksheet right in your inbox when you type your email into the form at the bottom of this post!
As you can imagine, Moses' arms grew tired and heavy, so Aaron and Hur found a rock for him to sit on and then they stood on either side of him, propping his hands up until the Israelites won the battle.
Do you have an Aaron and Hur?
Do you have those trusted spiritual warriors you can turn to in times of war to help you wage this spiritual battle?
Call on them and let them join with you as fellow warriors in this battle until you gain the victory.
5. Take time for spiritual refreshment
No solider can battle on day and night without reprieve…without taking time to refresh his body and soul.
And while a spiritual warrior needs physical and mental refreshment, too, he also needs spiritual refreshment.
When we go to relax, it is tempting to want to just escape in a good book or movie, a Netflix binge or whatever our favorite hobby is.
And there is nothing wrong taking some time for recreation, but, don't forget to take some time to refresh your spirit.
A good book or movie, playing a round of golf or volleyball, will not refresh your spirit.
Take some time in God's Word, finding those books and passages that will refresh your spirit. Add to that some resources for deeper study, doing Greek and Hebrew word studies, or even find a great book by a trusted author on the topic of the battle you are fighting right now.
The greatest refreshment for our spirit is God's Word!
A final word
Physical weariness is normal; but spiritual weariness is a danger signal.
Our spirit grows weary when:
We allow the enemy to wrap us in a web of passivity
When we lose sight of our calling and task
When we battle in our own strength and not the strength of the Lord
When we battle alone
When we fail to refresh our spirit
Dear sister, choose today to get up and fight your battle in the strength of the Lord, but do these five things that will help you stay strong as you do!
---
Get the prayer strategy worksheet today when you type your email in the form below: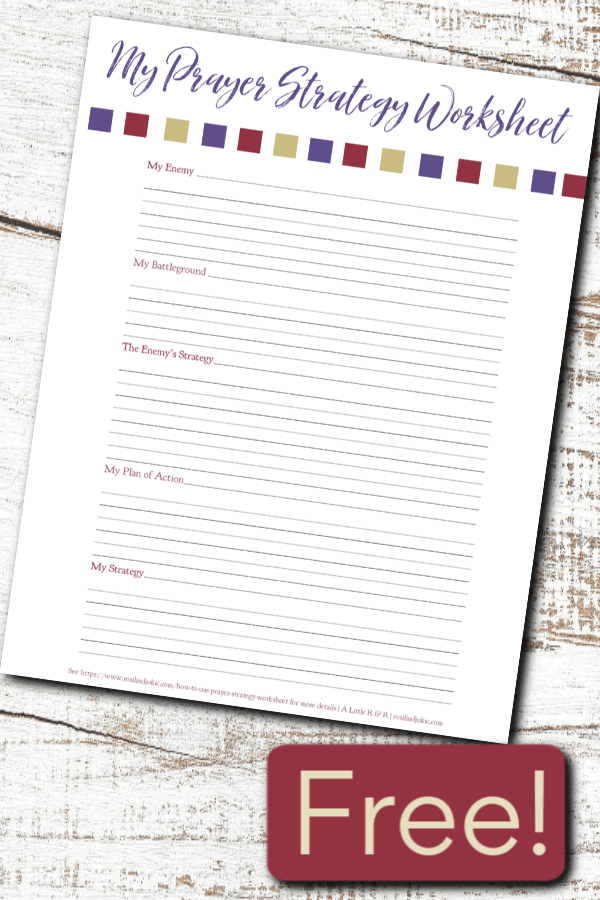 ---
Resources for Spiritual Warfare and Using a War Room:

10 Bible Verses for Spiritual Warfare – Free Printable!

10 Bible Verses for Spiritual Warfare Bookmark – Free Printable!

10 Powerful Verses You Need for Your War Room – Free Printable!

10 Bible Verses to Fight Discouragement – FREE Printable

30 Day Prayer Challenge for Spiritual Warfare

Prayer and Meditation Journal for Spiritual Warfare

Blog Posts on Spiritual Warfare:

7 Weapons for Spiritual Warfare

5 Steps For When You're Weary from Spiritual Warfare

Five Stubborn Pitfalls to Spiritual Warfare

How Should Christians Respond When They're Under Attack?

5 Ways to Respond When You Feel Under Attack
How to Use Worship As a Spiritual Weapon

3 Ways Christians Should Respond When They Feel Defeated
5 Ways to Keep the Faith In Battle

4 Ways to Sharpen Your Spiritual Senses When They Have Grown Dull
How to Write a Prayer Strategy For Your War Room

3 Spiritual Warfare Strategies for Your Distracted Mind

How To Use the Prayer Strategy Worksheet

How Do I Write a Prayer Strategy for Spiritual Warfare? – Podcast Episode #26

3 Reasons Why Every Christian Needs a War Room

6 Amazing Prayers to Make Your Whole House a War Room

Pocket Prayers to Make Your Whole House a War Room

5 Strategic Ways to Recreate Your War Room

5 Simple and Fun Alternatives to a Prayer Room

When You Don't Have Room For a War Room

5 Ideas for a War Room {When You Don't Have Room}