How to Write a Prayer Strategy For Your War Room
I hope you love the products and resources I recommend here at A Little R & R. Just so you know, it is possible that I get a commission and collect income from the links on this page. Click here for more info.

I am not a doctor, none of the information on any of these pages pertaining to the Ketogenic Diet or Adrenal Fatigue should be considered medical advice and should not replace the care of your personal physician. I am simply eager to share the information I have learned while on my own journey to health. Before you embark on this journey, please consult with your physician.
Recently someone commented on my article "5 Strategic Ways to Recreate Your War Room" and asked the following question:
Could you explain one thing to me, though? What is meant by writing out your prayer strategy (#3)? I see people say that all the time, but I'm not clear on how to do that.
This is such a good question, because it is recommended by many great teachers on prayer and is a valuable part of our prayer life.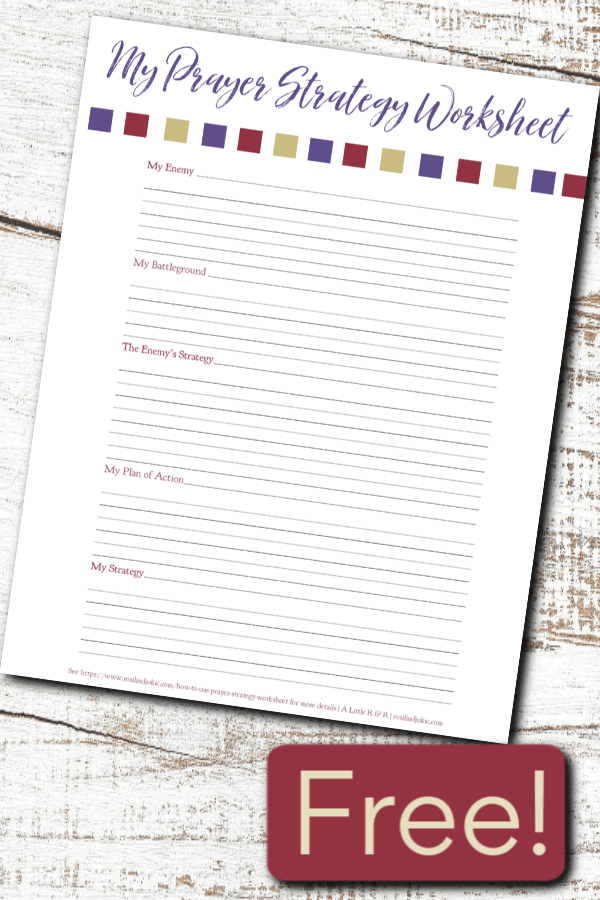 I like to think of this as a war general preparing for battle, or even as a football coach preparing for the Superbowl.
Both need to understand how to develop a good strategy because both have two things in common:
A goal to win
An opponent with the same goal
The thing is this, it isn't enough to have a goal!
It isn't even enough to have a great plan for winning.
And here's the reason: When your opponent has the same goal, he is strategizing ways to keep you from accomplishing your goal.
If victory were as simple as going out there and walking a clear, unhindered path to victory, 99% of Christians would live victorious lives.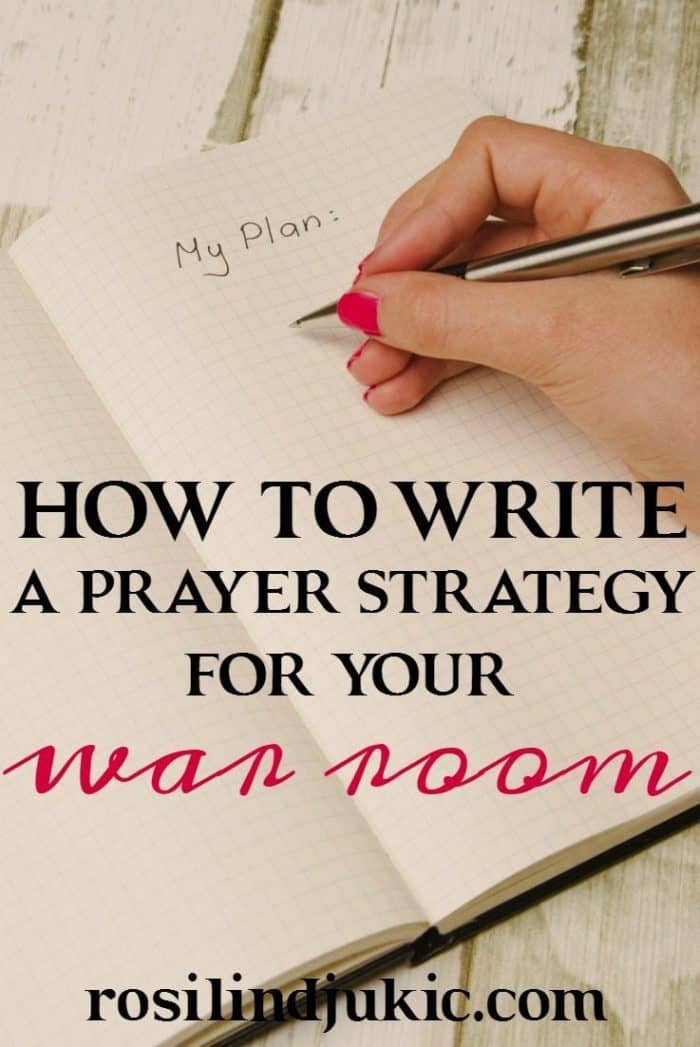 But it's not that easy, because we have an enemy who is cunning. Crafty.
"The thief comes only to steal and kill and destroy;" John 10:10
He has a strategy. Not just a plan, but a strategy….an outline of ways he can carry out that plan and keep you from carrying out yours.
So, if you want to be victorious, you need to have your own strategy.
But here's the thing: We serve a God who is omniscient, all-powerful, and able to give us wisdom to strategize amazing strategies that will defeat our enemy at every turn!
It is simply up to us to labor in prayer until we receive that divine strategy, and then we need to daily tap into God's grace to walk it out.
Here is how to write out your prayer strategy
1. Understand your opponent.
A good general studies his opponent, he knows what his opponent is about, and how his opponent operates.
Please understand, I am not telling you to go out and study Wicca or the occult. I'm not saying go buy satanic material and study Satan.
You don't study a deceiver by reading what a deceiver has written!
The Word of God has given us everything we need to know to understand our enemy and how he operates.
The verse I gave you above is a great start.
Just a word of caution here, don't allow this step to become your focus. Read what the word says about our enemy and move on, because getting stuck here can be counter-productive!
Jesus Christ should be our focus, not Satan.
2. Know your battleground.
This is crucial. What are your weaknesses?
Where do you struggle most in your life? Write these battles down and then narrow them down the biggest battle you're facing right now.
Then ask yourself some key questions about the battle: how long have you battling this thing?
Are you making progress or are your regressing? Are you really fighting this battle, or have you been passive in this area?
Then study it.
To successfully win a battle, you must know the layout of the battleground. Are there hidden corners in which the enemy can hide and ambush you?
Are there potholes or hidden inclines? What is the terrain of this battlefield?
Again, the place to turn to is God's Word: our ultimate guide for battle. Search out scriptures that have to do with your battlefield and study them.
Dig down deep.
Read trusted commentaries on them and get to know your battleground.
---
Listen to my podcast on how to write a prayer strategy:
---
3. Determine your opponent's strategy against you.
A good place to start with this is to talk with a trusted friend. They can often see behavioral patterns that you miss.
If your struggle is with anxiety, ask them what they feel the enemy's strategy is against you to keep you in a cycle of worry and defeat.
Write down what you feel his strategy is against you.
For example, "Every time I experience a spiritual victory, the next day I begin second-guessing what God did for me. The more I second-guess it, the more the enemy plays mind-games with me until he drags me down into defeat, worry, anxiety, and depression."
4. Get a plan of action.
This will happen in prayer.
Ask your friend to pray with you that the Lord will give you a clear plan of action for victory.
Perhaps its learning to control your thoughts. Well, how will you do this? What steps will you take to do this?
How will you know when the enemy is advancing toward you in battle so you can grab your offensive and defensive weapons to defeat him?
What verses will you use to defeat him with and how will you know to have them ready at a moment's notice (because he will attack when you least expect him)?
5. Write out your strategy.
Gather all of the information you have collected in steps 1-4 and write out your strategy of advancement and defeat of your enemy.
List the characteristics you have learned about your enemy
Clearly describe the layout of your battlefield and any hidden traps or stumbling blocks that exist
Describe the strategy he has planned against you
Detail your plan to victory, using both offensive and defensive tactics and describing possible attacks by the enemy and your plan to thwart his plan and win the battle.
6. Worship.
In the Old Testament, when the Israelites would go to battle, they'd send the worshipers ahead of the army.
Worship is a powerful tool in defeating the enemy. In battle, it would sometimes confuse the enemy so that the opposing army would turn on itself and defeat itself without the Israelites having to lift a finger. (Judges 7)
Now you have your strategy, it is time to worship the Lord because your victory will not be won by your own hand.
Only God can defeat the enemy. In and of ourselves we are powerless, but by the power of the Holy Spirit we can do all things!
In writing out a prayer strategy, it is vital that we get to the sixth step. If you never go beyond step five you will never walk in victory.
Why?
Because, like Peter, your eyes will be on your opponent, his strategy against you, your battlefield, or your strategy against him.
Your eyes will not be on Christ, where they should be!
"I will lift up mine eyes unto the hills, from whence cometh my help. My help cometh from the LORD, which made heaven and earth" Psalm 121:1-2
As you make Jesus Christ your focus, He will alert you to those times when you need to be ready to engage in spiritual warfare and He will give you the power by His Holy Spirit to walk in victory.
Get instant access to over 80 FREE Printables today without ever having to enter your email in again! Become a member of my Printable Library on Buy Me a Coffee or Patreon today!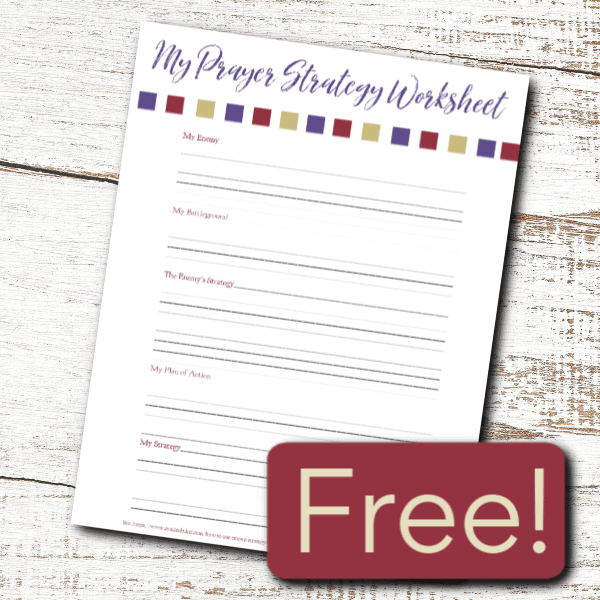 Get this prayer strategy worksheet today when you type your email in the form below:
---
---
War Room
War Room: Prayer Is a Powerful Weapon
War Room Bible Study – Bible Study Book
Fervent: A Woman's Battle Plan to Serious, Specific and Strategic Prayer
The Battle Plan Prayer Cards
The Battle Plan Prayer Journal
War Room (Music from and Inspired by the Original Motion Picture)
---
Resources for Prayer:

Blog Posts

How to Pray in 4 Simple Steps

10 Bible Verses on Prayer – Free Download

How to Keep From Falling Asleep While You Pray

One Fabulous Tip to Organize Your Prayer List
5 Amazing Tips to Pray Powerful Prayers

10 Bible Verses on Prayer Bookmark – Free Printable

What Does It Mean to Pray Through?

3 Reasons Why Every Christian Needs a War Room

5 Strategic Ways to Recreate Your War Room

6 Amazing Prayers to Make Your Whole House a War Room

Pocket Prayers to Make Your Whole House a War Room

30 Day Prayer Challenge About Prayer

5 Ideas for a War Room {When You Don't Have Room}

How to Write a Prayer Strategy For Your War Room

How To Use the Prayer Strategy Worksheet
Reader Question: How Do I Quiet My Mind for Prayer? Episode #22
How to Pray – Podcast Episode #23
Why Renewing Your Mind Is Essential for Quality Devotions – Episode 25
5 Simple and Fun Alternatives to a Prayer Room
When You Don't Have Room For a War Room
How Do I Write a Prayer Strategy for Spiritual Warfare? – Episode #26
Resources for Spiritual Warfare and Using a War Room:

10 Bible Verses for Spiritual Warfare – Free Printable!

10 Bible Verses for Spiritual Warfare Bookmark – Free Printable!

10 Powerful Verses You Need for Your War Room – Free Printable!

10 Bible Verses to Fight Discouragement – FREE Printable

30 Day Prayer Challenge for Spiritual Warfare

Prayer and Meditation Journal for Spiritual Warfare

Blog Posts on Spiritual Warfare:

7 Weapons for Spiritual Warfare

5 Steps For When You're Weary from Spiritual Warfare

Five Stubborn Pitfalls to Spiritual Warfare

How Should Christians Respond When They're Under Attack?

5 Ways to Respond When You Feel Under Attack
How to Use Worship As a Spiritual Weapon

3 Ways Christians Should Respond When They Feel Defeated
5 Ways to Keep the Faith In Battle

4 Ways to Sharpen Your Spiritual Senses When They Have Grown Dull
How to Write a Prayer Strategy For Your War Room

3 Spiritual Warfare Strategies for Your Distracted Mind

How To Use the Prayer Strategy Worksheet

How Do I Write a Prayer Strategy for Spiritual Warfare? – Podcast Episode #26

3 Reasons Why Every Christian Needs a War Room

6 Amazing Prayers to Make Your Whole House a War Room

Pocket Prayers to Make Your Whole House a War Room

5 Strategic Ways to Recreate Your War Room

5 Simple and Fun Alternatives to a Prayer Room

When You Don't Have Room For a War Room

5 Ideas for a War Room {When You Don't Have Room}