How to Start Studying the Bible
I hope you love the products and resources I recommend here at A Little R & R. Just so you know, it is possible that I get a commission and collect income from the links on this page. Click here for more info.

I am not a doctor, none of the information on any of these pages pertaining to the Ketogenic Diet or Adrenal Fatigue should be considered medical advice and should not replace the care of your personal physician. I am simply eager to share the information I have learned while on my own journey to health. Before you embark on this journey, please consult with your physician.
We all know that good Christian discipline requires daily Bible reading. But how many of us are actually studying the Bible?
Reading the Bible and studying the Bible are not one and the same. Actually, they are very different from one another; each requires a different approach.
In my post, 4 Ways to Get the Most Out of Bible Reading, I explained how Christians can effectively but today I want to go a little deeper and talk about how we should be studying our Bible and what the difference is between these two.
I equate studying the Bible versus reading the Bible to reading a university textbook versus studying it. If a student only reads their textbook, but never really studies it, the chances of him passing a final exam are slim.
While reading, we are processing surface information. We scan the words on the page and process what we see.
However, when we study what we read, we begin researching the keywords in the text and asking ourselves key questions such as how, where, why, what and when.
How to Start Studying the Bible for Newbies
Studying the Bible takes much longer than reading the Bible, but the information we glean from it goes much deeper into our heart.
We could say that reading the Bible is like diving into a swimming pool, whereas studying the Bible is like diving into an ocean.
The depth of a swimming pool cannot compare to the depth of an ocean, and by diving into an ocean we will discover an amazing world unseen by those who simply walk on land.
When we pair reading the Bible with studying the Bible we have greater freedom in how we approach the Bible.
As we saw in my post 4 Ways to Get the Most Out of Bible Reading, the best practice is to take the Bible one book at a time so that we maintain proper context.
Studying the Bible removes those boundaries.
This is not to say that the importance of context is diminished by studying the Bible. Quite the opposite. Context plays an even greater role in studying the Bible than in reading the Bible as we are about to see.
1. Do a topic study.
There are tons of online Bible reading sites, such as Blue Letter Bible, that have a search feature that will pull up every verse in the Bible using a certain word or phrase.
Using this search feature, you can easily do a study on certain topics such as prayer, love, humility, peace or joy.
Delve even deeper into your study by clicking "tools" next to the verse and you will find the corresponding Hebrew or Greek words and their meanings.
2. Do a character study.
By using the search feature on your favorite Bible website, you can search for all the verses in the Bible that mention certain Bible characters.
Doing character studies on the lives of Moses, David, Paul, Joseph, or Esther is fascinating.
It helps them come alive to us, and it also reminds us that while their legacy lives on for eternity in the pages of Scripture, their lives were far from perfect.
3. Do a chronological study.
The Bible isn't organized chronologically. I think a lot of people do not realize that.
While we begin with creation in Genesis, the book of Genesis actually spans several centuries, in which time other characters from other books of the Bible lived – like Job.
It would be impossible to arrange the Bible chronologically, because we would have to insert books inside of other books, making the Bible jumbled and confusing.
However, a chronological study of the Bible helps us to gain a better understanding of biblical history.
There are several chronological Bible reading plans, such as this one at Bible Gateway.
Using this reading plan, you can supplement other Bible study tools, such as historical and modern day map comparisons, historical and modern day calendar comparisons, the meanings of biblical names and how they fit in important biblical genealogies, and really make biblical history come alive!
4. Do a book study.
Choose a book of the Bible and begin studying it out verse by verse.
First research the author, when it was written, to whom it was written, and the premise of the Book.
Then conduct word studies for every verse in that book.
You can supplement your study by using commentaries by some of the best biblical scholars, which you can find for free at Blue Letter Bible.
This is my most favorite Bible study method, because it helps keep studying the Bible in context.
Ready to get started studying the Bible?
Here is a post I wrote on Bible study hacks for beginners. This post contains all of the tools you need to get started and tells you how to use them!
3 ways we keep our Bible study in context
1. Keep the meaning of verses within the context of the conversation.
I think most of us can think back to a time when someone took something we said of out context and created an imaginary scenario out of it.
What we said within the context of our conversation sounded very different than what was presented taken out of context.
The same happens in scripture.
One of the most ill-quoted verses in the Bible is, "Judge not that you be not judged".
Quoted all on its own, it can take on a very different meaning than when we look at that verse in the context of what Jesus was saying in Matthew 7, when He went on to say that we shouldn't be so eager to point out sin in other people's lives when we are entertaining even greater sin in our own.
2. Examine the verse within the context of the entire book.
A verse can take on deeper meaning when you examine in within the context of the book in which it is found.
For example, Jeremiah 29:11 takes on a completely different meaning when we examine it within the context of the book of Jeremiah, to whom Jeremiah was prophesying and what was being prophesied.
That is not to say that we can't apply that verse to our lives, but it does mean that keeping it within its proper context and meaning is important so that we don't attribute meaning to these verses that God never intended.
3. Examine the verses within the context of the entire Bible.
There have been preachers who have attributed meaning to verses of the Bible that completely violated the rest of scripture.
God will never violate His own Word! If the meaning of a verse doesn't align with the rest of scripture then we must reexamine its meaning.
If someone finds a verse that seems to indicate that sleeping with your fiance is okay, because you have promised to marry them, you can know that this verse is out of context.
The meaning of whatever verse was found to support such a ludicrous claim is not supported by the rest of scripture that clearly and unequivocally states that sexual activity is limited to bonds of marriage alone.
Period.
Studying the Bible should be part of our daily devotion
You can make studying the Bible a part of your daily devotion by simply reading the Bible slowly and then studying out the verses you've read to gain deeper meaning.
Studying the Bible doesn't have to be complicated, and you can take it as deep as time allows.
If you don't have a lot of extra time you can simplify your study by:
1. Researching the background of the book you're reading right now
2. Read a portion of one chapter each day and choose 1 or 2 key verses
3. Research the key words in that verse to find their deeper meaning.
Get this Quiet Time Journal printable set today when you type your email in the form below: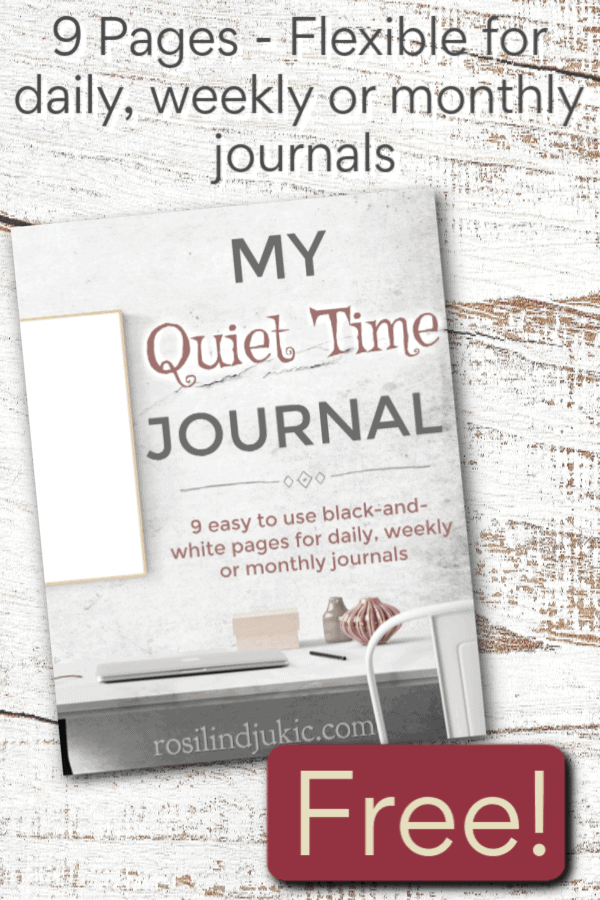 ---
Find more content on :

3 Reasons Why You Should Read the Bible Every Day

4 Simple Bible Reading Tips For Beginners

6 Books of the Bible to Begin Reading Today

4 Ways To Get the Most Out of Daily Bible Reading

5 Radical Ideas For When You Don't Want to Read the Bible

10 Bible Study Hacks for New Christians

---
NKJV, New Spirit-Filled Life Bible, Hardcover: Kingdom Equipping Through the Power of the Word
ESV Study Bible
Accu-Gel Bible Highlighter Study Kit (Pack of 6)
Sakura 30062 6-Piece Pigma Micron Ink Pen Set, Black
Five Star Spiral Notebooks, 1 Subject, 100 College Ruled Sheets, Assorted Basic Colors, 6-Pack (38052)
Post-it Notes, 1 3/8 in x 1 7/8 in, Cape Town Collection, 18 Pads/Pack, 100 Sheets/Pad (653-18AU)