Our 4th and 2nd Grade Homeschool Curriculum Choices
I hope you love the products and resources I recommend here at A Little R & R. Just so you know, it is possible that I get a commission and collect income from the links on this page. Click here for more info.

I am not a doctor, none of the information on any of these pages pertaining to the Ketogenic Diet or Adrenal Fatigue should be considered medical advice and should not replace the care of your personal physician. I am simply eager to share the information I have learned while on my own journey to health. Before you embark on this journey, please consult with your physician.
I get it that this post is really late.
Really, really late.
Considering that we spent 2 months visiting family in the States….
Considering that it had been over a year since I'd seen my parents…..
4 Years since I'd seen my brother and his family…..
Considering that my sister visited us while we were there, enabling my siblings and I to all be together and sing together for the first time in 18 years….
Well, let's just say that you probably understand why this post is coming late.
And actually, I'm glad that it is, because while I was there, I decided last-minute to make changes to my choices.
School began yesterday, and Sunday evening I'd finally settled – for the final time – on what we're doing.
So without further ado…..
Our 4th and 2nd Grade Homeschool Curriculum Choices
When I began thinking on the 2020-2021 school year, I was still relying heavily on Easy Peasy All-in-One Homeschool
But with my current choices, I have gone completely eclectic, choosing what I feel is best for my family from many different places.
My boys are going in to 4th and 2nd grade.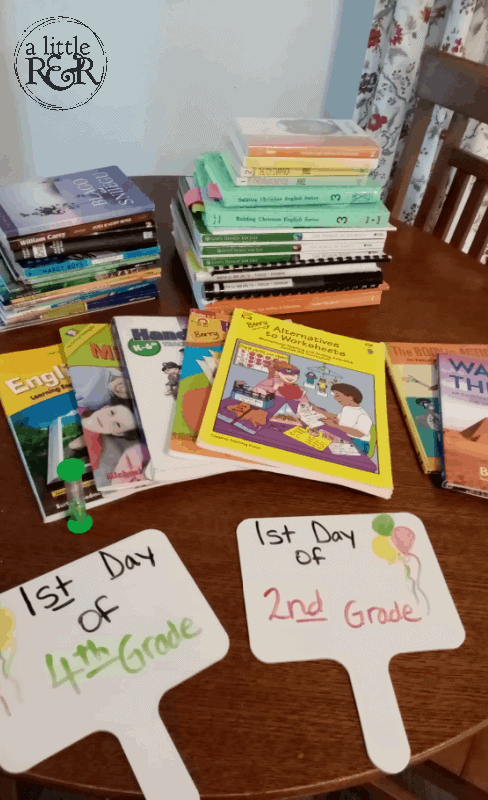 Bible
Old Testament Overview – Grapevine Studies
(for Christmas we'll do our annual Christmas study by Grapevine)
I've used Grapevine studies a lot with my kids, and they absolutely love them!
This year will be doing their studies without the traceables. We'll see how that goes. I'm kind of excited about how creative they get.
If you're not familiar with Grapevine Studies, you can choose a Catechism, an overview of Old and New Testaments, or topical studies.
You read a passage and then draw stick figures representing the passage.
You can get the student packs with the traceable figures already drawn in, that your child traces over – to help them build an understanding for what they should do, or with blank squares for your child to do his own drawing.
There are quizzes, to help you gauge your child's comprehension.
English/Croatian
I am excited that with the curriculum I was graciously given for English, I will easily be able to teach English and Croatian simultaneously.
In fact, I will begin teaching Croatian cases right away, even though in public school they don't begin learning cases until 5th grade.
I feel that if my children are already learning parts of speech in English, why not introduce these same parts of speech and their accompanying case right away.
This year I am using Rod and Staff Beginning Wisely English 3.
I fell in love with this at first sight.
I will be able to teach them English together, instead of separately. Some of this level will be a review for my 4th grader, but will very quickly move into new territory.
I was generously given books 4-6 as well, and plan to use Rod and Staff for as long as I can.
It is a gentle, yet thorough, English curriculum – which is just what my MERLD children need.
MERLD children tend to have extreme difficulty understanding grammar, particularly phonics.
Math
I am continuing with Math U See.
My children both do so well with Math U See. They love the manipulatives, and while the videos often go over my 2nd grader's head, the material is what he does so well with.
Last year, he managed to learn everything his older brother learned in 1st grade math, but without the tears and frustration.
Even after we stopped using the DVD.
My children will be doing Math U See Beta and Math U See Delta this year.
Piano
Last year, I began teaching my kids piano.
I am a former piano teacher, and so this had been my dream all my life of teaching my kids piano.
Well, I very quickly realized that after a full day of teaching my kids, they needed a break from me and I from teaching.
Very often, piano got swept to the side, as teaching fatigue had already set in for that day.
This is when I decided to put my "piano snobbery" aside (because I truly believed that you can't learn piano online!) and sign them up for online lessons.
I chose Hoffman Academy.
It came highly recommended, and after only a few weeks, my children were so excited about their Mr. Hoffman hour and learning piano!
You can sign up for free lessons, or you can upgrade to Premium and get the worksheets and games. This is 100% worth it!
History
Earlier this year, I heard about The Story of the World and immediately knew that was the curriculum I wanted for my kids.
The Story of the World takes a very broad approach to history. Instead of learning about history by region, you learn it by periods. And in each period of history, you learn about what is going on all around the world in that particular time.
The Story of the World is in 4 levels, and your child will go through each level 3 times before they end high school.
But although my kids are 2nd and 4th grade, we will be starting with level 1.
Plus, we can focus on both Croatian and American history at each appropriate period.
For Croatian history, I will be supplementing with the book Croatia – A Nation Forged in War by Marcus Tanner.
For American History (when we get there) I will be using The Light & the Glory by and Peter Marshall and David Manuel
Science
This is another curriculum that was generously gifted to us – and I was so excited because it was exactly what I had hoped to use with my kids.
For science, we'll be using Answers in Genesis – God's Design for Life (Human Body, The Animal Kingdom, and Plants)
Reading
For reading, my 4th grader will continue reading The Cul-de-Sac Kids by Beverly Lewis.
At this point, I'm not as concerned with my kids reading classics (though we do read them as read-alouds as a family), as much as I'm concerned with cultivating a love for reading.
I figure, if my kids learn to love to read, they'll read classics out of interest and a love for reading.
We were also gifted an entire set of The Spirit Flyer series, so we will delve into those books as well as the handful of Abeka book readers we were gifted.
My 2nd grade will continue to read I Can Read levels 1 & 2 books. He reads very well for 2nd grade, but needs a lot of improvement in reading comprehension.
I like the I Can Read books, because a lot of them have audible and YouTube versions – so we hit all input pathways
For read-alouds we will be reading:
Additional Materials
I have been the grateful recipient of more homeschool material than I know what to do with!
This year, I'll be using these paddles I got at Dollar Tree
They will be great for quiz games!
I also got a sand timer at the dollar tree as well.
Also, I was given Alternatives to Worksheets, How to Report on Books (grades 1 & 2), A Reason for Handwriting, and Mind Benders. All of which I plan to supplement with during the school year.
I also use the YearRound Homeschooling planner. You can read my post about it here: My Favorite Homeschool Planner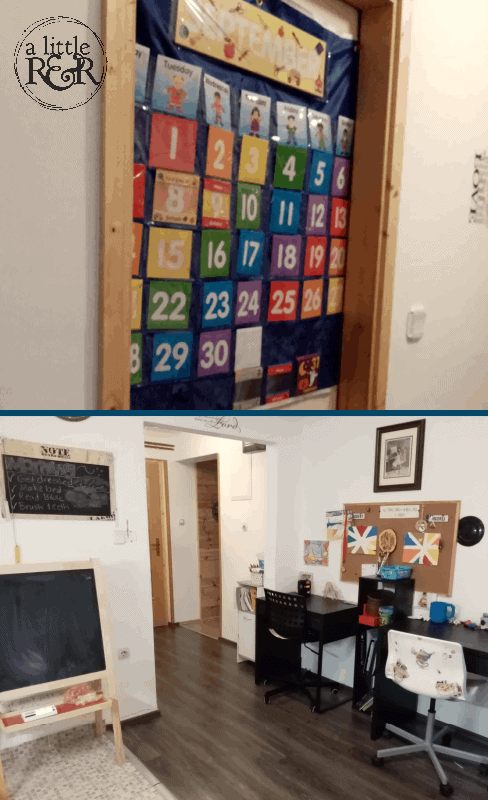 Our School Room:
Desks – IKEA Micke Desk, Black
Chairs – IKEA Jules desk chair and Skalbeg/Sporren desk Chair
Calendar Pocket Chart – Oriental Trading Company
Chalkboard/Dry Erase/Paper Roll easel – IKEA Softwood Mala
Cube Storage Shelves – IKEA
---
Read More Homeschool Content Here:
Solar System Unit Study for MERLD Kids
The Snowy Day Unit Study for MERLD Kids
6 Things You Need to Know About Homeschooling a Kid With MERLD
6 Things I Learned About Homeschooling a Kid With MERLD
Why We Chose to Homeschool Our MERLD Son
3 Apps That Will Transform How Your Dyslexic Child Reads
4 Powerful Tools to Teach Your Dyslexic Child to Read
5 Ways We Make Sure Our Kids are Socialized
8 Homeschool Myths That Need to Be Debunked
My Favorite Homeschool Planner
10 Things I've Learned After One Month of Homeschooling
Dear Mommy Stop Trying to Defend Your Decision to Homeschool