2 Easy Quiet Time Tools for Christmas
I hope you love the products and resources I recommend here at A Little R & R. Just so you know, it is possible that I get a commission and collect income from the links on this page. Click here for more info.

I am not a doctor, none of the information on any of these pages pertaining to the Ketogenic Diet or Adrenal Fatigue should be considered medical advice and should not replace the care of your personal physician. I am simply eager to share the information I have learned while on my own journey to health. Before you embark on this journey, please consult with your physician.
Somehow I think that the words "quiet time" and "Christmas" this year are going to be an oxymoron.
Between my husband's work shifts and my children's school schedules, it's already looking like this year is going to be crazy
As I shared in my post 5 Ways Busy Moms Can Have a Meaningful Christmas, just because we're busy doesn't mean that we can't have a meaningful Christmas.
Sometimes we can't slow our lives down, but that doesn't mean that we can't feel His touch in our lives.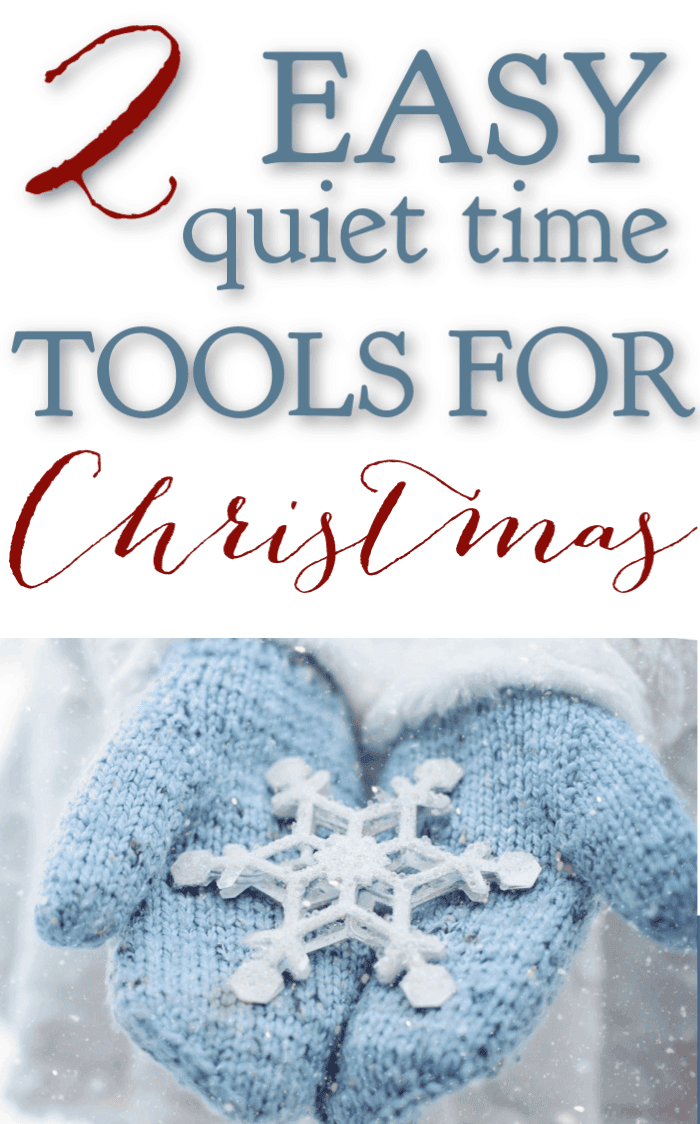 This year I'm doing something very simple for myself for Christmas.
I don't have time right now, in this phase of motherhood and life, to dig down deep into Bible study like I could before, but that doesn't mean that I'm going to just give my quiet times a pass and a prayer.
They will just look a little different for a while.
2 Easy Quiet Time Tools for Christmas
One thing I'm doing is leaving my Bible and journal open on my kitchen counter or table.
This helps to remind me to reflect on what I'm studying in God's Word, so that my quiet time and Bible study last all day long, and don't just fill one time slot in my life.
Another thing I'm doing is using prayer prompts, to help encourage me to meditate deeper on God's Word.
This year, I'll be using these 2 tools for my quiet time during the Christmas season
1. 30 Day Prayer Challenge for Christmas
This Prayer Challenge takes you through the entire Christmas story, sometimes glancing back at Old Testament prophesies to offer some broader perspective.
I truly enjoyed creating this one and I can't wait to get started revisiting these wonderful verses and remind myself how God spoke through those prophets to tell about the coming of His Son….and wonder if they truly understood the significance of their words.
I hope you'll join me in sitting at Jesus' feet this month and celebrating Him.
Celebrating the fact that God chose to become man
That God chose to walk among us
That God chose to subject Himself to the limitations and frustrations here on earth
That God chose to live a life of stigma, look so average that no one would even give him a second glance, and then die like a criminal.
In celebrating Him, we learn from His example of rejecting the temptation to enjoy being liked too much and enjoying luxury too much, but rather keeping His eyes fixed on heaven.
You can find the 30 Day Prayer Challenge for Christmas here
2. War Room Journal Prompts for Christmas
In this War Room Prayer Journal Prompts for Christmas you will find 15 prayer prompts that will lead you to contemplate the different characters of the Christmas story, familiar passages, Christmas hymns, and the symbols of Christmas.
You will find prompts for:
Zacharias and Elizabeth
Mary and Joseph
The Song of Mary
Christ's Birth
The Shepherds and Wise Men
The First Noel
O Come, O Come Emmanuel
Angels From the Realms of Glory
Oh Holy Night
The Christmas tree, lights, and gifts
These War Room Prayer Journal Prompts for Christmas are a simple but powerful way to take some time each day to reflect on one of the most meaningful Christian celebrations.
This journal can be used as a companion resource with your favorite war room journal, and also with the 30 Day Prayer Challenge for Christmas.
These two Christmas quiet time tools are simple and they don't take a lot of time to use, but they are so meaningful and I know they will help to prepare your heart to truly celebrate Christ's birth!
More Articles for Christmas:
Was Jesus Really Born on Christmas?
9 Advent Studies to Do This Christmas
5 Meaningful Christmas Activities for Christmas Families
5 Ways Busy Moms Can Have a Meaningful Christmas
7+ Homeschool Resources to Help You Stay Christ-Focused This Season
The Jesus the  World Needs to Know
How to Get Everything You Want for Christmas
Homemade Christmas Card Family Craft
Gift Guides
The Ultimate Missionary Gift Guide
The Christian Family Gift Guide
10 Quiet Time Tools Every Christian Woman Wants
5 Gift Ideas for the Prayer Warrior
5 Christian Fiction Authors I've Read Over and Over
10+ Books Every Christian Should Read