4 Powerful Steps When You Feel Hopeless
I hope you love the products and resources I recommend here at A Little R & R. Just so you know, it is possible that I get a commission and collect income from the links on this page. Click here for more info.

I am not a doctor, none of the information on any of these pages pertaining to the Ketogenic Diet or Adrenal Fatigue should be considered medical advice and should not replace the care of your personal physician. I am simply eager to share the information I have learned while on my own journey to health. Before you embark on this journey, please consult with your physician.
We've all been there – at least once.
When that feeling of utter hopeless washes over us like deep waves and we feel like we can barely stand under the weight that exhausts us and leaves us feeling numb.
What can we do as Christians when we feel hopeless?
Is the feeling of hopeless a sin? Is it a denial of Christ, because Jesus is hope?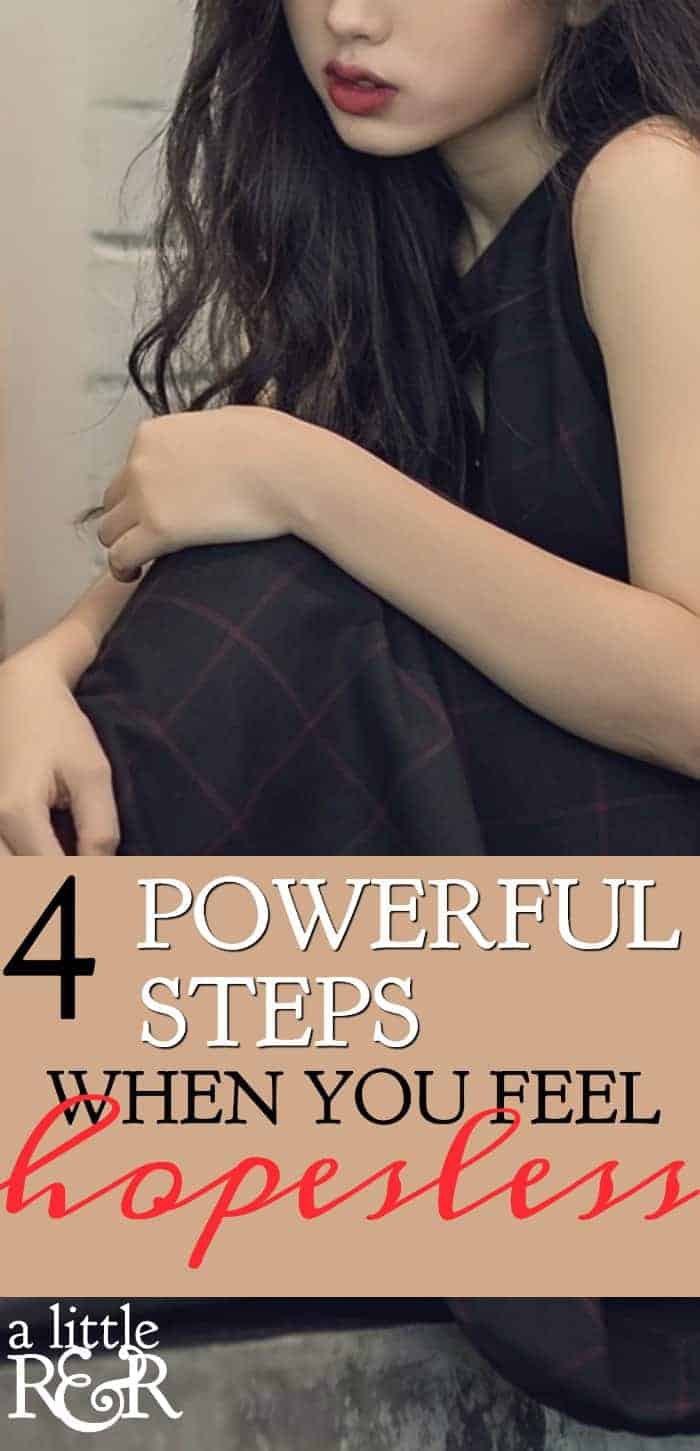 Emotions, in and of themselves are not a sin. It is what we do with those emotions that becomes a sin.
An emotion is an indicator – much like the dashboard of my car has indicator lights to tell me if a door is ajar, if my oil is low, or if my engine is overheated.
They indicate that something isn't right.
It could be that a feeling of hopelessness is pointing to an area of sin, or it could be warning you that you've taken your eyes off of Christ.
Feelings of hopelessness can indicate any number of things in our lives, and that is why in Psalms 42 and 43 we find 5 steps that we need to take when we begin to feel hopeless.
Because the worst thing we can do as Christians is allow feelings of hopelessness to overtake our souls and draw us further down.
Psalm 42:7 says, "Deep calls unto deep at the noise of Your waterfalls; all Your waves and billows have gone over me."
The writer of this Psalm was going through what Pastor Dean from Foundational (also my dad) calls "waves of adversity".
One affliction after another was washing over him like wave upon wave.
And what happens when we're out at Sea and waves keep hitting us and drawing deeper and deeper? If we don't have lifesaving devices, we will drown.
"…all of your waves and billows have gone over me."
But, the writer of Psalm 42 and 43 had five lifesaving devices that he used in this time of adversity when hopelessness threatened to drown him.
4 Powerful Steps When You Feel Hopeless
1. Pour out your soul to God
"When I remember these things, I pour out my soul within me. For I used to go with the multitude; I went with them to the house of God, with the voice of joy and praise, with a multitude that kept a pilgrim feast." Psalm 42:4
"Vindicate me, O God, and plead my cause against an ungodly nation; oh, deliver me from the deceitful and unjust man! For You are the God of my strength…" Psalm 43:1-2a
Many times our first response to hopelessness is to pull away from God.
Whether it's because we feel like God has abandoned us, or because we don't feel we have the strength to cry out to him, the writer here shows us the importance of pour out our soul to God anyway.
God hasn't abandoned you.
That is a lie of the enemy: "My enemies reproach me, while they say to me all day long, 'Where is your God?'" Psalm 42:10
God will give you the strength to cry out to Him.
"Therefore I take pleasure in infirmities, in reproaches, in needs, in persecutions, in distresses, for Christ's sake. For when I am weak, then I am strong." 2 Corinthians 12:10
2. Preach to your heart
"Why are you cast down, O my soul? And why are you disquieted within me? Hope in God, for I shall yet praise Him for the help of His countenance." Psalm 42:5, 11, 43:5
When our feelings are not in agreement with God's Word, we must take time to preach to our heart and remind our heart of what God's Word says.
Hope in God.
Why?
Because He is God.
And I love it that the writer uses this as His only premise for hope in God. We hope in God because He is God, and that is enough.
Begin to research God's promises, find verses and passages that speak of the goodness, greatness, and victories of God, and begin speaking them over yourself.
Memorize them, and meditate on them. Declare them to yourself until you begin to feel hope arise in your heart again.
The Word of God is a mighty weapon – a sword to defeat the enemy!
3. Admit your distress
"O my God, my soul is cast down within me…" Psalm 42:6
You can avoid your distress.
You can deny your distress.
But avoiding it and denying it will get you no closer to divine hope in the end.
The writer here admits that his souls is "cast down", that he is in despair. But he doesn't stop there. There is no period at the end of that statement.
He goes on to say, "…therefore I will remember You from the land of Jordan, and from the heights of Hermon, from the Hill Mizar."
The writer chose three remarkable acts of God's goodness and victory:
Drying up the Jordan river
Defeating Og, the king of Bashon
Possibly a hill near Mt. Sinai where the Law was given.
When we're feeling hopeless, we need to declare the testimonies of God.
Get this 30-Day Prayer Challenge for Spiritual Warfare today!
Get 20% off with the coupon code: attack
What has God done for you?
When has He come through for you?
Has He healed you?
Has He provided for you?
Has He answered your prayer?
Declare your testimony! Your testimony is a powerful weapon in defeating the enemy.
4. Continue to yearn for God
"As the deer pants for the water brooks, so pants my soul for You, O God." Psalm 42:1
"For I used to go with the multitude; I went with them to the house of God, with the voice of joy and praise, with a multitude that kept a pilgrim feast." Psalm 42:4
"Then I will go to the altar of God, to God my exceeding joy; and on the harp I will praise You, O God, my God." Psalm 43:4
Regardless of the hopelessness we feel inside, it is crucial that we continue to cultivate a yearning for God and His presence.
Maybe you feel you've lost your passion for God, but if you're reading this today I guarantee you that you still long for that passion.
And if you still long for that passion, you're yearning after God.
The writer said, "For I used to go with the multitude…". He used to go, but he hadn't gone for a while. He longed to go with them again. He longed for that joy again.
And you long for that joy again.
Then he says in the next chapter that when God's light and truth come, he will once again go to the altar of God and praise Him again.
He's looking forward to the day when his heart is once again filled with joy and hope.
Cultivate that longing, that yearning in your heart for the presence of God. Don't speak of God's presence as something only in the past, but as something that will be again in the future.
Remind your heart that while you don't feel His presence now, He is still with you.
Stoke the embers of your heart by:
And I truly believe that as you do these four things, that God will lift you out of your hopelessness and that joy will soon flood your heart again.
Here are other posts from Psalms: