Free Boy-Mom Valentine's Day Unit Study
I hope you love the products and resources I recommend here at A Little R & R. Just so you know, it is possible that I get a commission and collect income from the links on this page. Click here for more info.

I am not a doctor, none of the information on any of these pages pertaining to the Ketogenic Diet or Adrenal Fatigue should be considered medical advice and should not replace the care of your personal physician. I am simply eager to share the information I have learned while on my own journey to health. Before you embark on this journey, please consult with your physician.
I'll confess, we never used to do anything for Valentine's Day in my home.
When my husband and I were dating, we purposely didn't put any emphasis on Valentine's Day, because we felt that our love for one another should be expressed all year long – not just on one day.
And then I gave birth to two boys.
So all of the hearts and pink and purple — well, it's not very boy-ish.
But what if there is a way to do Valentine's Day with boys that won't make them roll their eyes and say, "Ooooo, gross, mom!!!"
Valentine's Day Unit Study for MERLD Boys
Once we began homeschooling, I began looking for ways to celebrate all holidays with them that were fun and learning at the same time.
The first year I bought all kinds of Valentine's Day decorations to decorate our home with, because it's so festive and fun.
We're prone to think of Valentine's Day as hearts and girlie colors, roses and chocolate, but there is a history to Valentine's Day that really has nothing to do with that.
Sometime during the 3rd century in Rome, a man named Valentine who is said to have given assistance to persecuted Christians was martyred.
This opens up a whole new discussion about Valentine's Day, Jesus' sacrifice, and the persecuted church.
Literature:
At first, I had trouble finding books to read to my kids about the real Valentine, so I grabbed these.
Amelia Bedilia is available both on Kindle and Audible. What I love about Amelia Bedelia is that that she constantly mixes things up.
One of the difficulties MERLD children face is understanding jokes and sarcasm. They are incredibly literal….just like Amelia Bedelia, so I can't wait to dig into this book with my kids and talk about why she got things mixed up
Later, I found these great reads for young children that focus on the true man behind this holiday that has sadly lost it's true meaning.
Sadly, I couldn't find any books for older children, but because the holiday focuses so heavily on romance, I am looking at getting these books for my children about guarding their heart.
If your children are not sensitive, you may consider these two books as well, as you study the true story of St. Valentine:
Math and Language Arts:
On YearRound Homeschooling I found all of the printable resources I need for both math and language arts.
Here is what I love to use:
Notebooking pages – One of the main areas I am focusing on with homeschooling is writing. We're doing a lot of notebooking. So we will use these to write about what we're learning about Valentine's Day, both about the history of St. Valentine and what we're learning from our books.
Math – There are printable packs with games and fun math activities for all grades.
I will also be using notebooking pages to do copywork and writing prompts.
Fun Packs – I can't wait to dig into the fun packs to plan games with my kids!
Be sure to check out my FREE notebooking pages below!
Science:
What better time to introduce the circulatory system than at Valentine's Day!
My kids were flummoxed the first time I told them that our heart isn't in the shape of what we usually use for a heart.
Here are a few fun and fascinating activities to introduce the circulatory system to my kids:
And we watched this video a few times and learned how to take our pulse!
History:
The First Valentine is a movie that tells the story of Valentine and the incredible sacrifice he made, giving his life for the truth of the gospel.

It opens up an opportunity to talk about the fact that there are Christians right now in other countries who are persecuted.
Grab a globe or a map and find persecuted countries and spend some time praying for the Christians there.
Visit Voice of the Martyrs and grab their free prayer guide to pray for the persecuted church around the world.
Bible:
What better time than to talk about how St. Valentine displayed the love of Jesus, and Jesus' sacrifice for us?
Ready the story of Jesus' sacrifice on the cross in all four gospels using my reading plan here.
Watch the Easter Story by Superbook
Begin watching Story Keepers – a series of animated videos that tell the story of what happened after Jesus' ascension and the persecution of the early church:
Art / cooking:
What is Valentine's Day without making valentines?
I know, boys aren't into all the ooey-gooey, lovey-dovey stuff.
So, what are they into? Well, my kids are into superheroes. One year we used these Avengers valentines from The Joy of Boys.
You can also use these Avengers valentines from Our Handcrafted Life.
Make Heart Garland
Take red paper and cut out hearts. This is especially good for younger kids to work on their tracing and cutting skills. They can either trace a heart pattern using a cookie cutter or you can show them how to fold a paper in half and cut a symmetrical heart shape.
And talk about the meaning of the word symmetrical!
Framed heart window decorations
Cut out a heart shape, then cut out a smaller heart shape out of the center of the heart (the best way to do this is to use nesting heart-shaped cookie cutters. I got mine off of Wish.com here.)
Make Heart-shaped Grilled Cheese Sandwiches
Using a heart-shaped cookie cutter, have your kids cut hearts out of bread and spread butter on them, then cut heart shapes out of cheese and make grilled cheese sandwiches.
You can also make red iced tea with rose hip tea and honey.
---
Grab the free printable version of the WH-questions for this unit study for children with DLD or other language delays and difficulties when you type your email in the form below:
---
Grab these FREE Valentine's Day Notebooking Pages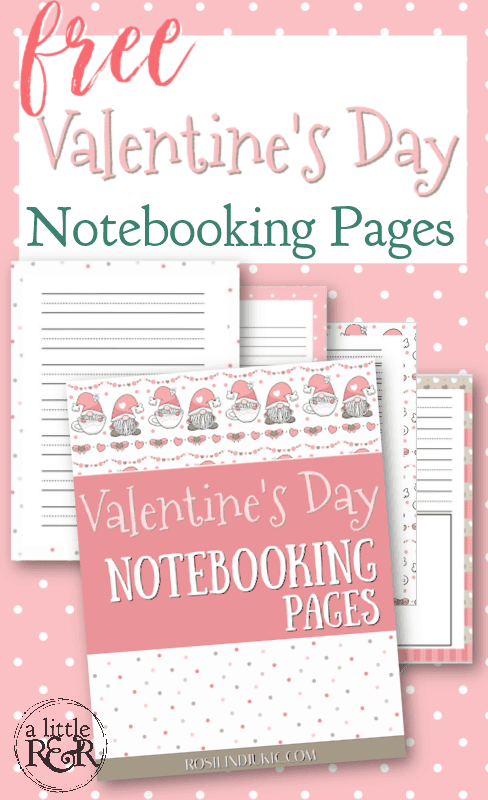 Read More MERLD Content Here:
The Snowy Day Unit Study for MERLD Kids
6 Things You Need to Know About Homeschooling a Kid With MERLD
6 Things I Learned About Homeschooling a Kid With MERLD
Why We Chose to Homeschool Our MERLD Son
Our Curriculum Choices for the 2019-2020 School Year
5 Ways We Make Summer Learning Fun
My Favorite Homeschool Planner
School Starts Today and Here's the Thing…
10 Things I've Learned After One Month of Homeschooling
Dear Mommy Stop Trying to Defend Your Decision to Homeschool