Solar System Unit Study for MERLD Kids
I hope you love the products and resources I recommend here at A Little R & R. Just so you know, it is possible that I get a commission and collect income from the links on this page. Click here for more info.

I am not a doctor, none of the information on any of these pages pertaining to the Ketogenic Diet or Adrenal Fatigue should be considered medical advice and should not replace the care of your personal physician. I am simply eager to share the information I have learned while on my own journey to health. Before you embark on this journey, please consult with your physician.
I am so excited about sharing this solar system unit study, because my kids have had so much fun with it this month. Learning has never been so fun!
When I very first introduced my youngest son to the solar system, I had no idea that it would be such a big deal.
I inadvertently stumbled into doing a solar system unit study with him after introducing him to our planets through this Magic Schoolbus free science curriculum I found.
What was supposed to be a simple one-day lesson turned into a whole month.
He fell in love with Saturn, he fell in love with the Cat In the Hat book I found, he fell in love with the solar system book my sister gave him.
He adored every art project we did.
And then one day after school was over, he asked if he could make a "Saturn". He started off by trying to make one with a small rubber ball and scotch tape (that kid is nothing if not innovative).
So, I got the idea to give him some colored clay….and what started off as just Saturn turned into the entire solar system!
And he did it all by himself, I didn't even realize that is what he was doing.
And he was so proud of himself! That was when I discovered the joy of child-led learning!
Solar System Unit Study for MERLD Kids
When I first floated the idea of homeschooling to my oldest son, the first question he had was, "Can I learn about the planets? I haven't learned about planets yet, and I really want to!"
My answer was "Of course!"
This would be an opportunity to dive deeper into the topic of planets, so I began researching unit studies and lapbooks, and it has blossomed into so much more than I ever envisioned.
I want to start off by saying, that doing this unit study taught me a few things:
It is okay not to do everything in a unit study
It's okay if your unit study takes way longer than you'd planned
It's okay if you pause your unit study, do something else, and come back to it later
During the month of January, we studied the inner planets (Mercury, Earth, Mars, and Venus), we took a break in February to do other things, and later in the year we'll come back and finish up the outer planets.
My fear was that it would get to be too long and they'd lose interest.
Literature
We read several books on space. Some of them we read together, some of them I provided for their own reading. All of these got a lot of use in our home.
The Magic School Bus – Lost In the Solar System
Stars and Planets by Carole Scott
Cat in the Hat – There's No Place Like Space
Disney – Wonderful World of Knowledge: Space
The Magic School Bus Lost In The Solar System

There's No Place Like Space: All About Our Solar System (Cat in the Hat's Learning Library)

Let's Go: Into Space

Math, Language Arts, Science, and History, Bible
All of these really fit in the unit study and lapbook I found. The unit study has two levels: one for younger children and one for older children. I love this because I'll be able to use it again later on as the kids get older.
You can find it here: Unit Study: Space
The lapbook I found was by Learn in Color. My kids love putting this together. There are a lot of facts and it's so fun putting the different parts of the lapbook together and finding the appropriate facts to the right planet.
You can find it here: Learn in Color: Planets Interactive Notebook
Between these two, you learn math as you talk about the circumference of the planets, their temperature, and distance from the moon.
Language arts is learned as they do copy work, writing down the facts of each planet.
Science is covered as you learn what each planet is made of, and history – of course – since God created the entire universe.
We covered Bible by going over in detail Genesis 1 – how God created the universe, separated night from day, and created the sun, moon, stars, and earth.
Also, be sure to grab my FREE set of Solar System notebooking pages!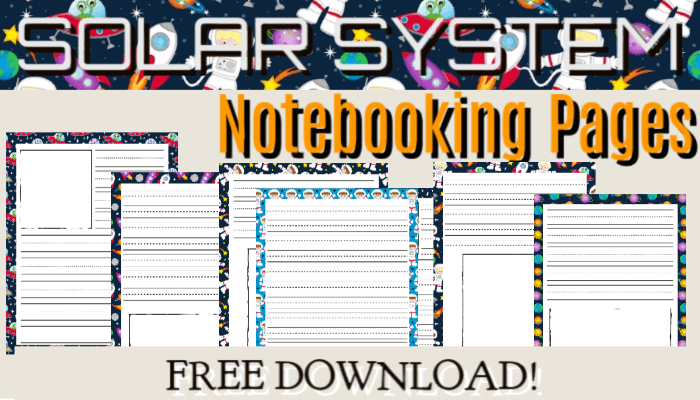 Manipulatives
My kids love Lego – and we this Lego Explorer 3 in 1 set.
Here are more Lego sets that are great for teaching about space, NASA, and all things astronaut!
Art
There is so much you can do with art. The sky is the limit……pun intended!!
Besides my son making the solar system out of clay, we also made a toilet-tube telescope. We used this video:
You can also make a toilet tube rocket
You can make a planet mobile using this planet free download sheet
We also made this planet headband
36 Bright Color Air Dry Super Light DIY Clay Craft Kit Modeling Clay Artist Studio

8 Colors, 1000 Pack, Foil Star Metallic Stickers, 0.6

PRANG Ready-to-Use Liquid Tempera Paint, 16-Ounce Bottles, Assorted Colors, 12 Count (21696)

Pacon 9

---
Here are more unit studies by me:

Solar System Unit Study for MERLD Kids

Queen Elizabeth One-Day Unit Study – Free Notebooking Pages

Multi-Grade Thanksgiving Unit Study
Valentine's Day Unit Study for MERLD Boys
The Snowy Day Unit Study for MERLD Kids
Multi-Grade St. Patrick's Day Unit Study
Multi-Grade Mother's Day Unit Study
Multi-Grade Level Father's Day Unit Study
Multi-Grade Independence Day Unit Study

Back to School Unit Study – Multi-Grade

Responsibility Unit Study – With Optional Lesson Plans

Notebooking Pages – Free Downloads – Go Here!
The Snowy Day Unit Study for MERLD Kids
Valentine's Day Unit Study for MERLD Boys

Solar System Unit Study for MERLD Kids