What Does It Mean to Live a Life of No Compromise
I hope you love the products and resources I recommend here at A Little R & R. Just so you know, it is possible that I get a commission and collect income from the links on this page. Click here for more info.

I am not a doctor, none of the information on any of these pages pertaining to the Ketogenic Diet or Adrenal Fatigue should be considered medical advice and should not replace the care of your personal physician. I am simply eager to share the information I have learned while on my own journey to health. Before you embark on this journey, please consult with your physician.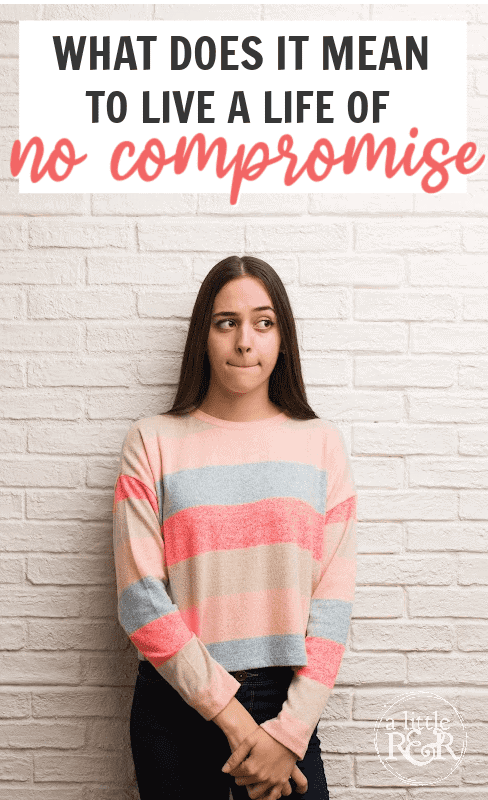 I remember growing up listening to Keith Green. My parents loved his music, and in the end they had every album he ever recorded.
His music was a mirror reflection of his own life and convictions.
Black-and-white. No compromise.
In fact, he recorded an album with that very title: "No Compromise".
I remember growing up thinking how strange it was that this album had a title that wasn't a title of a song found on that album.
The first time I saw it, I searched the song list over and over to find the song titled "No Compromise", but it wasn't there!
Now I know, he was sending a message.
This is a message we need now more than ever.
What does it mean to live a life of no compromise?
Compromise: settling a disagreement by making mutual concessions, negotiations, or modifications to an existing standard.
As believers, the standard by which we live our lives is two-pronged.
1. We live by the standard of God's word – biblical principle
2. We live by the personal convictions God has given specifically to us
The first is non-optional for every believer. God in His Word has carefully and intentionally given us His expectation for how we are supposed to live our lives.
As a "chosen generation, royal priesthood, holy nation, His own special people", and called-out, sanctified believers, we are expected to live by a different standard.
But within that standard, God may choose to raise a certain standard in our personal lives above that which others may choose to live.
This standard is unique to us, and is a personal conviction.
The first prong is everlasting, never changing, and will never be modified. The second may be for a season or a lifetime, and can only be modified by God – the one who set that standard.
1. Recognize that we are a peculiar people
I believe one of the greatest temptations for compromise we face, as Christians, is the fear of standing out, being different, and facing ridicule for that.
However, this was God's purpose all along.
His original design for the disciples of Christ was that we stand out, stand apart, embrace those things that the world rejects, and ascribe to those things the world calls foolish.
"If the world hates you, you know that it hated Me before it hated you." John 15:18
We have to recognize that we are a peculiar people.
The world will not understand us – and often will misunderstand us
The world will mock our standards and think we're strange
The world will ridicule our beliefs and call us names
The world will hate us and reject us
And a true disciple of Jesus Christ who chooses to live a life of no compromise must be okay with that.
We cannot be shaky on this ground with loose boundaries, open to making modifications, and be a true disciple of Jesus Christ.
2. Purpose ahead of time to never yield to the world
When my husband and I began dating, we made the choice to not kiss before our wedding day. We didn't draw the line there, though, we were actually pretty "hands off" while we were dating and engaged.
And while there were moments when it wasn't easy to stick to the standards we had set, it also wasn't all that hard either.
We had made up our minds ahead of time what we wanted in our relationship and purposed in our hearts that we would not give in.
When you make up your mind ahead of time, the greatest part of your battle is won. You are less likely to compromise and make concessions or modifications to your standards.
But you have to know who is the one determining your standard.
As disciples of Jesus Christ, we never – never, ever, ever – yield to the world! The world is the enemy of God, and we never concede to God's enemy!
We never negotiate with God's enemy. To do so is a betrayal.
But the devil is a liar, and so he will package his argument in a way that sounds very logical to us.
But we have to remember two things:
We do not trust human logic, and we do not make any decisions based on our own understanding
We are supposed to be at odds with this world, so any differences we may encounter with the world should be expected
The world doesn't set our standard. God sets our standard, and it is a sin for man to modify God's standard.
3. Understand that there is never a time when it is right to modify our standard
It doesn't matter if a compromise will help our children fit in better.
It doesn't matter if we've watched all of the good movies that are out there, and only ones left that are appropriate to watch are bad quality.
It doesn't matter that the music our kids want to listen to is better quality than what Christians are making right now.
It doesn't matter if that word holds exactly the power and emphasis we want to make, while all other non-profane words just won't cut it.
It doesn't matter that many of the kids in our church from Christian homes are easing up on their standards of modesty.
It doesn't matter that other Christians are changing their opinion on purity.
It doesn't matter that our colleagues look down their noses at us and think we're tin-foil-hat conspiracy theorists and flat-earthers because we don't believe that creation happened in six-consecutive days, not time periods…or evolution.
There is no argument that will be convincing enough to God to make Him ease up on the standards He has given in His word.
We do not live in a generation that is so uniquely different than God is willing – after millennia – to shift the boundaries just a little so that our children and we fit in better.
Previous generations faced greater hatred, rejection, and persecution than we can imagine – and bravely stood strong on His Word with no compromise.
Dear sister, no compromise means not even a little.
4. Remember that we are here for a short time
Probably the greatest anchor that we have in living a life of no compromise is the reminder that our life here is very short —
And eternity is very long.
In comparison to eternity, we are here for a brief flicker of an eye, and if we choose to remain faithful to God and the standard He has laid out both in his Word and for us personally, we will receive a reward!
It is so easy to get caught up in this physical world, in the things we can see now, touch now, taste now, hear now….
And forget that there is a world that is far more real than the one we sense with our physical senses.
And that world is eternal — and the decisions and choices we make now in this physical world have eternal impact.
The concessions and modifications we are tempted to make to God's standards have a direct and eternal impact to our lives spiritually!
No compromise!
A true disciple of Jesus Christ must choose to live a life of sanctification and dedication to the standard of truth and holiness God has given to us in His Word.
No concessions.
No modifications.
No negotiations.
It takes a brave disciple of Christ to live this life — but it is a rewarding life.
---
What Does It Mean to Live a Life of No Compromise

3 Reasons Why I Still Preach Purity
Why I Refuse to Throw Out the Message of Modesty and Purity
Should Parents Teach Their Children Safe Sex?
3 Reasons Why the Safe Sex Message Is Dangerous
Does Jesus Love the Homosexual?
Why the Pro-Life Message Is Muddied
There Is Healing After an Abortion
Why Sexual Sins Are Not Equal to Other Sins
3 Ways to Speak Truth in Love and Confront Sin
3 Reasons Why Grace Must Have Balance

Why I'm More Concerned With Biblical Literacy Than Any Other Kind

3 Things the Church Does When the Glory Has Departed

3 Hidden Dangers of Elite Christianity

It's Time to Shatter Christian Idols

Should Christians Use Positive Affirmations?

Is Self-Care Biblical for Christian Women?

Is Hygge Biblical for Christian Women?

The Reason Why God Cares About the Movies We Watch

Why My Kids Won't Watch Squid Game, Play Roblox, or Use TikTok

Two Reasons Why I Will Not See the Movie Redeeming Love