How Do I Write a Prayer Strategy for Spiritual Warfare? – Episode #26
I hope you love the products and resources I recommend here at A Little R & R. Just so you know, it is possible that I get a commission and collect income from the links on this page. Click here for more info.

I am not a doctor, none of the information on any of these pages pertaining to the Ketogenic Diet or Adrenal Fatigue should be considered medical advice and should not replace the care of your personal physician. I am simply eager to share the information I have learned while on my own journey to health. Before you embark on this journey, please consult with your physician.
few years ago, I bought the book Fervent by Priscilla Shirer.
Reading that book, paired with her earlier film War Room, dramatically changed how I viewed prayer and spiritual warfare.
I realized that for most of my life, I'd approached personal development and spiritual growth randomly, almost like I expected it to happen all on it's own.
After watching that movie and reading her book, I understood my need for a strategy. A purpose. A plan.
That's when I sat down and mapped out the Prayer Strategy worksheet for myself.
Soon afterward, I took that worksheet and made it available on my blog.
You can find my post about the prayer strategy worksheet here: How to Write a Prayer Strategy For Your War Room and it's companion post here: How To Use the Prayer Strategy Worksheet
Some time ago, I had a reader write me and ask me how to make a prayer strategy for spiritual warfare.
In today's podcast, I answer that question, and then talk about how when we get to a place of victory, we need to have a strategy for staying there until we are consistently walking in freedom.
More about Rosilind
Follow this podcast on your favorite Podcast catcher or at the following links:
Visit my shop for Prayer Challenges and books by me.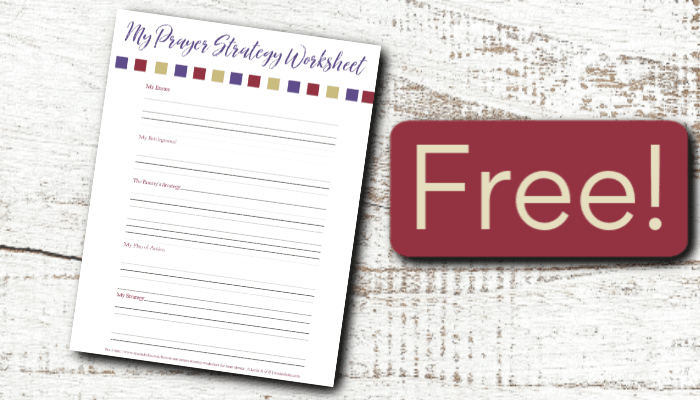 ---
Resources for Prayer:

Blog Posts

How to Pray in 4 Simple Steps

10 Bible Verses on Prayer – Free Download

How to Keep From Falling Asleep While You Pray

One Fabulous Tip to Organize Your Prayer List
5 Amazing Tips to Pray Powerful Prayers
Reader Question: How Do I Quiet My Mind for Prayer? Episode #22
How to Pray – Podcast Episode #23
Why Renewing Your Mind Is Essential for Quality Devotions – Episode 25
5 Simple and Fun Alternatives to a Prayer Room
When You Don't Have Room For a War Room
How Do I Write a Prayer Strategy for Spiritual Warfare? – Episode #26
Resources for Spiritual Warfare and Using a War Room:

10 Bible Verses for Spiritual Warfare – Free Printable!

10 Bible Verses for Spiritual Warfare Bookmark – Free Printable!

10 Powerful Verses You Need for Your War Room – Free Printable!

10 Bible Verses to Fight Discouragement – FREE Printable

30 Day Prayer Challenge for Spiritual Warfare

Prayer and Meditation Journal for Spiritual Warfare

Blog Posts on Spiritual Warfare:

7 Weapons for Spiritual Warfare

5 Steps For When You're Weary from Spiritual Warfare

Five Stubborn Pitfalls to Spiritual Warfare

How Should Christians Respond When They're Under Attack?

5 Ways to Respond When You Feel Under Attack
How to Use Worship As a Spiritual Weapon

3 Ways Christians Should Respond When They Feel Defeated
5 Ways to Keep the Faith In Battle

4 Ways to Sharpen Your Spiritual Senses When They Have Grown Dull
How to Write a Prayer Strategy For Your War Room

3 Spiritual Warfare Strategies for Your Distracted Mind

How To Use the Prayer Strategy Worksheet

How Do I Write a Prayer Strategy for Spiritual Warfare? – Podcast Episode #26

3 Reasons Why Every Christian Needs a War Room

6 Amazing Prayers to Make Your Whole House a War Room

Pocket Prayers to Make Your Whole House a War Room

5 Strategic Ways to Recreate Your War Room

5 Simple and Fun Alternatives to a Prayer Room

When You Don't Have Room For a War Room

5 Ideas for a War Room {When You Don't Have Room}